Wax melter for depilation. Say goodbye to unwanted hairs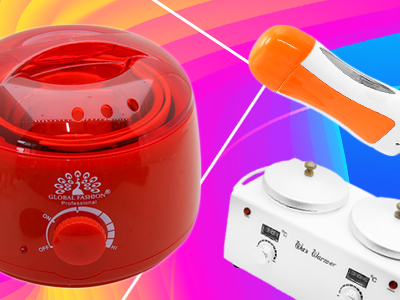 Unwanted body hair is a problem for every modern girl. You put on a beautiful dress, put on high heels, put on red lipstick and then you're in trouble, your hair ruins your long-awaited day off and you're back to trousers, and you wanted to show off your new dress so badly. Does this situation sound familiar? Do not it? You know, every modern girl dreams that her skin is silky and soft, but cosmetics are not enough here. It is important and necessary to get rid of unwanted body hair. How to do it? There are many ways, but one of the most popular ones at the moment is waxing. It's a procedure that doesn't irritate the skin and doesn't leave any marks. In order to wax your skin, you need melted wax, which you can get by using a special wax-melter. What is a wax-melter? It is a device that heats the wax to a certain temperature.



Types of wax melts and how to use them

Cassette wax melter - this wax melter is ideal for home use, the most convenient and safe. It is a small device, in which is inserted a special cassette of wax, equipped with a roller applicator. That is, after heating the wax is applied to the surface of the skin with the help of this roller, an even thin layer is distributed on the desired area. Then you need to put a tissue strip, wait a few seconds and tear against the growth of hair. This waxer makes the procedure quick and easy. When the cartridge runs out, you simply insert a new cartridge and continue using the device.

Jar waxer - used to heat the product placed in jars. A versatile device that heats not only wax, but also paraffin. The jar waxer is a platform connected to the mains, inside of which you can insert a jar of wax. When the contents are completely melted, it is applied to the skin with a special wooden spatula. The cured wax with the hairs is torn off with the hands. This is very convenient for use during depilation and waxing.

The combined version is a universal model that includes both cartridge and can type at the same time. Most often used by professionals in beauty salons, it has sockets for both cans of wax and cassettes. It has two control systems, allows you to heat different types of wax to the required temperature. It costs more than other types of wax melter.



What are the advantages and disadvantages of wax melts for waxing?

There are certainly advantages and disadvantages to waxing.

Advantages: there are many more.
- Fast heating of the wax.
- Safe for your health.
- Compact and convenient size of the wax melter.
- Economical use of energy.
- Reasonable price.
- Easy to transport.
- Longer-term use.

Weaknesses: the waxing method is more expensive than an epilator. For each home session you need wax and special cloth strips. The device itself is also quite expensive, there are cheaper models.



Power and capacity of waxers

There are wax melts with capacity: average 13 - 40 watts, high 80 - 100 watts. And also come in different capacities: from 400 to 800 ml.



How to take care of your wax melter

Modern devices are practical, and easy to care for. But it's not easy to clean the wax off any surface. In fact, there are special products for cleaning the appliance. They remove dirt quickly and easily. But, the easiest way is to clean the still warm waxing machine with an alcohol wipe.
You can also use any product based on essential or other fatty oils. For example, turpentine or skin cleansing oil used in this procedure. A sponge soaked in oil should be used to wipe the machine, then wiped with alcohol at least 40 degrees.
Today, the cosmetics market offers a huge selection of wax pastes and related products for self-waxing. With so many to choose from, how do you really 'pick the right' wax?

Waxes, in their scope of use, can be divided into the following types:
- By melting point.
- By product form.
- By purpose.



Waxes by melting point

Cold wax is the most affordable and convenient way to remove hair, it does not require additional equipment and is great for self-treatment. It is usually available in strips that can be heated by hand before use. This method is safer than using hot material, as there is no danger of burning, but it is considered more painful and can irritate sensitive skin. Wax strips are difficult to remove hairs that are too short, and improper execution of the procedure is fraught with the risk of ingrown hairs.

Warm wax - most commonly available in cartridges with a roller, sometimes in jars, and requires heating before the procedure. A special heater or water bath is used to prepare the paste. Melted to a viscous honey at a temperature of 37-38 degrees, the mass is applied to the skin with a roller or spatula, then removed with a paper or non-woven strip. Such wax pastes can contain various additives that have a soothing and softening effect on the skin.

Hot wax, preferred by masters in salons, is made from natural natural resins that include beeswax, paraffin, natural oils and plant extracts as additives. Hot wax is suitable for removing vegetation in delicate areas, capable of gripping the shortest and finest hairs.

With hot wax paste, the skin in the waxing area warms up and the pores open, reducing the pain and trauma to a minimum. But you have to be careful not to burn yourself, because the melting temperature of the mass reaches 50-55 degrees, depending on the components in the composition.
After heating to a suitable consistency in a wax-melter, microwave oven or water bath, the paste is applied to the skin area with a spatula or spatula. As it hardens on the skin, it forms a thick film that can be removed without the use of strips.
Recently, film wax has been gaining popularity, which, in addition to the usual hot wax components, contains rubber and vinyl polymers. This gives more plasticity - this material when applied repeats the relief of the skin, so is able to better remove unwanted hair. It is available in the form of granules and in cans. The temperature of the ready-to-use film wax is 39 degrees, avoiding burns.



Waxes by form of product

Jar wax - due to its sheer volume, it is more commonly used in salons with high client traffic. The can waxes are available in different densities for different parts of the body. To remove the mass from the skin, strips of paper or non-woven material are used, which are placed on a layer of wax, and then plucked sharply against the growth of hair.

Wax pellets are a variation of can wax, but are gentler in texture and do not provoke allergic reactions.

Wax pellets (film) is most effective for use in the bikini zone, underarms and face. This form of release is convenient because you can easily measure the right amount of material. No stripes are needed when using it - it holds its shape perfectly and comes off the skin in a single piece of film.
One of the most popular forms for self-application is cartridge waxes. Thanks to the special roller in the design, the cartridges allow the material to be applied quickly, in an even, thin strip. Cassette wax requires heating, so you need a special heater - a wax-melter - to use it. You need paper or cloth strips to remove the mass from the skin. This variant of wax is suitable for any area of the body, the composition and additives should be chosen based on the area of application.

Wax strips are a handy option for travelling or on holiday as they are easy to use and dispose of. It's economical as one strip can be used several times. But it's inferior to other methods in efficiency - the thin layer of wax on the strip can't always grip short hairs.



Waxes by purpose

Universal - used for the entire body, including the bikini area and face.
For the extremities, chest and back - warm wax is usually used on these areas as the hairs are not as stiff and don't sit very deep.
For the face - softer wax, usually warm, with a special narrow roller is used.
For bikini and underarms - only hot wax is always used for intimate waxing.



Advantages and disadvantages of waxing

Advantages:
- Waxing doesn't take much time. For example, you can get rid of hair on your legs in 15 minutes.
- The result lasts for 3 weeks or more. Of course, this fact depends on the type of hair and the speed of its growth.
- Waxing is quite an economical way of depilation, if you compare it to salon waxing. One tin of wax is sure to last for several treatments.
- There is minimal risk of irritation when removing hair with waxing.

Disadvantages:
- Painful sensations may occur, especially if the skin is sensitive.
- Possible allergies to the wax. It is better to do a sensitivity test before applying the product. Here waxing loses out to shugaring.
- If you overheat the wax, you can injure your skin. Such trauma will take a long time to heal and will bring a lot of discomfort.
- During hair removal, you can damage a mole or other skin growth.
Disadvantages include a list of diseases that prohibit waxing: diabetes, dermatological diseases, infectious and inflammatory processes, vascular problems, varicose veins, and cancer. Doctors also advise against waxing for pregnant women.



Ways of depilation

Let's find out what depilation methods exist today.
In such modern times, depilation is in high demand. There are several ways to depilation and to avoid complications, you need to choose the method of hair removal that suits you.



Tweezers, razors and electric depilatories

Hair can be plucked with tweezers, an epilator or shaved. While inexpensive and at home, the disadvantages are obvious: Razors can't remove hair for more than three to five days and are known to irritate the skin, while plucking can be painful.



Waxing and shugaring

Waxing and shugaring are two summer-appropriate methods.
Waxing can get rid of hair quickly, and the waxing procedure lasts two to four weeks.
This kind of waxing is best left to trained craftsmen in a beauty salon. However, if you can't afford it, you can do the procedure yourself at home. Ready-made wax strips for different areas are available in any cosmetic shop.
For waxing all but the bikini and armpit areas, the cassette wax is ideal. In order to carry out the procedure, just apply the wax along the hair growth on the desired area, stick a bandage tape on top and then pull the tape off sharply strictly against the growth of hair.

Shugaring can be called one of the best methods of depilation, because sugar pastes have a natural composition, they are hypoallergenic. At home such a procedure is difficult to implement, but nevertheless it is possible. You will need sugar in a cartridge and cloth bandage. It is worth noting that the technique shugaring directly opposite the technique of wax depilation, the composition should be applied against the growth of hair, and remove it strictly on the growth of hair.
With regard to waxing areas such as the bikini zone and armpits are better to trust a qualified specialist depilation.
One of the advantages of these methods is the complete removal of hair with its bulbs. New hairs begin to grow in 2 to 4 weeks, no stubble appears. The disadvantages include pain, high probability of ingrown hairs, irritation, swelling and allergies, not suitable for varicose veins.



Photoepilation and laser

Photoepilation and laser hair removal are effective methods. The hair is removed with the help of special devices under the supervision of a specialist. This kind of hair removal can only be done in a salon with the help of a qualified specialist. It is expensive, but masters promise a complete cessation of hair growth after several procedures. However, the result is outweighed by many contraindications and side effects: it is not recommended to use these methods in summer, because contact of skin to the sun is prohibited, the procedure may be very painful and require painkillers, dermatologists have warned of the possibility of skin cancer after laser and photoepilation.



Using hair removal creams

Removing unwanted vegetation with creams is a painless and inexpensive method. The method can be used at home. The result of such depilation depends on the composition and quality of the chosen product. Practice shows that the depilation cream is able to deal only with fine and soft hair, coarse stubble, they just "not take" .
Professional creams gently remove hairs, contain vitamins and oils for the skin, which minimize irritation.



Products used before waxing

Products used prior to the procedure are a must. Every craftsman is required to have at least pre-depilation gel and talcum powder at their disposal before depilation.
The purpose of the pre-depilation gel is to prepare the skin:
- clean, degrease and disinfect.
- Reduce depilation time through better adhesion of the paste to the hairs.
- Expand the hair follicle mouth for better penetration of the paste.
- Get a mild analgesic effect: a cooling menthol or other similar components.

Of particular importance among the means to depilation has a talcum powder, which is used after the gel, before the application of sugar paste. Its use is an indispensable part of the hair removal process performed by a professional craftsman. Talcum powder removes excess moisture and skin grease, lifts hairs, serves as a protective layer, protecting the skin from trauma. The fine texture of the talcum powder does not clog pores and facilitates a quick and comfortable procedure.



Remedies after the depilation procedure

Any hair removal procedure causes minimal redness, and for some, even irritation. Therefore it is very important to take proper care of your skin after the procedure. The ingredients in the after-depilation lotion protect the skin during this period, soften and soothe it, close the pores, not allowing bacteria to cause inflammation. Not only talcum powder, pre- and post-depilation products, but also the follow-up home care will make the removal of unwanted hair perfect. Regular use of creams and oils will moisturise the skin, soften it, prevent fine hairs from growing in and slow down their growth. The combination of products will make the depilation procedure painless and fast, without irritation and redness, while giving you the opportunity to have healthy, sensual and silky skin.
After the depilation procedure, the desired area is treated with a care product. There are several types of products for different areas:

- After waxing your hands and feet in spring and summer, you should use lighter textures, such as lotions.
- In winter, it's best to use an oil after depilation on larger surfaces, as it nourishes and saturates the skin with micronutrients.
- For sensitive areas it is better to use creamy textures, as they moisturise the skin well. An emulsion is especially good to use as it prevents moisture loss.



Advice after depilation

After any hair removal method, the skin becomes injured and very sensitive. Take note of a few simple rules and stick to them for 24 hours after the procedure.

1. You must not visit: sauna, swimming pool, gym, solarium, beach, swimming in lakes and rivers, lying in a bath (a shower is allowed), massage room, spa treatments (wraps).

2. After bikini zone depilation, it is advisable to refrain from intimacy for a day and wash with antiseptic instead of water.

3. After showering, a moisturising emulsion or lotion should be applied to maintain the water balance of the skin and restore the lipid layer. Soft and moisturised skin will easily allow thinning hair to pass through during growth.

4. Do not apply deodorant to the depilated areas. Especially right after the procedure! It can cause irritation, itching and dry skin.

5. Do not wear tight or synthetic clothes during the first days after the procedure.

6. Do not sunbathe! Sunbathing can be a real nightmare for the skin after waxing - it can lead to inflammation and even burns.

We hope that reading this article has helped you understand all the necessary nuances.
Published: 25.03.2022 19:49 Times Read: 8