28 Elevated Nail Designs For Special Occasions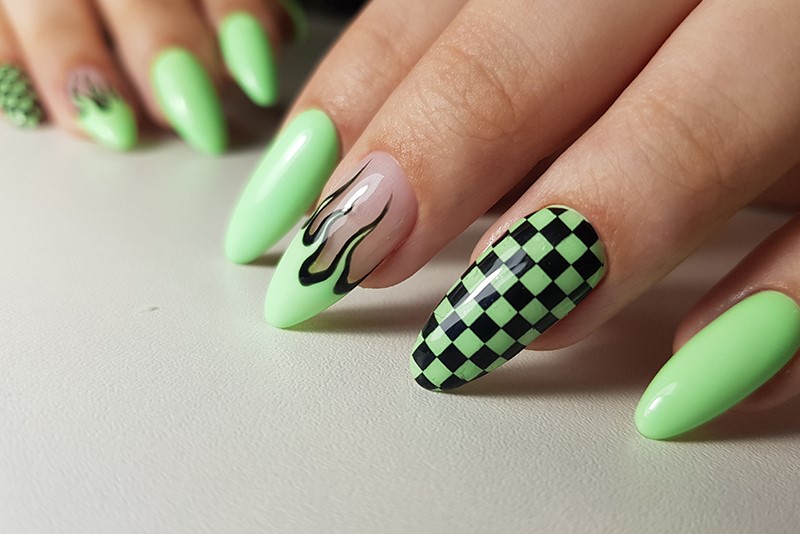 So often, people assume that nail art must be inherently bold. On the contrary, we're here to shed a little light on elevated nail designs that are subtle enough for conservative work environments and sophisticated enough for black-tie affairs. The color palettes are largely more neutral and the designs more simple, but let us be clear: These nail art ideas are anything but boring.


Keep reading to discover dozens of subtle-yet-elevated nail art ideas. Be sure to screenshot the ones you want to recreate so that you have an inspiration image on hand for your manicurist (or yourself!).
1. PALE PINK MARBLE

You can embrace one of the season's prettiest nail trends while still embracing an office-friendly nail look. Case in point: These pretty pale pink marble nails. Here's hoping they'll give you the power of rose quartz while you wear them.
2. STAVKED JEWELS

Gemstones go a long way when it comes to creating elegant nail looks. This one would be perfect for a bride (or anyone who loves a little bling).



3. ABSTRACT CHAMPAGNE
This manicure might be abstract, but thanks to the subtle glimmering nail shade, it offers a sophisticated artsy vibe. Best of all, since it's abstract, it's easy to recreate. Dip a toothpick or dotting tool into rose gold nail polish and twirl it along each nail. Finish with topcoat.
4. TRACED IN WHITE

Achieving an elevated nail look doesn't require covering all of your nails in full coats of color. Here, you can see how stunning white outlines and well-placed gems and dots can look.
5. SHORT ACRYLICS

Milky pink ombre nails? Talk about the most gorgeous subtle acrylics!
6. GLITTER OMBRE

Pale purple glitter ombre? Yes, please!
7. ROUNDED FRENCH TIPS

Point blank: You can never go wrong with a classic French manicure.
8. GOLD GLITTER CHEVRON

Gold glitter chevron over dark berry creates an eye-catching contrast that's sophisticated and fun.
9. MOODY FRENCH MANI

If you love a French mani's look but want to get creative with the colors, opting for a fall-and-winter-friendly palette maintains an elevated vibe.
10. BLACK FRENCH TIPS

Another option is to transform the classic French manicure into a black-tipped beauty. It's a particularly fabulous option for black-tie affairs.
11. SPARKLY MOUVE

Glittery pink nails can look sophisticated, too. Just opt for a mauve hue and trace the bottom with a solid metallic silver to balance the whimsical hue.
12. SUBTLE ACRYLICS

Acrylic nails don't have to be incredibly long. These square-tipped nails prove it. They also show just how alluring an asymmetric take on French tips can look.
13. MILKY BROWN DIAGONAL TIPS

Minimalist brown-dipped tips? Absolutely. (P.S. Nail striping tape will make recreating this nail look a cinch.)
14. NUDE HEARTS

Even seasonal nails can look sophisticated with the right design elements. Just look at these heart nails. With nude backgrounds and ultra-fine white lining, they look positively demure.
15. GEOMETRIC NEGATIVE SPACE

Looking for a sophisticated manicure worthy of a black-tie affair? Look no further than these geometric stunners.
16. GOLD FOIL SPECKLES

Diagonal mauve tips with gold flakes throughout? It's one abstract design that looks subtle and undoubtedly elevated.
17. VELVET NAILS

Velvet nails are a great option for elevated nails, as the polish alone creates an sophisticated end look.
18. MAUVE DIAGONALS

Of course, if you prefer to keep it as simple as possible, opting to keep gold flakes out of the picture makes for a pretty manicure, too.
19. CLOUD-LIKE TIPS

Whether you see hearts or clouds, these playful gold and white nails offer a fun-yet-sophisticated vibe.
20. BERRY FADE

Want to get in on the rainbow nail trend without actually wearing a bold rainbow? This pink-to-berry ombre grasps the trend while looking office-friendly.
21. MINIMALIST ART DECO

Prefer to make more of a statement with your nails? These subtle art deco nails will make you swoon.
22. TORTOISESHELL TIPS

Tortoiseshell tips are the perfect option for the person who wants to get in on the latest nail trends without rocking a fully bold manicure.
23. CHOCOLATE DRIP

This water-marbled brown ombre manicure is giving us major milk chocolate-caramel vibes. It's a
sweet
look.
24. LILIAC STUNNERS

Carefully place gold foil can go a long way. One look at these proves that they're magically elegant.
25. GLITTER HALFSIEIS

Opting for only half a nail's worth of glitter makes for a fun-yet-elegant nail look. And good news: It's easy to recreate. Start with a base coat, then apply a strip of nail tape down the middle of each nail, and paint glitter polish on the side of the tape. Remove the tape once fully dry and finish with a topcoat.
26. NUDE FADE

This is probably the subtlest rainbow mani we've ever seen. We love the mix of neutral tones.
27. TINY EVIL EYES

Teeny evil eyes make for almost undetectable nail art. In other words, très elevated.
28. NUDE ABSTRACT

Nude and white always pair beautifully for a simple (but stunning) look. This one, in particular, is easy to DIY. All you need is a nude base with white squiggles and dots on top.
Source:
www.byrdie.com
Author: Rebecca Norris
Global Fashion store
offers you professional products for nail care and modeling.
Other articles:
- What is a russian manicure? Here's what the experts say
- French manicure. Symbol of femininity
- Oval nail designs that will convince you to round your the edges of your nails
- 25 natural nail designs for a minimalist manicure
Published: 29.04.2022 08:39 Times Read: 29