Orange nail sticks. Features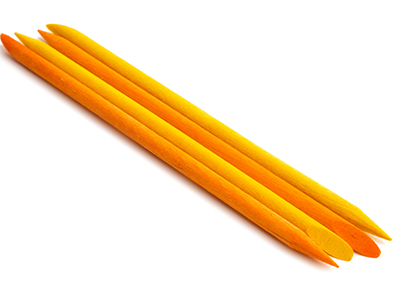 The nail industry contains so many different tools, products and accessories that sometimes it's hard to remember all the nuances. And among all this there is a tiny and ancient «device» like orange sticks. At first glance, they seem so insignificant, and what to do with them. But in fact, not all girls are familiar with their functions and do not pay much attention to it. Why do you need an orange wand and how to use it? Read below.
ORANGE STICK

An orange
wand is a thin stick made of orange wood with one end having a pointed nose and the other flat and bevelled. Its use is the key to a neat and gentle manicure.
Why was it chosen for making manicure tools?
- This material is strong and dense enough not to break or break during nail manipulation.
- At the same time, it is also quite soft, which means that your nails will not be injured if you use these sticks with the right amount of care.

WHAT IS AN ORANGE WAND FOR?
The most important thing fashionistas need to remember about the orange wand is that it is a disposable tool, it absorbs moisture very well, but it is poorly disinfectable. It cannot be sterilized and disinfected!!!
So, what are the functions of a «wand»?
1. For cleaning the nails.
The pointed edge of the stick can be used to quickly and easily remove all dirt from under the free edge of the nail.
2. For working on the cuticle.
An orange wand is particularly useful for European style manicures. In this case, you do not cut the softened skin, but only push it away with the wide end of the tool. If you use a traditional metal pusher for that, you'll damage the surface of the nail plate and also damage the integrity of the cuticle - after a couple of days it will turn into a terry cloth. A soft wooden stick, on the other hand, helps remove excess skin gently.
3. For removing cuticles.
They do a good job of removing cuticles with ease. Simply use a softening agent to gently pry away keratinized cuticle cells with a pointed edge and peel them away from the base of the cuticle. It is important to make sure that the cuticle is properly softened so that it is easy to remove the excess tissue with an orange wand.
4. Creating an original manicure.
For some decorative elements, the orange stick can also help. For example, you can easily transfer small and medium-sized rhinestones to the nail with the sharp tip of the stick. Use it also to create patterns, applications, smoothing stickers, glitter gluing, correction of unsuccessful decorations.
5. Nail extension.
An orange stick is used to remove softened acrylic, shape a biogel nail plate and glue tips. They are used for nail extension both for placing tips and building up the biogel and acrylics, as well as for the removal of artificial nails. When the acrylic softens, it can easily be removed with this manicure tool.
6. For the removal of gel nail polish.
An orange wand is handy for removing the remains of gel polish after it has been soaked in a special agent. Suffice it to pick up the flat end of the stick slightly loose gel polish, and then easily remove it without damage and traces on the nail plate, which can leave metal tools.
7. In nail design.
The nail file can also be used for nail polishing, like the wet-on-wet technique or in place of a dotting board.

8. For nail decoration.
To apply small objects on a nail and make a manicure with decorations - sequins, rhinestones, applique, then orange sticks here a thing indispensable.
Did you know? The French were the first to invent the use of this uncomplicated item in manicure - true professionals in terms of feminine beauty.
Buy
an orange wand. Check out our other professional manicure products at
Global Fashion's online shop.
Amazing! Such an insignificant tool and yet it does so much. We hope they will always serve you well now.
Read also:
1. How to choose a manicure lamp? Let's understand the nuances!
2. Which manicure suits you?
3. Nail file. An indispensable tool in every make-up bag
4. Manicure extractor. Master and client safety
5. Manicure router. Manicure art helper
Published: 28.03.2022 10:31 Times Read: 14