25 Natural Nail Designs for the Manicure Minimalist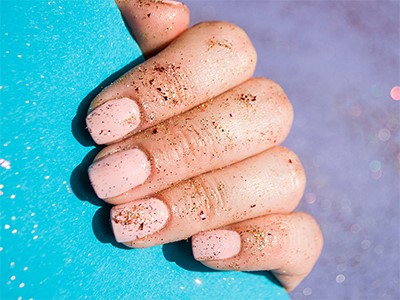 Have you ever wanted to book a manicure while also hoping to achieve a more neutral nail look? To some, this can seem counterproductive, given professional nail artists are experts at creating beautiful, bold nail art—why let that go to waste? Well, because you want natural nail art, of course. See, so often, manicures (especially those shared on Instagram) seem synonymous with vibrant, eye-catching nail art. However, if you look hard enough, you'll find that there are some pretty stunning natural nail designs on the web, too—and no, they're not just solid neutral swatches. We scrolled and scrolled and scrolled some more to deliver you 25 natural nail art designs. Check them out below.




1. ABSTRACT LINES

With a sheer neutral base and a hint of peach and white, this neutral nail art proves that natural nails can be playful, too. And, given the minimalist appeal of this mani, it's easy to recreate—even without a professional nail artist by your side.



2. MILKY PINK NAILS

Betina Goldstein is the queen of minimalist nails, and this milky pink mani only further proves it. With ultra-subtle gold hardware at each cuticle, this is a natural nail art design at its finest.



3. MATTE ABSTRACTS

Our nails aren't naturally super shiny, so it will only add to your neutral nail art aesthetic if you want to opt for matte polish.



4. WHITE OUTLINES

Rather than tracing the tip of your nails for a classic French manicure, consider lining opposing corners for a semi-framed appeal.


5. CREAMY SWIRLS

We're suckers for swirls, regardless of the color palette. This neutral-colored one brings images of lattes to mind.


6. PALE PINK TIPS

Opting for a neutral nail design doesn't mean you can't wear any color. Instead, it means to lean a bit more subtle in hue. Here, pale pink with hints of negative space and metallic gold offers a perfect business professional's low-key nail art idea.


7. FINE FRENCH TIPS

If you do enjoy a French tip, consider upgrading it with the finest white stripes possible. To perfect the look, either use a striping brush with a steady hand or section off slivers of your tips with striping tape before adding any polish.


8. DREAMY NEUTRAL NAILS

How dreamy are these sheer cloud nails? This manicure is both stylish and more on the neutral palette side with subtle hints of plain white polish.


9. ART DECO NUDES

Adding accents to your cuticles is a great way to jazz up a neutral nail look subtly. Here, simple silver stripes do the trick—and in the most art deco way possible, we might add.



10. NEUTRAL ACRYLIC NAILS

Acrylic French tips are another option for folks craving a natural nail look. After all, as our nails grow out, the tips naturally turn whiteish in hue. To elevate the natural appeal a bit, consider opting for sheer polish and gel and add a few swirls in for good measure.



11. ACCENTRED FRENCH TIPS

Another neutral nail design idea is to round out your classic French mani and then double it. On oval-shaped nails, this nail art looks especially elegant.



12. NEUTRAL ABSTRACT

Peachy tones are also in the neutral nail art department. And, the darker your skin tone is, the darker the peach you can get away with when aiming for a neutral nail look.



13. NEGATIVE SPACE GRIDS

Since white is among the neutral nail art color palette, you can get creative with using the hue. By letting much of your natural nail show through, fine white grids can work.



14. WHITE NEGATIVE SPACE NAIL ART

Of course, if you prefer to be more playful, you can use white polish to create an array of Y2K-inspired designs.



15. GOLD SWIRLS

Gold polish is always a gorgeous addition, but it looks beautiful on warm, golden skin tones when neutral nail art is the goal. Here, gold polish is paired over pale pink for a simple neutral nail look that's elegant and fun.



16. TWO-TONED NEGATIVE SPACE NAILS

Hoping for more of a contrast? Opt for bright white and pale peach polish with a strip of negative space in between. To perfect the negative space, use the edge of a circle sticker and paint away.



17. NEGATIVE SPACE SWIRLS

While negative space is on the mind, check out this simple white swirl nail design. This neutral nail art design looks like a more polished version of clear negative space with a milky background.



18. MATTE NUDES

Another option is to embrace the rainbow nail art trend, only instead opting for all neutral skin tone shades. Top it off with a matte topcoat et voila.



19. NEUTRAL TIE-DYE NAILS

If you love the idea of bolder nail art but want to keep a neutral palette, you'll love this peachy tie-dye idea.



20. NEUTRAL SHIMMER NAIL

Love the look of neutral rainbow nails but prefer a bit more shine? Check out this metallic rendition.



21. GOLD-TIPPED NUDES

Another way to incorporate more nail art is to create layers or neutral hues over top of a milky nude base, as is the case with this pretty almond-shaped mani.



22. TOFFEE TIPS

To upgrade the French manicure with an even more neutral twist, consider swapping out the classic white tips for toffee-colored tips lined in white.



23. CREAMY NEGATIVE SPACE SWIRLS

For a creamy neutral nail look, consider this milky swirl idea. It's giving us delicious marshmallow vibes.



24. INVERTED NEGATIVE SPACE

Who knew finely-lined inverted arches could make such an impact on a neutral nail look.
Published: 06.04.2022 11:47 Times Read: 23