24 Pastel Nail Ideas to Show Your Manicurist ASAP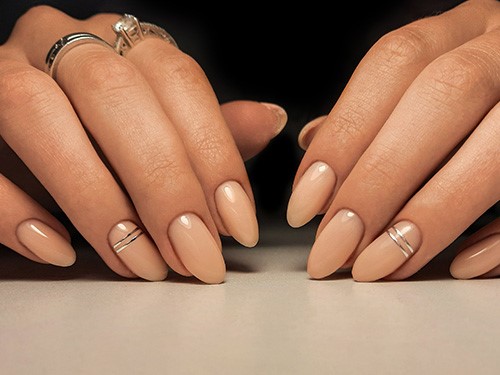 Whether you're headed to the salon or planning to get hands-on with your own nail art, chances are, you're looking for stylish ways to take your manicure to the next level. As much as you may feel inspired to reach for bright, hot hues to match the season, if you scroll through Instagram, you'll learn that pastel nails are actually what's
hot
right now. With nearly 530,000 posts dedicated to the hashtag, there are so,
so
many pastel nail art ideas to choose from. To help make it a little easier, we've rounded up 25 of our faves. Check them out, below.
1. ARCHED DIAGONALS


You don't need to cover your entire nail in color in order to achieve a pretty pastel nail look. Here, you can see how arched diagonals, negative space, and metallic gold accents create an eye-catching manicure.

2. PASTEL HEART TIPS


Keeping pastel purple top of mind, check out these pretty heart-shaped tips. The best way to re-create the look is to use a thin striping brush to trace on the heart-shaped arches.
3. PASTEL NEON


While pastel and neon might seem light complete opposites, pastel neon is, in fact, a thing. Just look at this vibrant pale nail look if you don't believe us. Megawatt, no?
4. BRIGHT PASTELS


Pastels can be bold. Case in point? This pale-yet-powerful abstract mani.
5. TUTTI FRUTTI NAILS


Tutti frutti nails are one of the biggest manicure trends of summer and—you guessed it—pastel polish is at play. Given the intricacy of these multicolored nails, you may want to visit a professional to bring them to life. Of course, if you don't mind perfectly-imperfect swirls, a thin striping brush will help you achieve the look at home.
6. PASTEL PURPLE ACCENT


Not set on a single design but know that pastel color you want to use? Consider this monochrome nail art idea backset on white polish.
7. PASTEL SWOOPS


We can't get over how dreamy this negative space mani is. With two contrasting colors on each nail, it's one pastel nail art idea that's sure to turn heads.
8. PASTEL MELT


If you can't choose a single color, don't fret. With an ombré technique, you can create a pretty pastel fade between hues.
9. PASTEL SWIRLS


We love this pale purple swirl manicure. Whether you offset it with clear-coated negative space or opt for pale peach in the background, this nail look is bound to look groovy.
10. PASTEL HEARTS


Whether you're rocking these pastel rainbow nails for pride or any other time of year, they're guaranteed to give you a reason to look down and smile.
11. PASTEL DOTS


Here's a pastel nail art idea that you can easily re-create yourself. Start with clear polish or a nude base and use a dotting tool to stipple a different color of pastel polish onto each nail. Don't forget a layer of topcoat to seal your design in.
12. PASTEL DIAGONALS


Another simple at-home nail art idea? Clean diagonal lines. Whether you use the same pastel shade on each nail or transition between five, you're bound to love the end look. Best of all, it's easy! Just section off your nail with striping tape and you're good to go.
13. PASTEL PEACH ACCENTS


Pale purple and peach just work together. And with only one intricate nail in this mani, we bet you can bring it to life yourself. Just arm yourself with striping tape and a touch-up brush and you'll be well on your way.
14. ABSTRACT ACCENTS NAILS


These pastel abstract nails remind us of prints from the '80s and '90s. Which is to say, we're fans.
15. PASTEL STILETTO NAILS


Here's another pastel neon nail look perfect for summer. With primarily warm shades, it's a hot mani idea worthy of the 'gram.
16. TWO-TONED PASTEL TIPS


Love the idea of diagonal nail art but want to make it a little less straight? Check out this two-toned wavy manicure idea. Fun, no?
17. WAVY PASTEL NAILS


Speaking of wavy nails, how funky is this pastel neon nail art idea? A summer must, that's for sure.

18. COOL-TONED PASTELS


Hoping for a more serene pastel manicure? This cool-toned nail art idea will do the trick.

19. PASTEL SUMMER NAILS


Of course, if you prefer a bit more variety, this hot and cool pastel mani is a fun way to hop on the trend. Plus, it lets you play with multiple art accents, too.
20. NEGATIVE SPACE PASTEL NAILS


Pink, purple, blue, yellow, and green are always pretty—especially in pastel shades. If you agree, try re-creating these wavy negative space nails using a fine striping brush.
21. PASTEL GRADIENT NAILS


Point blank: These pastel gradient nails are gorgeous. Plus, they'll let you show off loads of color.
22. PASTEL AQUA NAILS


Robin's egg blue, anyone? With a striping brush or two-sided dotting tool in hand, you'll be able to easily re-create this mismatched nail art idea.
23. PASTEL LAVENDER NAILS


For whatever reason, these nails remind us of the underwater squiggles on SpongeBob. Given pop culture's love of all things Y2K, that makes them trendy in our book.
24. PASTEL LEOPARD NAILS


Who said leopard nails have to be in neutrals? We're head over heels for this pastel take.
Source :
www.byrdie.com
Author: Rebecca Norris
Global Fashion Shop
provides you with professional nail care and modeling products.
Other articles:
- How to wear lipstic nails according to the manicurist who made them
- 14 black nail artists making an impact in the beauty industry
- Searches for abstract nail are way up-here's how to wear the trend
Published: 27.05.2022 18:25 Times Read: 17