French manicure. A symbol of femininity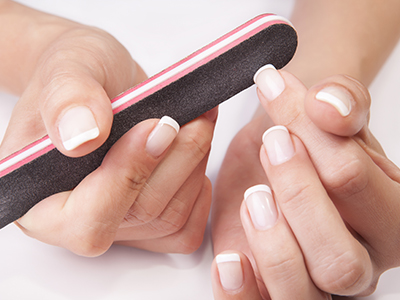 French words can often be heard in Russian, and in different spheres, salad «olivie», cake «napoleon» instead of «thank you», French «mersi», and how many songs with «je t'aime». The nail industry has not been without the French nail, to be exact, the famous «french» manicure - the whole world knows it! Nowadays, and 30 years ago, the French manicure was and is very popular. It is considered a versatile design classic manicure. After all, it has shades that will suit any «look», clothes and even mood. We can say that the French manicure is a symbol of eternal beauty and femininity. We are sure that you do not know all the subtleties of such a popular manicure, so we have prepared a material that will reveal all the «zest» of your favorite «french».

FRENCH MANICURE VARIETIES
Classic.
It's a laconic, naturalistic appeal. When it is applied, the nail plate is covered with a bed base (most often in beige, pink or peach colours), and the tip of the nail is painted white. The base for this manicure can be a natural nail or a manicure done with
gel
,
gel lac
,
acrylics
or tips. This option is perfect for medium length nails.

American.
This type of Frenchy does not require drawing the smile line, i.e. the colour of the tip smoothly passes into the colour of the base. It can be applied to any nail shape, but the American French is most frequently applied to square or sharp nails. It differs from the classical version by the richness of the colour range (not only white and beige-pink).
Fan french.
A popular type of manicure, which decorates the tip of the nail plate, but not the body. In fact, it is a reverse French manicure, when the bed is painted in a dark shade, and the edges are light.
Stained french.
When it is created, the tip of the nail is enhanced with acrylic or coloured gel. A stained nail is often decorated with sequins or acrylics.
French millenium.
The tip of the nail is decorated with a sparkling dusting and glitter. A smooth transition from the sparkling tip to the rest of the nail plate is also possible.
The art franch.
A designer interpretation with foil, lace or stickers along the free edge. A distinctive feature of this type of French manicure is the presence of a bright pattern and shiny embellishments. Often the design is only on the ring finger.
Openwork french.
In this case, the nail plates are covered with fine patterns resembling lace.
A coloured french style.
In this manicure, instead of white, any other colored
gel polish
is used.
As a side note: Since you probably noticed, each manicure is interesting in its own way, the choice is yours, but it is worth considering the fact that, it must be in harmony with the overall style.
THE ADVANTAGES OF A FRENCH MANICURE
French nails have a myriad of advantages.
- French nails look natural.
- always stays in fashion.
- it allows for experimentation, design and decoration according to one's own wishes.
- fits and preserves the natural beauty of both natural and artificial nails.
- is practical, and for a long time has a nice and neat appearance.
- classic look, suitable for any outfit and make-up.
- suitable for any shape of nail - square, oval, square-oval, semi-circular.
- With French nails it provides a healthy look and conceals all nail imperfections.
- It is absolutely universal.
- Suitable for any situation
- Extremely easy to care for: It is enough to cover the nails with clear nail polish after a couple of days.
- Ideal for manicures on the feet, especially in summer.
-This type of manicure is ideal for the nails, especially during the summer.
-French style goes well with both tanned and pale skinned hands.
Interesting!: Did you know that the history of the French manicure actually started in the USA? It was founded by the inventive Jeff Pink. It was he who invented the natural 'smile' coating that every other girl wears these days.

CLASSIC GELCOAT FRENCH. WHAT'S NEEDED?
The classic French can be done with the most common polishes and stencils, but it takes a lot of time, until you draw, until it dries, it's quite a long process. Today, every other girl uses gel nail polish to create a manicure. After all, it's easy and quick. Some skills in the nail industry you have and you decide not to spend money on expensive trips to the salon, and do manicure yourself. But of course, apart from skills, you still need a number of materials and tools. Namely:
-
Ultraviolet or LED-lamp
.
- B
ase
coat.
- A finishing
top
coat that provides not only a brilliant shine, but also protection from abrasion and scratches.
- Camouflage (flesh or natural pink) gel polish for the nail bed area and white for the free edge.
-
Primer
, which degreases the nail plate and enhances the adhesion of the keratin flakes to the artificial coating.
- Cleanser, a liquid which removes the sticky layer.
- A stiff
brush
to wash out the smile line. A small «petal» is optimal.
- Cuticle oil. This compound will not only tighten the skin and make its contour more tidy, but also has a beneficial effect on the growth of nails under the coating and their condition after removal.
- A
nail file
to trim a loose edge and shape the nails.
- A
buff
to prepare the surface of the plate for coating.
High-quality and professional materials can be purchased in our
Global Fashion online shop
.
Paint your nails and always be beautiful!
Also, in order to make a correct choice of all the necessary materials, read our articles, they will be very useful:
1. How to choose a manicure lamp? Let's understand the nuances!
2. Top for gel polish. What it is for?
3. Nail base. All its subtleties
4. Gel nail polish. All the best part
5. Nail primer. What is it for?
6. Nail file. An indispensable tool in every girl's make-up bag
Published: 28.03.2022 10:25 Times Read: 70