14 Velvet Nail Designs You Can Wear All Year Long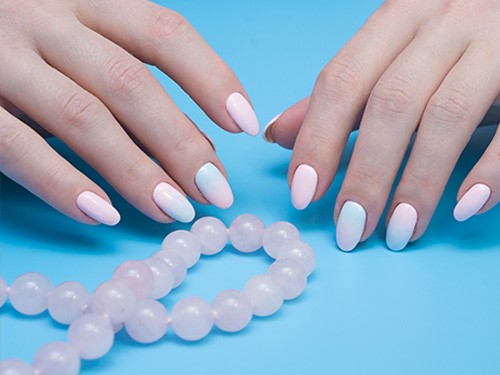 In case you missed it, velvet is one of the year's most coveted fabrics. From leggings and dresses to couches and even lamps, velvet textiles are taking over. And now, the luxuriously soft fabric is making its way to the beauty scene with nails that seem to mimic the beloved fuzzy finish. Fittingly, this new nail trend has been dubbed velvet nails. These manicures are characterized by shimmering, semi-metallic polishes that, in the right light, look just like velvet.


Unlike some nail trends, velvet nails typically rely solely on the velvety appeal to make a statement. While some artists will use the finish—which is most often created with flocking powder or magnetic polishes—to create elevated French manicures or abstract designs, for the most part, it comes down to perfectly painted, solid velvet shades. And there are many different hues to choose from, from sage green and amethyst to champagne and burnt orange.


To help you find your perfect shade, ahead, discover the 14 best velvet nail ideas to show your manicurist.




1. MAUVE VELVET
Prefer pink shades? Here, you can see how pretty a mauve velvet manicure can look. Let's just call it the new neutral.
2. TWO-TONE VELVET
We love a two-tone manicure—especially when it's paired with a velvet finish.
3. MINT VELVET
This has us craving mint chocolate chip ice cream—anyone else? We love how soft and sweet these minty nails look.
4. NUDE VELVET TIPS
So subtle and still such a statement.
5. BLUE VELVET
These shimmering blue nails remind us of the natural wonder of bioluminescence.
6. VELVET SNOWFLAKE NAILS
Just because velvet nails typically stand on their own doesn't mean you can't weave designs into your manicure, too. Take these, for example: As it turns out, dainty snowflakes and shimmering velvet nails look stunning together.
7. CLASSIC VELVET
The way these silvery nails catch the light is truly beautiful, worthy of a special event or just adding an extra touch to your everyday look.
8. VELVET STAR NAILS
Another option for folks looking to tie velvet shades into detailed manicures is to use stars and gems in the same hue. Case in point: these silver dotted and starred nails.
9. PALE PINK VELVET
We love how Tran transformed the typical velvet nail trend into an abstract work of art. With subtle pink shimmer and swooping silhouettes, this manicure is one that's quite difficult to look away from.
10. VELVET COFFIN-SHAPED FAUX STILETTO TIPS
While velvet nails are typically soft and subtle—even when paired with designs—that's not to say that you can't go a bit bolder with your nail art. Here, black shimmering stars are paired with minty velvet for yet another pretty take on the velvet nail trend.
11. SILVER VELVET
These simply silver velvet nails are perfect for winter. They're icy and soft, reminding us as much of snow and cold temperatures as cozy sweaters and warm nights by the fire.
12. NUDE VELVET
Looking for a way to elevate your favorite nude nail look? Here's one idea you won't want to pass up.
13. VELVET OMBRE
Another option is to combine the velvet nail trend with another popular look. Say, for instance, ombré nails. After all, how pretty is this purple fade?
14. PALE GRAY VELVET

Source :
www.byrdie.com
Author: Rebecca Norris
Global Fashion Shop
provides you with professional nail care and modeling products.
Other articles:
- Searches for abstract nails are way up- here's how to wear the trend
- The most fashionable nail colors - winter 2022
- 28 elevated nail designs for special occasions
Published: 17.05.2022 09:28 Times Read: 18