Top for gel polish. What is it for?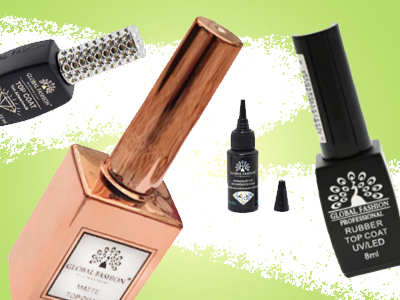 The nail industry is hugely popular these days. This is not surprising, because it is directly related to the «beauty» or more precisely, the beauty of the nails of modern fashionistas. It is known that good-looking and high-quality manicure depends not only on a professional craftsman, but also on the necessary tools that he uses in the process of manicure.
Today, we will pay attention to such a tool as top for gel nail polish - what it is, its direct function, what kinds exist. So if you are a beginner, feel free to read our article, and even if you are not a «first day» in this business, this information will still be useful to you.

Top for gel polish. What's the use of a top?
A top
is a topcoat to secure coloured gel polish and protect it from chipping and fading. The top contains natural rubber resin, which creates a firm layer on the plate, fixing the design, smoothing out flaws and undercurrents of coloured polymer.
The main functions of the topcoat are:
- protects the colour from scratches, chips, cracks, fading, exposure to harsh environments .
- allows you to create the perfect glare.
- allows you to make a topcoat.
- helps to fix designs and decor elements.
- Some types of tops give a manicure additional effects, for example a matte finish.
- binds previous layers of nail polish and provides long-lasting manicure, gives strength to composition.
- protects against yellowing.
Types of tops
From manufacturers, the following main types can be distinguished:
- with and without a sticky layer.
- thick and liquid.
- matte.
- with shimmer.
- for fixing designs.
With and without tacky coat
A gummy film (dispersion film) is a residual tackiness on a gel polish, base and top after its polymerisation in a lamp.
Gummy top is a widely used option. It is compatible with all polymers and covers all kinds of designs.
The main functions of the dispersion layer are:
- improving the adhesion between the layers of the artificial coating: between the base and the gel polish, the gel polish and the top.
- Giving elasticity to the gel coat, which is important if your nails are flexible and bend well.
Based on the function of the dispersion, it is clear that sticky tops have elasticity and are ideal for soft nails. On bendable nails, such tops will «move» with the nail and not crack.
Non-sticky tops
These types are often chosen by beginners. Non-sticky tops reduce procedure time and master's expenses, as there is no dispersion which needs to be removed with a special agent. They are stiffer, suitable for sturdy nails. On soft, bendy nails and when applied on a soft, plastic base, they will crack.
Note: The main advantage of a non-sticky coating is that it saves the craftsman time. Immediately after polymerisation in the lamp, the manicure is ready and the client can be released.
Thick and liquid
Topps can be either thick or liquid in consistency, but these concepts are very relative. Some tops are as liquid as water. Some are so thick that they stretch like bubblegum. To understand the thickness of a top, simply remove the brush from the bottle and see how quickly the material runs off the brush and how stiff it is. Topps of water consistency are mostly non-sticky. Products with a sticky layer can be either thicker or more fluid.
Matte
There are 2 types of matte tops: velvet and satin.
Velvet tops create a light matte finish which feels slightly different to glossy nails and may start to shine with time. Velvet tops are porous and dirt is attracted to these pores. So it's best to choose them for application on dark and medium-toned colours.
Satin Tops - Tops no longer have that pleasant feel. They're just matte, as if they've been run over the surface with a super soft baffle. After 1-2 weeks, they start to fade and shine slightly. They're perfect for lighter shades. Of course, they can get dirty, but not as much as velvet ones anyway.
With shimmer
Shimmer tops are a great way to add highlights to any monochrome surface! Glitter tops come in different sizes and shades, so you can easily create the effect you want.
Use shimmery gel polishes or tops! They're great for hiding imperfections on the nail plate!
For fixing designs
Design fixing tops are a separate category of tops. These tops ideally fix nail art (including slider and wax effects) due to their special formulation and their elasticity allow for lasting nail art without chipping or peeling.
After polymerisation of the coloured layer, it is time to apply the topcoat. Do not move the top close to the lamp, especially if the UV machine is on.
As a side note, the tops are available in 8, 12 or 15 ml sizes. The tops are also available in 30 ml, but these are considered «reserve» and usually come without a brush, but they can be poured into a regular can.
The basic rules for applying the topcoat
The top coat ensures durability and strength of your manicure, but you need to follow the rules for its application.
- Stir the top before use.
- Carefully open the bottle with the viscous product.
- Remove excess polish, leaving a little product on one side of the brush.
- Place the brush parallel to the plate.
- Place the first drop in the middle of the nail and stretch the product over the surface.
- Seal the edge of the nail and apply a small amount of topcoat around the edge of the file.
How to choose a top?
When choosing a
quality top
, always pay attention to the following criteria:
1.
Consistency. It's best to choose a product with a thick consistency. A thin one will smear on the cuticle and feel sloppy when dry.
2.
The brush used should be sturdy, clean and free of protruding hair.
3.
Professional. Purchase genuine products from reputable brands.
4.
Rubber. It's elastic and durable and will adjust to all curves.
5.
Dispersion-free top will save you time on goo materials.
Do you need a professional top? Then go
here
.
Be beautiful and always use only professional products in creating your manicure.
Read also:
1. Nail base. All its subtleties
2. Nail primer. What is it for?
3. Gel nail polish. All the best part
4. Nail extensions with gel. All the nuances
Published: 24.03.2022 10:50 Times Read: 43