The Best Glitter Ombre Nail Designs to Wear All Year Long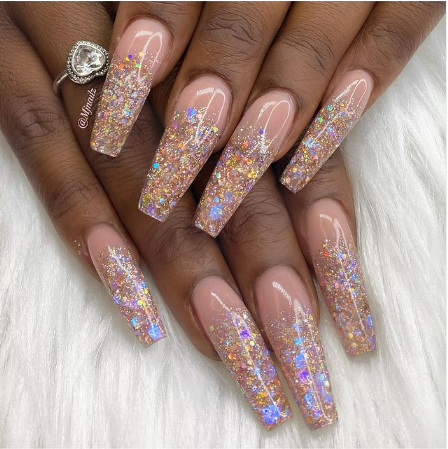 We love sparkle as much as the next gal but can admit that sometimes, glitter can be a bit overwhelming. That's the same thought behind one of the latest nail trends to take social media by storm: glitter ombre nails. Unlike full glitter nails, ombre glitter nails feature a fade of glitter—either from the tip down or cuticle up. Thanks to their half-covered allure, we like to think of them as the grown-up version of our favorite sparkly childhood nail looks.


Since we know we're not the only ones to swoon over sparkles, we went ahead and rounded up some glitter ombre nail designs for inspiration. From neutral champagne shades to bold silver and colorful hues, ahead, you'll discover our favorite glitter ombre nail art ideas, courtesy of some of Instagram's most creative nail artists.


1. SUBTLE OMBRE


For those of you that love the idea of a grown-up glitter manicure but still want to keep it neutral, this subtle shimmer will be your best bet.
2. SILVER GLITTER FADE


Here's another neutral option to dip your tips into the glitter ombre nail trend. Start with a nude base and top it off with silver glitter. Easy enough!
3. STARRY OMBRE


Ready to kick it up a notch while still keeping it neutral? This glitter ombre nail art idea features a translucent nude base covered with champagne-colored glitter and holographic-star confetti. While it looks more in-depth, it's still easy to recreate—the toughest part is adhering the stars (and that requires sticking them on top of semi-wet polish and topping off with a top coat).
4. ROSE GOLD SPARKLES


Still on the neutral end of the spectrum, this ombre glitter nail art idea features clear jelly tips covered in rose gold glitter and delicately painted white stars to make them look especially sparkly. We're getting KiraKira vibes. Anyone else?
5. INVERTED OMBRE


Hoping for less of a French glitter ombre and more of an allover glittery feel? You'll be able to achieve such by inverting the glitter fade on each nail.
6. MAUVE TIPS


These holographic pink and purple nails remind us of a magical unicorn—in the best way possible. The glitter on the top is like the cherry on top of the perfect sundae.
7. HOLOGRAPHIC OMBRE

If you prefer to let your glitter do all the talking, feel free to cover your nail in a clear basecoat or ever-so-slightly tinted transparent polish before painting on the glitter of your choice. We love how this one looks rainbow in certain light.
8. BEDAZZLED OMBRE GLITTER NAILS


On that same note, glitter doesn't have to be the only shiny addition to your mani. Here, one Instagram user shows how a little extra sparkle goes a long way.
9. OMBRE ACRYLICS


While those with short nails can achieve miniature fades, those with longer nails can really show off an ombre glitter fade. Case in point? These ultra-long, square-tipped acrylics. Of course, you'll need a manicurist's help to bring these neutral-tinted stunners to life.
10. КОНФЕТТИ ОМБРЕ


Quite possibly our favorite glitter ombre nails, these go beyond ultra-fine sparkles and bring colorful confetti into the mix. We're getting major '90s vibes from these bright beauties.
11. COFFIN-SHAPED OMBRE GLITTER NAILS


Ombre glitter nails don't have to be super subtle in their fade. Instead, you can opt for a glitter tip with just a few stray sparkles to complete the look.
12. FRENCH OMBRE GLITTER NAILS


These oval-shaped nails are one of the most elevated takes on glitter ombre. With just one statement nail per hand, it really makes the glitter pop.
13. GOLD OMBRE GLITTER NAILS
Prefer gold over silver? Make it known through your mani.
14. GUNMETAL OMBRE GLITTER NAILS


Glitter ombre nails make quite the statement. So much so that you may only need one half-dipped nail and one statement nail to turn heads.
15. ICY TIPPED OMBRE
Of course, glitter ombre nails have to have a bit of bling-bling star sparkle. The silver glitter, with big hand placed stars make this manicure look like a glistening snowflake.
16. CHUNCY GLITTER OMBRE


Also, let it be known, all glitters are fair game—including chunkier sparkles that might not create as subtle of a fade but will definitely achieve the same eye-catching allure.
17. GOLD-DIPPED OMBRE NAILS


With chunky glitter top of mind, we had to show you these gold-dipped beauties. They're so sunny and warm—not to mention super easy to recreate. Start with a clear base coat and follow up with the chunky gold glitter polish of your choice, painting only halfway up your nail. Thanks to the transparent nature of glitter polishes, it will naturally create a bit of a dispersed fade. Don't forget the top coat
18. LONG NUDE OMBRE GLITTER NAILS


Just because you want a neutral base doesn't mean you have to pick a run-of-the-mill glitter. Here, you can see how rose gold-tinted holographic glitter will add extra allure to your ombre nails.
19. PURPLE GLITTER OMBRE


Nude polish is elevated with an ombre chunky purple glitter. The design is elevated by really fun hand painted sparkles.
Source :
www.byrdie.com
Author: Rebecca Norris
Global Fashion Shop
provides you with professional nail care and modeling products.
Other articles:
- 24 pastel nail ideas to show your manicurist ASAP
- 24 short almond nail designs to consider for your next nail look
- 14 velvet nail designs you can wear all year long
- Oval nail designs that will convince you to round your edges of your nails
Published: 30.05.2022 18:52 Times Read: 28