Manicure kit steriliser - looking after your customer's health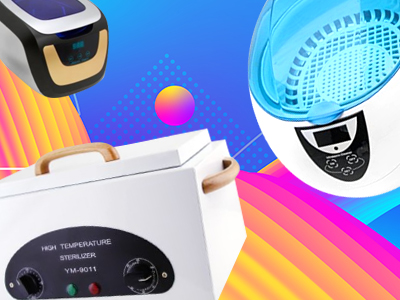 Apart from the fact that manicure is a procedure after which the self-esteem of the fairer sex increases, it is also a very responsible and serious process. This can lead to various health problems for the client if the sterilisation rules are not followed. Not only beautiful manicure, but also the health of the client depends on the professionalism and accuracy of the specialist. Every technician is obliged to sterilise manicure tools and accessories in order to avoid bad consequences for the health of the client. Therefore, a steriliser is compulsory in the beauty salon, with which the instruments are disinfected and cleaned after each use.
For starters, let's understand what the disinfection and sterilisation process involves. Masters usually perform the following steps for cleaning and disinfecting manicure sets:
1. Disinfection combined with pre-sterilization cleaning in an ultrasound bath
- When using an ultrasound bath, it is possible to combine disinfection and cleaning in one step. Remove the instrument tray from the tub and fill the tub with water up to the mark. The tank capacity is approx. 0.7 litres. Ensure the water temperature is at least 18 °C! Add the disinfectant. Use a measuring cup or a simple disposable syringe for dosing the disinfectant. Arrange the instruments in the gridded tray and place the tray into the tub. The instruments should be completely covered with the disinfectant solution. Operate the ultrasonic bath for 15 minutes.
2. Rinse thoroughly with water and dry
- After ultrasonic treatment, the instruments should be rinsed with clean water and dried thoroughly. Then inspect the instruments carefully. They must be free of blood, skin and other impurities, scratches and chips.
3. Sterilization
- Place the instruments in self-adhesive kraft sterilization bags and seal them. Sterilise the instruments in a dry-heat oven at 180°C for 1 hour. Do not exceed the specified temperature and holding time! Even a brief over-temperature of over 180°C may cause the instruments to lose their strength and their value.
4 Storage
- Store the sterilised instruments in their kraft bags until next use. Storage in an ultraviolet chamber or, if not available, in a sealed box is recommended. In a sealed kraft bag the instruments remain sterile for up to 30 days.
As you have already noticed, all the steps are very important and if one of the steps is avoided by the craftsman, it will affect the client's health in the long run.
What is an ultraviolet cabinet?
An ultraviolet cabinet or UV cabinet is a device for storing previously disinfected and sterilised instruments using an ultraviolet-coloured lamp. It kills the simplest types of germs, such as viruses and colds. The UV cabinet is in great demand both in beauty salons and by home nail and hairdressers.
Instructions for use of the UV cabinet:
1. Connect the appliance to the mains.
2. Insert the instruments into the cabinet.
3. switch the appliance on by pressing the button.
4. unplug the button and cord after sterilisation.
Now for the preparations for the sterilization of manicure tools.
Kraft bags for sterilising manicure instruments


Sterilisation pouches are used to keep instruments sterile during storage. Thanks to their wide range of sizes, they are suitable for sterilising all types of instruments. On the outside of the Kraft pouches, there is an indicator that changes colour after sterilisation (e.g. in a dry-heat oven), making it easy to identify when the treatment has been completed. The paper bags for sterilisation of manicure instruments do not require any additional equipment as they have an adhesive layer. The pouches are disposable. After use, they are disposed of with household waste. More often, the envelopes have one or two class 1 chemical indicators built in, which by changing their colour indicate that the bag has been put in for sterilisation. Only the internal indicators inside the pouches confirm that the entire sterilisation process has been correctly performed. According to sanitary regulations, the pouches are opened directly in front of the client.




Manicure instrument sterilisation in the dry-heat oven


Kraft pouches are used for sterilising manicure instruments in a dry-heat oven. Kraft paper contains oily compounds which make it able to withstand high temperatures. In order to prevent Kraft bags from producing an unpleasant odour and burning, the temperature must be controlled accordingly. The optimum temperature for sterilisation in a Kraft dry-heat oven is 160°C for 150 minutes and 180°C for 60 minutes.




Manicure disinfectants


Nowadays market offers a huge range of disinfectants for manicure tools, we will tell you about the most demanded and popular, which are mostly used by professional craftsmen in their work.


Alaminol -
this product contains substances such as alkyldimethylbenzylammonium chloride and glyoxal, which help to qualitatively suppress the activity of causative agents of tuberculosis, viral infections, HIV, herpes, hepatitis, entero and rota viruses, Candida class fungi, etc.


Estilodez -
this product is one of the most popular on the market, due to its high efficiency and affordable price. It contains many active ingredients, such as alkyldimethylbenzylammonium and didecyldimethylammonium chloride, which are surface active substances (surfactants), guanidine, hydrochloric acid and others.


Multi -
Dez is another popular disinfectant. It is also quite popular due to its effectiveness and low cost. The chemical composition of this product is quite simple, containing only guanidine and several types of surfactants, which is enough to kill bacteria, viruses, fungi and germs. This product does not cause corrosion on metals, does not fix biological (organic) debris, is not afraid of freezing and thawing, and has cleaning properties and qualities.


Optimax
is an equally sought-after disinfectant, the cost of which is affordable to everyone. It is also a concentrate that is diluted with ordinary tap water in a ratio of one to fifty. The chemical composition of the substance is based on a solution of five percent N,N-bis(3-aminopropyl) dodecylamine, non-ionic surfactants and a corrosion inhibitor.
Sterilisers, which are designed to disinfect the manicure equipment of a manicurist and pedicurist, come in several varieties. Let's take a look at the main types of sterilisers most commonly used by craftsmen.
Varieties and features of manicure tool sterilisers

A steriliser
is a device that acts on manicure tools with various radiations or in some other way, thereby killing the bacteria and germs present on them.
- Ball (quartz).
They perform a complete sterilisation in a few seconds (5 to 15 seconds) and the instruments are processed, completely disinfecting and eliminating bacteria and carriers of various diseases. Deep sterilisation is achieved in this device thanks to the air heating method of the quartz balls. On average, it heats objects up to 250 degrees Celsius.
- Dry-heat chamber.
One of the most popular sterilisers for manicures, which operates on the principle of heat treatment, is designed for all-metal devices. The disinfection takes place by heating the instruments to the desired temperature. On average, manicure instruments are treated at temperatures between 200 and 260 C⁰. The operating time for this product for sterilising manicure instruments depends on the specific model and the processing temperature and ranges from 30 to 120 minutes.
- Ultasonic.
Provides a rather delicate cleaning and disinfection regime and is completely safe for absolutely all devices. The steriliser works by using ultrasound and a disinfectant solution. This steriliser is suitable for manicure and hairdressing instruments as well as jewellery.
Advantages and disadvantages of manicure sterilisers- Ball (quartz).
Advantages: Can be used by several craftsmen at the same time, does not consume much energy, compact, stable, long service life. Disadvantages: High price, the need for regular replacement of the filler, the ability to handle only those tools that can withstand high temperatures, inevitable deformation and gradual blunting of the tool.
- Dry-heat chamber.
Advantages: the entire surface of the instrument is sterilised; the hot dry air in the dry oven prevents corrosion of metal instruments and erosion of glass surfaces and maintains their integrity and physical properties; the sterilising agent in this case is dry heat, which has excellent penetrating properties for virtually all materials. Disadvantages: High cost, long sterilisation time, and it is essential to ensure that the objects are heat-resistant before sterilisation.
- Ultrasonic (ultrasonic washing).
Advantages: absolutely safe to work with, it is possible not only to sterilize, but also to store tools until next use, sterilization speed, versatility - great for manicure tools made of different materials - all kinds of metal, plastic, glass, ceramics, the ability to not use disinfectants that can corrode the surface of tools. Disadvantages: treatment in such a device is not enough to completely eliminate all bacteria and viruses.
Ultrasonic cleaners - sterilizers are recognized as one of the most effective for the treatment of manicure tools. They not only do not damage their surface, but also restore the original shine and cleanliness. Let's talk a little about them.
What you need to know about ultrasonic cleaners
An ultrasonic washer or bath is a device for disinfecting and cleaning instruments from plaque, organic residues and other impurities. The ultrasonic cleaning machine affects the surface of the instruments by means of bursting bubbles and their movement through the working cavity under the influence of ultrasound.
Ultrasonic cleaning is used in conjunction with a disinfectant liquid during the disinfection or pre-sterilisation phase. The disinfection process in an ultrasonic cleaner is quicker than in a conventional disinfection bath or a container with a disinfection solution.
The ultrasound cleaning devices can differ in their radiation intensity, volume and other technical characteristics.
Types of ultrasonic cleaners based on weight, size, power and liquid level
There are the following types of ultrasonic cleaners on the market:
- Ultrasonic washing with : weight - 780 g, size 20x12.5x14 cm, power 50 watts, ultrasonic purity - 42 kHz, liquid level 600 ml.
- Ultrasonic handwash with : weight 1200 g, size 20x19,5x15 cm, power 50 watts, sound purity 42 kHz, liquid level 600 ml.
- UW washers with : weight 1270g, size 22x13,8x14,1 cm, power 60 watts, sound power 42 kHz, liquid level - 650 ml.
- Ultrasonic handwash with : weight 1700 g, size 23x18,5x16 cm, power 70 watts, sound power 42 kHz, liquid level - 1100 ml.
- Ultrasonic handwash with : weight 2200 g, size 26,5x23x18 cm, power 160 watts, sound power 35 kHz, liquid level - 1700 ml.
- Ultrasonic handwash with : weight 3600 g, size 38,5x23,4x19,3 cm, power 150 watts, sound power 35 kHz, liquid level - 2500 ml.
- UW washers with : weight 7,800 g, size 51.5 x 30.5 x 24 cm, power 300 watts, sound power 35 kHz, liquid level - 5,000 ml.

Practical guidelines for the use of ultrasonic equipment
There are some details which can prolong the life of an ultrasonic machine and make the life of the handyman easier.
- Place the tools in the bathtub only in the special mesh container, which is included in the set. Never place them directly on the bottom! It could cause damage to the device, as the passage of the ultrasound would be interrupted.
- Always rinse the instruments under running water after completing the ultrasonic cleaning procedure in order to remove the contaminated solution from the cavities and surface.
- Do not activate the ultrasonic cleaner when it is not filled with liquid or when the solution level is insufficient for normal operation.
- When the sink is not in use, it must not only be in a disconnected state but also physically disconnected from the power supply.
- Install the ultrasonic cleaner in such a place so that it will not disturb anyone, will not cling to anything and will be connected to the socket without pulling on the power cord.
- Locate the bathtub indoors behind a tightly closed door, never in a common room. Despite good protection, it still spreads high-frequency sound vibrations.
And finally, we tell you what parameters you should consider when choosing a manicure steriliser.

Parameters when choosing a manicure sterilizer
- The degree of cleaning required.
- The size of the device and the number of instruments that can be placed.
- Temperature range.
- Time required for a complete treatment.
- The cost of the device.
Visit our Global Fashion online shop
As you have understood, sterilisation is a very important process in performing manicures. So make sure you apply it! How? The above will definitely help you!
Read also:
1. How to choose a manicure lamp? Let's understand the nuances!
2. Manicure extractor. Master and client safety
3. Manicure router. Manicure art helper
4. Manicuris't basic set
5. Ultrasonic washing in the nail industry
Published: 24.03.2022 18:50 Times Read: 119