These Geode Nail Designs Are a Crystal-Lover's Dream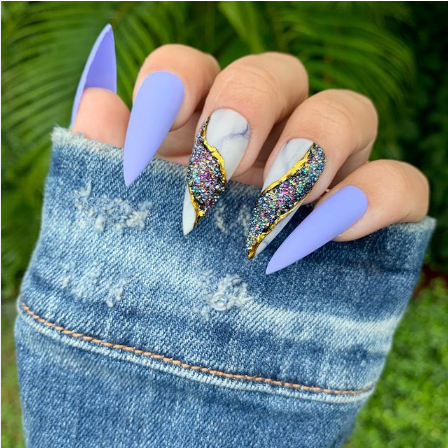 Regardless of whether or not you believe in the purported healing powers of crystals, one thing we can all pretty much agree on is that they're gorgeous to look at. Rich purple amethysts, rosy pink quartz, sparkly moonstone, or green jade—we really can't pick our favorite. These naturally occurring beauties feature the colors of the rainbow in all their stunning, sparkly glory and are also believed to have health and wellness benefits, too.


To embrace the true beauty of nature's jewels and gems, you don't have to be bound to keeping them by your bedside or carrying them around in your purse. Why not rock geode-inspired nail art, too? Ahead, find 24 of our favorite ways to rock the geode nail trend, no crystal charging required.


1. PINK MARBLE


We don't know what we love more—the swirly pink on pink colors or the subtle gold metallic lining. So, we'll go with both.
2. TURQUOISE AND FOIL

Is there even a prettier combo?
3. OUT OF THIS WORLD


This look combines geode-vibes with glittery and deep outer space coloring. It's equal part sparkle and perfect blending of cosmic colors is truly out of this world. (Pardon the pun.)
4. MAGENTA AND GOLD FOIL


As if crystal-inspired nail art isn't enough, adding gold foil to a perfectly painted geode swirl not only adds dimension but the perfect amount of pop, too.
5. BLACK AND GOLD
Not ready to commit to full-on geode? Perfectly painted accent nails paired with a black base makes the intricate patterns stand out, and appear almost illuminated when next to a dark and classic neutral.
6. GREEN WITH ENVY


Swirling shades of green and black paired with a nude basecoat and gold foil accents are giving us all the pot-of-gold and shamrock vibes.
7. OCEAN INSPIRED


All the ocean vibes, please. This dreamy blue, marbled look is the perfect nail art to rock while cruising the Caribbean (or for whenever you want to feel like you're on vacation).
8. BLUE APATITE


Ever heard of a blue apatite? This beautiful crystal is beautifully prismatic, and this nail art perfectly nails the look.
9. GEODE MEETS MERMAID


This stunning work of art (atop shockingly sharp shaped nails) has an iridescent sheen to it, reminiscent of a mermaid's tail.
10. PINK AND PURPLE

Pink and purple combine over a white base in this look to deliver a mystical tie-dye swirl.
11. JADE, JADE, JADE


Others will be green with envy for this jade-shaded mani. It looks like there's actual jade on each finger.
12. ACCENT FINGER

Sometimes all you need is an accent nail to take your mani (and mood) to the next level. We love the alternating pastel pink and blue base with of course, the gemstone-inspired ring finger.
13. ALL THE GEODES

Can't pick your favorite geode to rock? Who says you have to? You have ten fingers—so why not opt for a different color scheme on each mail, just like this dreamy mani?
14. BLUE AND GREY AGATE


Stormy and mysterious, these blue and grey hues combine into a swirly, majestic look.
15. CANDY APPLE RED

If you're dead set on red, this one's for you.
16. GLIMMERING GEMSTONES


The chunky gold accents and pinky-purple splatters really pop on top of a vibrant white base.
17. EMERALD EVERYTHING


Everyone will be green with envy for this marbly, emerald perfection.
18. CITRINE


While pinks, purples, and blues tend to be the popular colors for gemstone nails, we love this citrine-inspired look.
19. ROSE QUARTZ MEETS ROSE GOLD


What's prettier than a rose quartz mani? A rose quartz mani with rose gold accents, that's what.
20. OPAL IRIDESCENCE


The sparkles, the shape, the opal vibes — we're here for it.
21. BOLD BLUE OPAL


Opals are gorgeous on their own, but when paired with a royal blue pop of color, it's magic.
22. TIE-DYE OPAL


23. MOONSTONE


A pop of gold leaf atop this moonstone mani is a subtle, natural yet glam way to rock a geode mani.
24. TIGER EYE


Honey and coffee tones combine with this warm, mystical tiger-inspired nail art.
Source :
www.byrdie.com
Author: Erin Celletti
Global Fashion Shop
provides you with professional nail care and modeling products.
Other articles:
- How to create water marble nails at home
- 25 natural nail designs for the manicure minimalist
- Bright manicure or «sugary» shades of nails
Published: 18.07.2022 13:11 Times Read: 24