Lamps for lighting in the nail industry. Which lamp to choose?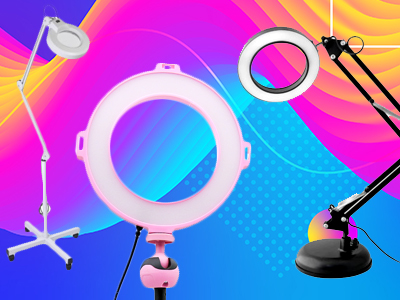 Once upon a time, manicures were not thought to be in such high demand. In today's world, the complete opposite is true. The topic of manicure is so topical that sometimes you can't even keep up with all the innovations. After all, well-groomed hands with beautiful nails are the key to a successful man. Now to the manicure masters address not only girls, but also men too. But it should be noted that high-quality manicure requires not only a professional approach and quality tools, but also needs good lighting of the work surface. The result of the master's work, the client's opinion and, as a consequence, the prospects of further good earnings depend on it. The quality of manicure depends primarily on the lighting.
Now let's talk in more detail about the lighting lamps that are used in the manicure process.
Table lamps for manicures. Varieties.
A table lamp for manicure is an important attribute that allows the technician to see all the fine details and, thanks to the diffused light of sufficient brightness, eliminates excessive strain on the eyes. The manicure lamp is usually of simple construction. The LED bulbs or the fluorescent light source are placed in a housing, which is combined with a control panel and a fixture.
There are the following types of table lamps in use:


Incandescent lam
p. Although this type of lamp has the most affordable price, it is not the best light source for manicure procedure. Its light is dim and yellow, which is not suitable for lighting the workplace of a manicure master, taking into account the specifics of work. It does not provide high-quality lighting, which quickly makes the eyes tired and causes discomfort and pain at the end of the working day.


Fluorescent lamp
s. Manufacturers produce models with different wattages and three types of light: yellow, neutral and cool. Fluorescent bulbs are energy efficient, last a long time, do not cause too much strain to the eyes, but they are about 4 times more expensive than conventional bulbs.


LED bulb
. Currently, LED options are considered the best, as they do not heat at all, have a compact size and can give a bright luminous flux of any colour temperature. The best option for lighting the workplace manicure master of modern sources of neutral and cold light.
Of the features should be highlighted the ability to adjust the colour temperature in some models. The high cost could be classified as a disadvantage, but LEDs are perfectly safe, have a very long life, consume little electricity and ultimately prove to be more cost-effective.
According to the type of mounting system, lamps are divided into three types:
- on pad and clamp. They are used for stationary applications and are suitable for mounting on large work surfaces.
- on a clothes peg. Such lamp is suitable if there is not enough space on a table or a craftsman often moves with the equipment, tools and materials and it will be no less effective.


Lamp power
Lamp power refers to the brightness level of the light and is stated in watts by the manufacturer:
- For home use, an appliance with a wattage of 9 watts will suffice. This is the easiest, smallest and cheapest way to light your desk or dry your nails.
- Budget savings can be made by purchasing an 18-watt lamp, which is suitable not only for amateur manicures but also for procedures in a beauty salon.
- Professional manicure services require a more expensive 36-watt model with ventilation, timer and reflective coating.
Selection criteria for table lamps for manicures
Choosing the right lamp is one of the nail technician's effective aides. Therefore, before choosing the right lamp for you, pay attention to the following criteria:
- brightness of the light.
- compact design.
- reasonable price.
- durability and strength.
- the ability to change the direction of light, height and tilt due to the mobility of the tripod.
- No flicker or heat.
- low power consumption.
- lamp size
- mounting type
- lamp design.
- functionality.
What kind of magnifying lamps are there?A light bulb.
Manicure masters are increasingly using magnifying lamps for high-quality work. Lamp-house has long been in the list of indispensable equipment for beauty salons. The fact that without this device to imagine a quality job masters of beauty simply impossible.
There are many varieties of magnifying lamps. Namely:

Floor lamp-lamps.
They can be equipped with a long tripod on wheels or without wheels. This variant is convenient because of its mobility. The lamp can be moved around the room easily when required.
A table lamp.
A classic variant of a lamp. This type of lamp can only be used if the procedures are always performed at the same place. This is perfect for the job of a manicurist, for example.
Glasses-loupe.
Used for treatments where maximum freedom of movement is required. Usually, the item is used by beauty therapists.
Magnifying lamps come in a wide range of mounts:
- Tripod. Such lamps have good stability and possibility of height adjustment. The latest models are usually equipped with electronic ballasts. This is necessary to reduce eye strain. The light emitted by such light fixtures is practically flicker-free, it is delivered evenly.
- Struggle. These lamps are usually fixed to the table and used for manicure treatment.
- The clothes peg.
- A stationary floor lamp.
The degree of magnification of the magnifying lamps depends on the dioptres. There are devices with the following degrees of magnification:
- 3 dioptres (focal length - 33 cm) - 1.75x magnification.
- 5 dioptres (focal length - 20 cm) - 2.25x magnification.
- 8 diopters (focal length - 12.4 cm) - 3x magnification.
All magnifying lamps have two types of light sources:
- Fluorescent lamps - these are not very practical as they heat up quickly and have a short life span. Their price is not so high, though.
- LED bulbs - due to their placement they do not create a shadow effect. They only use a small amount of electricity. They emit a softer light. No possibility of flicker. The light is evenly distributed, thus creating a favourable working environment.
Power of light bulbs
Magnifying lamps come in a variety of wattages:
- Round table lamps - with 220W power, magnifying glass size 127mm.
- Filled on a stand - with 220W AC power, magnifying glass size 12cm.
- Desk mounted on a metal arm - 220W, magnifying glass 127mm in size.
- Desk clamp models - 110/220 watt, 17.8 cm magnifying glass; 220-240 watt models, 18 cm magnifying glass.
- With clamp - 220-240 watts, magnifying glass size 140 mm.
- With tripod - 220W, magnifying glass size 12.7cm.
- Table-top - flexible - 220W, magnifying glass size 10cm.
How to choose a magnifier lamp
To choose the right magnifying glass for you consider the following:
- Diameter of the window. The bigger the window, the easier for the handyman to look through it. However, enough space needs to be left near the workstation to accommodate a large magnifying glass.
- Quality of lighting. The lamp should not become hot. The illumination in the lamp should be parallel, i.e. it should be positioned under the lamp and not to the side or above it.
- Magnification degree. Devices with a magnification of 8 diopters are the least popular.
- Mounting of the lamp. A table-mounted device is stationary and does not take up much space. For manicure space illumination table-mounted devices are usually used on a clamp, which are attached to the table.
- Size and shape. They come in round and square.
- Price - it should be commensurate with the quality of the product.
- Adjustability - height, tilt and swivel settings are desirable.
- Energy saving.
Lamps for selfies manicure
Lamps for selfies manicure has become perhaps the most desirable and sought-after gadget for any modern girl.
In terms of their technical possibilities ring selfie lights are divided by the number of LEDs, modes, the possibility of additional effects in the process of photographing. And also features recharging (built-in battery, charging via USB or use of finger batteries). A common feature of all models is the creation of an expressive flare effect similar to that of "cat eye" coatings. This extra interesting feature of the selfie lamp is visually appealing while viewing a photo of your manicure.

Selfie ring on the phone
- Has a universal mount that allows you to attach your lamp to anything (including a tablet, laptop, any touchscreen phone).
- The Selfie Lamp illuminates your manicure winningly at the moment of photo creation, producing photos of high quality and extremely realistic colour reproduction to the highest demands and at any time of the day or night.
- It captures photos with defined shadows and voluminous soft light.
- It captures the most fancy manicures, without wasting a single shade.
- The perfect budget option for your personal portfolio, for all those who appreciate high quality photography and beautiful light.
We hope this article was useful to you!
Read also:
1. Eyelash extensions - starter kit
2. Manicuris't basic set
3. How to choose a manicure lamp? Let's understand the nuances!
4. Manicure router. Manicure art helper
Published: 24.03.2022 19:04 Times Read: 23