Upgrade Your Nude Nails With One of These 36 Pink Nail Designs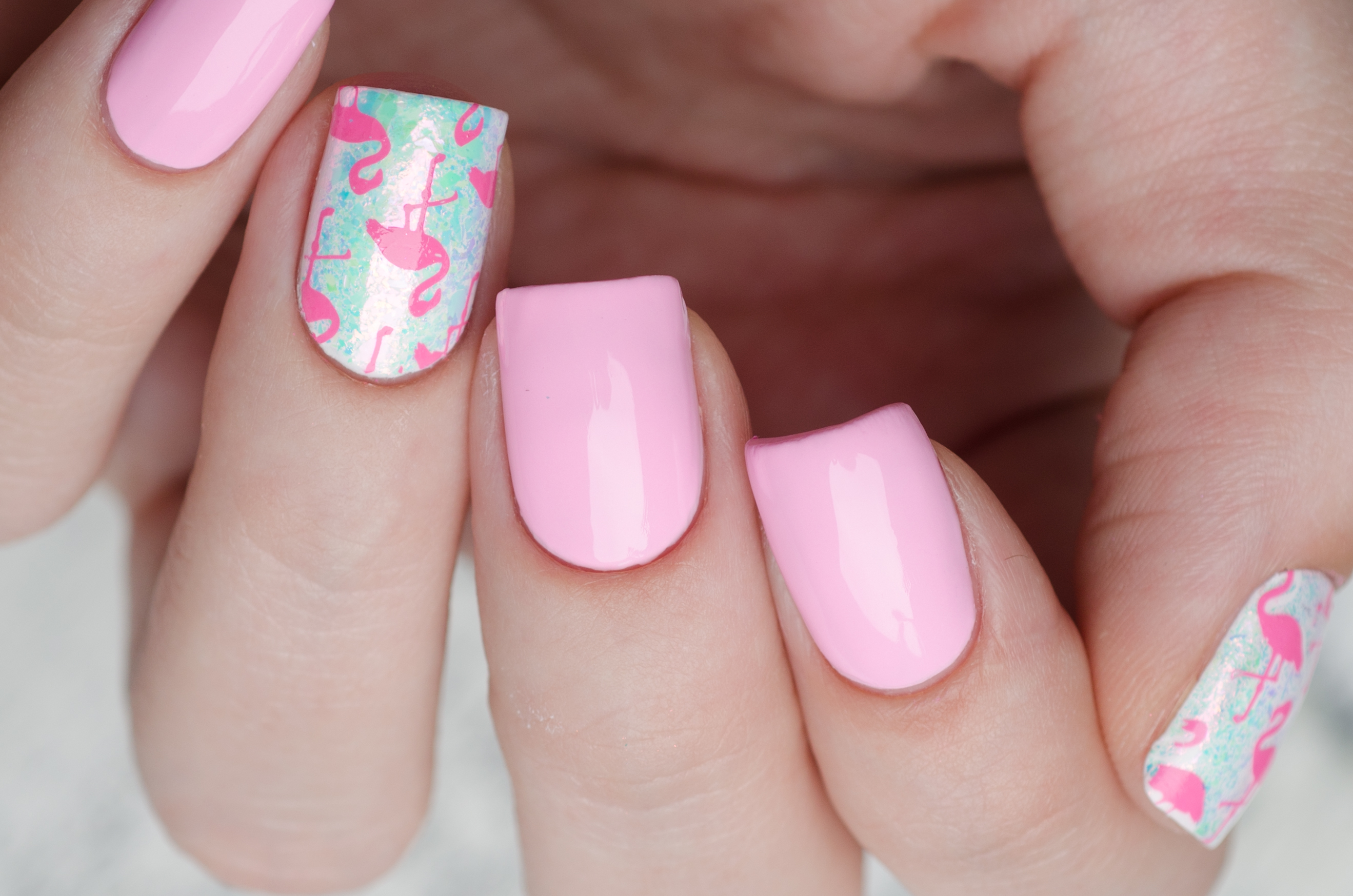 Pink is perhaps one of the most versatile colors in the cosmetic world. You can wear the shade any almost any modality you can imagine—blush, glosses, eye pigments—but our go-to is most definitely our nails. A pink manicure knows no limits—from a classic pink-and-white French mani, to bold magenta nail art, and everything in-between. Whether you're looking for something super simple or eye-catching and extravagant, Instagram is serving up some serious inspo. To find the perfect pretty-in-pink style for you, we searched high and low to find your manicure muse.
Ahead, our 36 favorite ways to wear a pink nail design.



1. PINK AND WHITE WITH A POP


What's better than a traditional pink and white french mani? A pop of hot pink, that's what.
2. PINK AND MAUVE


Pink, white and mauve in a geometric pattern will surely turn heads in a modern-but-chic type way.
3. SLANTED FRENCH


The frebch manicure has taken many more modern iterations as of late, including this pink slanted French.
4. PICK A PINK


Can't choose you're favorite? Grab all your favorite pinks and paint one color on each nail for this ombre-esque style. Bonus points if you include a pop of white.
5. BABY PINK AND BOLD STRIPES


A simple, classic, light pink manicure is kicked up a notch with these boldly painted stripes.
6. PINK NEUTRALS


The right shade of pink can definitely work like a neutral.
7. HEARTS


Who says hearts are only for Valentine's Day? Wear a romantic mani all year long with this pink based, heart tipped look.
8. PINK GALAXY


In some alternate universe, we hope the starry sky is pink, rather than black.
9. PINK GRADIENT


Gradient nails are the perfect way to wear multiple shades of your favorite color.
10. PINK GEODE


Crystal lovers, rejoice. This marbly pink and white geode-inspired nail art is swoon-worthy.
11. PINK AND PASTEL SWIRLS


With a neutral pink base, these pastel inspired swirls really pop for a fun look that's perfect for spring.
12. SPECKS OF GOLD


You can never go wrong with perfectly placed gold foil.
13. PINK LAGOMANIA


Whether you're a Dior addict or a Supreme queen, you can easily rep your favorite luxury brand in shades of pink on your nails.
14. PEARLY PINK


Simple, rounded, and with just the right amount of shine.
15. REVERSE FRENCH


Break the rules and take a fun spin on a french manicure with this alternating light and dark pink twist.
16. A TOUTH OF SPARKLE


Never say no to sparkle. Never.
17. SEEING STARS


This mani will not only have you seeing stars—you'll look and feel like one, too.
BYRDIE TIP: When DIY-ing this style, try these gold nail sticker stars to get a perfect star shape.
18. FLAMINGO NAILS


Nothing says summer (or vacation) like a manicure inspired by your favorite pool float.
19. LEOPARD, FOIL AND PINK


Another take on a pink and leopard scheme, this bold black and gold foil leopard print sits perfectly atop a baby pink base.
20. METAL MOON


One simple accent cant takes your mani to a whole new level.
21. PRETTY POLKA DOTS


Polka dots are always a good idea—especially when they're this cute.
22. SUBTLE AND SHIMMER


A thin, hot pink tip and a shimmery outline around the cuticle makes a subtle statement.
23. LESS IS MORE


When it comes to nail art, sometimes, less is more. Case in point? This look.
24. PINK QUARTZ


Gemstone inspired nails are all the rage, and with this pink and white pairing, it's like having real quartz on your nails.
25. TWO TONES


If five different shades of pink (gradient nails) feel a bit too busy for you, try using just two different shades of pink, alternating nails or painting two in a row the same shade.
26. PINK AND PURPLE CLOUDS


27. NEON


Neon pink nails are an easy way to make a statement. Bonus points if you match your eyeliner to your nails.
28. METALLIC PINK


This high-shine lacquer looks stellar with the sweetest touch of pink crystals.
29. PINK OMBRE


Pink and nude are the natural-looking way to achieve an elevated ombré.
30. SHEER PINK


If saturated shades just aren't your style, opt for a lovely, sheer pink that almost looks like your natural nail.
31. HOT PINK


The mani of Regina George's dreams.
32. JUST PEACHY


33. NEGATIVE SPACE HALF-MOONS


Negative space manicures still seem to be the nail art look
du jour
(and we can't complain).
34. V-DAY INSPIRED


Valentine's Day or not, we love these chic little hearts.
35. PEACHY KEEN


Whether you're more into the fruit or the emoji, you can't go wrong with these peach-inspired nails.
36. PINKY NUDES


The perfect manicure to match your favorite pinky-nude lipstick.
Source :
www.byrdie.com
Author: Erin Selletti
Global Fashion Shop
provides you with professional nail care and modeling products.
Other articles:
- Shellac manicures provide long-lasting color-but are they bad for your nails?
Published: 30.06.2022 07:54 Times Read: 35