Wedding manicure: rules and beautiful nail design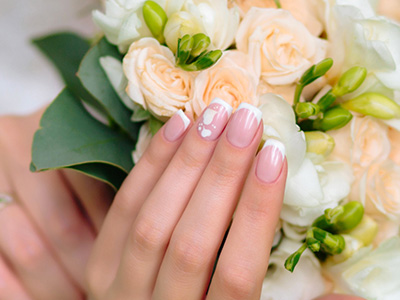 A wedding is one of the most important events in a woman's life, and a man's too. But it's not about men now! A woman has been preparing for such a special day, almost since the moment she heard the happy «yes!"» from her lips. Hair, dress, shoes, jewellery and so much more to choose from. But we shouldn't forget about the equally important little things like nails and hands. They're no less striking than anything else, so they should look nice and neat. In order to add beauty to your nails, of course, you need a beautiful manicure. Perhaps you have a dilemma and do not know what manicure to choose. Do not worry, it's all solvable. Read the article, and we are confident that make a beautiful manicure, will be on a lot easier.
WEDDING MANICURE RULES
Before choosing a wedding manicure, you need to know the rules.
Rule number 1: Better long than short nails
Wedding manicures are best done on long nails, so if you have short nails, you should get them augmented.
Rule number 2: Don't get a manicure earlier than a couple of days before the wedding
Gel polish
- instant drying and no chipping for weeks - what more could you ask for? But there's a «but»: after a few days, gel polish starts to lose its luster. So get your manicure done the day before or at most a couple of days before the party so your nails don't look dull. But don't forget to make an appointment in advance with your handyman, as they can be very busy.
Rule number 3: Avoid experimenting
If you're not normally a fan of appliqué and nail art, a wedding day is definitely not the time to experiment with nail art. Instead, opt for a tried-and-true shade or an all-important
french
nail style.
______________________________________________________________________
Article on the subject:
French manicure. A symbol of femininity
______________________________________________________________________
Rule number 4: Don't forget about home care
If you know you have any skin and nail problems, make an effort to get them in order before the wedding. Take your vitamins, lubricate your nails and cuticles with nourishing oil, try not to break your nails and never tear off any burrs.
Rule number 5: Decide with the nail design
It's best to have it in harmony with your dress and jewellery. Bring your master a photo of your wedding dress, then you can do something on your nails that will harmonise with the dress. Do not use too bright colours of nail polish, especially if there is nothing colored on the dress, because the manicure should complement your perfect image, and not be garish and colorful.
Rule number 6: Moisturise your hands more often

Hand cream can do a lot for your pictures! To keep your hands looking smooth and glowing, apply moisturiser to your hands and massage lightly. Don't forget to moisturise your cuticles too! Then your hands and nails will be perfect!
Looking for quality nail extension products? Visit Global Fashion --->
BEAUTIFUL WEDDING MANICURE IDEASFrench manicure (both traditional and 'variations on a theme').

With rhinestones and sequins.
With late.With patterns (flowers, hearts).With nude shades.
We are sure that you will be the most beautiful bride!
In the Global Fashion shop you will find only high quality products for nail extension.
Shop Global Fashion --->
Other articles:
1. French manicure. A symbol of femininity
2. Interesting facts about nails and manicure
3. Which manicure suits you?
4. A manicure that attracts men
5. Gel manicure. Trendy shades 2021-2022
Published: 01.04.2022 08:44 Times Read: 22