Marine nail design: fly to the sea with cool nails!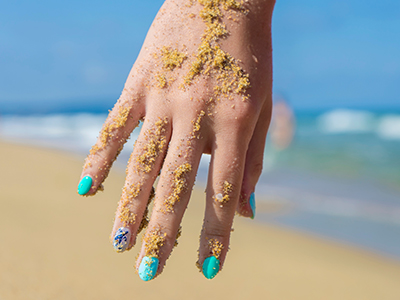 The busy working year is behind us, the long-awaited holiday is upon us. A few more days and the plane will be landing in the «hot summer». Every other fashionista, prepares very carefully for the long-awaited holiday to make it memorable for a long time. A visit to beauty salons and nail studios is something that modern girls run to in order to prepare their bodies, well, and of course to make a chic manicure at sea. Undoubtedly, there are many ideas for manicure in the nautical force. We've tried to present you the coolest trends. Check it out!
NAIL STYLE NAUTICAL SHADES
The main nail shades in nautical style are blues and golds that recall the warm sea, turquoise waves, hot sun and the beautiful beach. Such shades are perfect to match any swimming costumes, accentuating the individuality of each woman.
In addition to blue and gold, which emphasise the main attributes of a seaside holiday, shades such as white, pink, green and tangerine are also popular. These shades give a more lush, cheerful feel.
THEMED DRAWINGS
There are many variations on the theme; you can fantasise. For example:
- The sea and its animal life.
- sea waves.
- lighthouses and ships.
- life rafts.
- seashells.
- the sun.
- flying seagulls.
Of course, this is not the limit, the list can be expanded with more ideas. Any theme design would be relevant. You may not like to experiment in your everyday life, but as far as the sea is concerned, you can do it here without even bothering. Each motif uniquely fits into your dress code and, on top of that, lends more joy, happiness and fun. There is always a worthy option for every age, dress style and social status. When doing so, it's best to use permanent gel coats so that you can enjoy your tropical designs all holiday long.
TROPICAL NAIL DESIGN
A tropical manicure is a very distinctive manicure. There's no limit to your imagination here. Palms, flamingos, coconuts, citrus and more can be attached to a tropical manicure. Incredibly gentle and cute on women's nails look drawings of pink flamingos, complementing the luxurious tropical thickets. Such beach sketches will charm almost all beach lovers by the sea.
CLASSIC FRENCH
The classic French nail art will fit in wherever you go on holiday. There is sure to be a fan of the French nail art that won't part with it, even while on holiday. You can simply add a few bright accents and it will shine in a new way.
Global Fashion
offers a wide range of
professional nail extension products
. A wide range of shades will help you to realize your favourite manicure and not only.
Shop here --->
We hope that our article was useful for you and now you can fly to the sea with «fun» nails.
Other interesting articles:
- 5 - destructive habits that make nails worse. How can you beat them?
- A machine manicure is a super technology!
- Hardware pedicure - convenient and easy
- Manicurist's basic set
- Top for gel polish. What is it for?
- Gel nail polish. All the best part
- Interesting facts about nails and manicures
- How to choose a manicure lamp? Let's understand the nuances!
- A manicure that attracts men
- Nails and gel polish: should nails take a rest from gel polish?
- Gel polish burns when drying in the lamp: causes and solutions
Published: 05.04.2022 11:26 Times Read: 10