10 Myths about nail extensions. Discover the reality!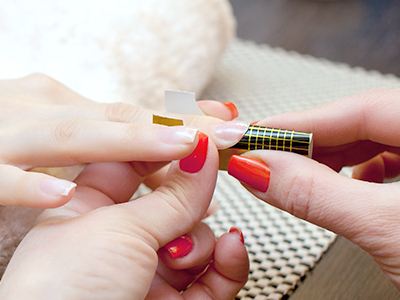 The nail industry is known to be in high demand in the beauty industry. This is not surprising, because the fairer sex devotes a lot of time to their nails, using various procedures and technologies. At present nail extension is one of the frequently used technologies. About this technology there are different opinions «prov and «contra». In general, as many people, as many opinions. But, it is worth noting that there are a number of erroneous views, in other words, there are «myths» about nail extensions. And, in order not to fall victim to mistaken beliefs, read our article in which we will try to understand what myths about nail extensions exist and that they are true and that's fiction.
So, the myths about nail extensions.
MYTH 1: NAIL EXTENSIONS HARM NATURAL NAILS
Reality: Modern nail extension technology is harmless. However, there is a perception that nail extensions damage the natural nail. In fact, extensions protect the natural nails from the harmful effects of the environment, from possible physical damage. By the way, cheap nail lacquers often contain very aggressive components that can cause much more damage than, for example, acrylics.
VERY IMPORTANT: Those to whom this procedure can really harm, do not recommend extending nails. Namely, women suffering from diabetes, skin diseases, acute arthritis, circulatory disorders, fungal infections (on the hands), and of course, women during pregnancy - DO NOT RECOMMEND NAIL TREATMENT!!!
MYTH 2. FUNGUS STARTS TO GROW ON THE NAILS UNDER THE ARTIFICIAL NAIL COATING

Reality: Remember that fungus «winds up» not where the artificial nails, but where the basic sanitary rules are not respected! After all, one of the most important preparation steps for any nail service is the treatment of the nails, hands, used tools and other surfaces with effective disinfectants according to a certain technology. Careful adherence to these rules ensures the avoidance of all sorts of viruses, bacteria and fungi.
MYTH 3: GEL NAIL EXTENSION IS BETTER THAN ACRYLIC NAIL EXTENSION
Reality: Both materials used in nail extensions belong to the same group of chemicals. Their composition and properties are essentially the same. Which one is better depends mainly on the characteristics of the nails. So, on some nails will hold acrylics, and on others - gel. (On our site there are articles
«Nail extension with acrylics. All the subtleties»
,
«Nail extension with gel. All the nuances»
, they can be useful).
MYTH 4: THE SMELL OF ACRYLIC IS HARMFUL OR TOXIC
Reality: Just because a material has a specific smell, it does not mean that it is harmful. There are many French perfumes that are not to everyone's liking either, but that does not mean that they are toxic or harmful to our bodies. All products must have a quality certificate. Use only professional, trusted brands. By the way, the
online shop Global Fashion
provides only professional products to your attention.
MYTH 5: EXTENDED NAILS ARE EASY TO REMOVE BY THEMSELVES
Reality: Removing artificial nails, as well as extending them, is a salon procedure. Doing it at home is not only not recommended, but forbidden. Don't even try it! Applying physical force at home can damage the nail and traumatize it. And why hurt yourself? Of course, if you have the skills and special materials - you can remove the nails yourself.
____________________________________________________________________________
For more information on the topic:
- Hardware manicure: myths and truth
- Nail base. All its subtleties
- Top for gel polish. What is it for?
____________________________________________________________________________
MYTH 6: EXTENDED NAILS ARE IMPRACTICAL
Reality: There is a perception that with such beauty, it is by no means possible to wash floors, utensils and generally keep your hands in water. To protect your nails and skin, it's best to wear gloves for all chemical treatments. This rule should be kept at all times, not only after hair extensions.
MYTH 7. EXTENDED NAILS CAN BE WORN FOR 2 TO 3 MONTHS
Reality: In an average of 3 weeks, the nail will grow back 3 mm. Just imagine the appearance of your hands with growing vroots. It's not aesthetically pleasing! In addition, the nail itself weighs down at the tip, which can lead to cracks or nail breaking. That's why it's a good idea to have your permanent nails adjusted every 3 weeks.
MYTH 8: ARTIFICIAL NAILS ARE PRONE TO BREAKAGE
Reality: Augmented nails are in fact very strong and very hard to break, provided, of course, with good quality materials and a good craftsman. But if the material starts flaking, crumbling, or does not hold at all, look for the problem in the master or in your health.
MYTH 9: WELL, IF NAIL EXTENSION ISN'T HARMFUL, YOU CAN DO IT EVERY WEEK
Reality: Yes, nail extension is not bad for you! But, if you do nail extension every week, it will lead to nail surface sensitivity (because of repeated filing) that may lead to serious consequences.
MYTH 10: ARTIFICIAL NAILS REQUIRE FREQUENT AND COMPLICATED CARE
Reality: Artificial nails require care only once every 2-4 weeks (correction). With artificial nails you need a manicure with a steam treatment much less often. Dirt is less likely to collect under these nails, and you can forget about burrs altogether.
We've tried to give you the most common myths and nail extensions. Someone who's informed cannot be manipulated. So there you go!
REMEMBER! The appearance of your nails depends on the professional approach of the master and quality materials.
Buy quality materials in the shop Global Fashion
.
We also recommend to read:
1. Manicurist's basic set
2. Gel nail polish. All the best part
Other articles
Published: 28.03.2022 12:32 Times Read: 38