Nail extension with gel. All the nuances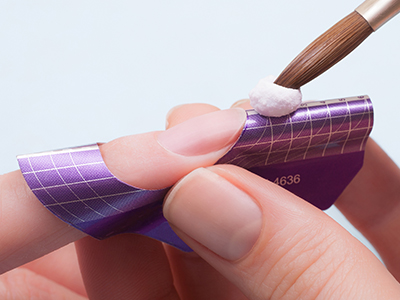 Groomed hands and nails, a beautiful manicure is an aspiration for every girl. In order to boast of «beautiful finger», of course, without manicure it will not succeed. That is why every girl now tries to paint her nails regularly. Either it is on their own, or visiting various salons. To do on their own manicure will take a lot of time, and it will not last long. That's why girls prefer gel nail extensions - a popular cosmetic procedure for several years now. In fact, the gel coating is comfortable, stylish and lasts much longer than regular nail polish. But of course many are wondering whether it is dangerous to build up gel nails, because it is a tool with different chemical components. In this article, we'll present some important arguments and try to answer the question of whether gel nail extensions are harmful or not.

GEL AND ITS TYPES
Gel
is a derivative of acrylic. A special substance that hardens under the influence of ultraviolet rays and forms a strong and durable layer. It has a lot of advantages:
- the gel has no curing time, the process starts only when UV rays hit the material.
- All modern gels are hypoallergenic.
- it is almost odourless.
- Gels, both classic and coloured, do not change colour from the time of application to the time of correction.
- they are very easy to file for correction and removal of the nails.
- they are very elastic and self-leveling.
- The gels are durable and have a high degree of adhesion to the real nails.
Gel nail extension materials are divided into several types. Namely: UV Gel, Biogel and Led Gel.
Gel nail modelling systems are divided into one-, two- and three-phase systems.
The one-phase system
is a universal modeling tool which combines the functions responsible for the strength of the nail being built-up on the natural plate, as well as for the modelling of the artificial nail itself.
Advantages: Only one gel is needed for all three phases of extension, it saves money, one-phase gels are thicker, and they are easy to learn how to apply. The disadvantages: The gels come in a less wide colour range. Most are nude shades.
The two-phase system
is based on the use of two types of gel, the first of which is responsible for securing the artificial nail on the nail plate, and the second for modelling it.
The three-phase system
uses three different gels: the first is used to grip the nail and the plate, the second to shape the artificial nail, and the third to protect the nail from external factors and make it smooth and even.
Advantages: Ideal for professionals; you can model all nail designs; camouflage gels in the three-phase system have a wider colour range than the single-phase gels. Disadvantages: You need three different gels for all phases of the build-up.
A side note: One-phase gels are usually favoured by first-time masters. With experience, craftsmen tend to switch to a three-phase system.
GEL EXTENSIONS. ADVANTAGES AND DISADVANTAGES
Gel extensions - the nails are coated with a special gel that lasts for three to four weeks. It has both advantages and disadvantages.
Advantages and disadvantages of gel extensions
The advantages of gel nail extensions include the following:
1. Durability.
Gel nails are more plastic than acrylic nails. It's more durable than acrylic nails and can last up to three to four weeks.
2: Savings.
Gel nails are cheaper, which certainly has a positive impact on the budget when extending frequently.

3. Fast correction.
Gel nails are easy to correct. If you want to change the shape or replace a broken nail, it will take a good craftsman no more than half an hour.
4. Long wear.
Gel nails can be worn (with adjustments) for up to a year. This will not affect the health of the natural nails much. Then, you should take a break for six months (that's how long the nail plate recovers), and you can build up again.
5. Strengthening your nails.
If your nails are not strong enough and they tend to break repeatedly, gel can help solve this problem. It thickens the nail structure, and with continual continuation, your nails can grow to the right size without too much trouble.
6. Easy to remove.
The nails are easy to both extend and remove. The nail surface is hardly damaged.
7. No deformation.
Gel nails, unlike acrylic nails, do not deform. This is due to their elastic structure. An important point for those with an active lifestyle.
8. Allergy-free.
Cases in which gels have caused an allergic reaction are isolated. These substances cannot be called hypoallergenic. However, their composition is designed to protect even the most sensitive nails and skin.
9. Beautiful shine.
Gel nails have a glossy, shiny surface.
The disadvantages of gel nail extensions include:
1. You can't remove it yourself.
When the gel is removed, it has to be removed with a file or machine, which can traumatise the nail. But if you do this with a professional nail artist, you won't have any negative reactions.
2. Repairing a cracked nail is not possible.
Unfortunately, if you break a gel nail, you'll have to build it back up again. Gel nails cannot be repaired.
3. Sensitive to temperature changes.
Gel nails crack from sudden temperature changes. Therefore, it is not recommended to wear them in winter.
4. Nails need prophylaxis.
Immediately after the gel nails are removed, you should get a manicure. As with gel extensions, the top plate of your nails is sawn off and they will need additional support in the form of strengthening and treating varnishes.
5. Burning sensation during the procedure.
An uncomfortable sensation can occur while drying your nails under a UV lamp. This is due to the fact that the top layer of your nails is already cut off, and therefore more susceptible to UV rays and the chemical reaction that occurs during the drying process. But it's worth realising that this is not a disadvantage of the material, but a technological feature.

WAYS TO BUILD-UP
In order to grow on the gel base, you must resort to the help of special forms: tips or templates (molds).
A tip
is a transparent plastic piece that is attached to the nail. It is made of a special soft plastic. The main advantage of this type of nail extension is that the artificial nail is glued to the natural nail by means of a special glue, without the need to use a gel-lamp. Tips can be used even on soft and brittle nails. Their effect on the natural nail plate is minimal. The material comes in different colours, shapes, lengths.
The form
is a paper stencil, which is put under the edge of the nail. Or, if yours are long enough, the gel can be placed directly on them. With this method of nail extension you can give your nails a different shape: soft square, oval, almond-shaped, etc. The advantage of this technique is the most natural result, which prevents unnecessary nail thickening.
We recommend to read the article
«Shapes for nail extensions. Everything you need to know about them
».
HOW TO CHOOSE A NAIL EXTENSION GEL?
In order to decide which nail extension material to choose, you need to know as much information as possible:
- Find out as much information as you can about the brand whose gels you like. For example, the
company Global Fashion
only produces high quality gels.
- Pay attention to whether the gels you choose have instructions and recommendations for their use.
- Read the reviews of the gels you have chosen.
- Decide what exactly you expect from the gel, what you need: colored or transparent, how many gels you need and so on.
You can
buy modeling transparent gel for nail extensions
in the
Global Fashion online shop
.
WHAT MATERIALS DO I NEED FOR GEL NAIL EXTENSIONS?
Before you start the gel extensions process, make sure you have all the materials you need. Here's what you need:
- Extension gel.
- Tips or
trays
, depending on how you want to build up.
-
UV Lamp
. This equipment is essential for the job. Without it, the gel won't set and nothing will work.
- Disinfectant.
- A product for removing the sticky layer.
- A set of
nail files
or a
buff
.
- Orange stick.
- Flattened brush.
-
Primer
.
- Buffing pad.
- Tweezers.
- Tip glue, if used as a method of extension.
Interesting!: Our website has some informative articles:
«How to choose a manicure lamp? Let's understand the nuances!»
,
«Nail file. An indispensable tool in every girls's make-up bag»
,
«Nail primer. What is it for?»
, they will be useful!
All of the above for gel extensions you can buy in our
online shop
. Professionalism and quality - that's our pledge!
To keep your fingers beautiful, always take care of your nails!
Published: 28.03.2022 09:46 Times Read: 63