Lacquer and gel polish: what's the difference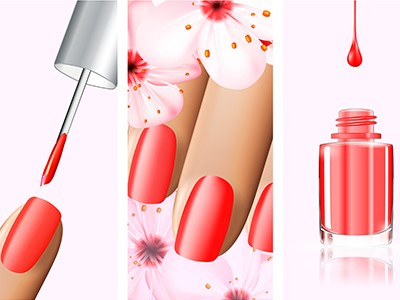 Nail polish has been known to every girl since her early childhood. That's because her mother was always experimenting with nail polish to give her nails different shades. So, what do the daughters do? Of course, they all repeat after their mothers. Fashion show around the flat in shoes, dresses, painted with bright expressive lipstick, well, and of course experiment with their nails. During our time lacquer is not so popular as it was 20 years ago, nevertheless it is still in demand. As the nail industry is updated every day, now there is a means to create beautiful manicure, such as gel polish. Nowadays, gel polish is cosmically popular in the nail industry. In this article, let's look at the difference between traditional nail polish and gel polish.
WHAT IS NAIL POLISH AND GEL POLISH
A gel polish
is a combined material for creating decorative manicures, consisting of an ordinary nail polish and modeling gel. The combined properties of these two materials in one creates a perfect decorative surface on the nails.
Varnish is a special coating that is applied to the nail plate to protect it from external influences and create an attractive look. Sometimes nail polish also combines therapeutic properties: it strengthens the nail plate, protects it from aggressive external influences (such as detergents).
FASCINATING: It was Charles Revlon, founder of Revlon, who invented the first permanent polish back in the early 30s. It came in one shade only - red. Today, no one is surprised by bright green or even black.
GEL POLISH AND LACQUER: THE DIFFERENCE
We've decided to divide the criteria for the difference as follows:

1. Sustainability
Gel-lacquer
: lasts between 2-4 weeks.
Varnish: 3 to 7 days on all nails.
2. Application
The application of nail polish is divided into 3 phases:
-
Base
-
Nail polish
-
Top
All the different phases must be cured under the glaze
lamp
.
Varnish: can be applied without the use of basecoat and top coat.
Related articles:
- Gel nail polish. All the best part
- Nail base. All its subtleties
- Top for gel polish. What is it for?
- How to choose a lamp for manicure? Let's understand the nuances!
3. Drying time
Gel polish
: dries for 2 minutes/30 seconds in a UV/LED light.
Varnish: a good drying time can be up to 1 hour or even more. Long drying time for each layer: if you don't keep the drying time, smudging of all layers will occur.
4. Smell
Nail polish: Odourless.
Varnish: due to the fact that nail polish contains ingredients such as: polymers, solvents, plasticizers, pigments, they have quite a specific smell.
5. Removing
Gel polish: cut with a cutter or soak in gel polish remover.
Varnish: using a polish remover.
6. What is the product intended for?
Gel Polish: Designed for both classic and intricate designs. Allows the fixation of various design materials: bubbles, rhinestones, nail ball and metal jewellery, slider designs, and more. Suitable for strengthening and smoothing the nail plate.
Lacquer: Suitable for classic coatings and some types of designs: sequins, slider designs, stamping.
7. For whom
Nail polish: For the manicure lovers and craftsmen.
Varnish: For those who don't like to go long with just one coat.
8. Cost
Gel Varnish: A
higher quality gel polish
is more expensive.
Varnish: The price is much lower than that of gel polish.
At Global Fashion you can find only quality gel lacquers and at a very affordable price. Don't believe it? Click here and see for yourself.
Shop here --->
No matter what you choose traditional varnish or gel polish, as long as your nails are always beautiful and well-groomed.
Other articles:
- 5 - destructive habits that make nails worse. How can you beat them?
- Gel nail polish: exposing all the myths about it
- Pedicure tools and products: what they are and what you need to know about them
- Interesting facts about nails and manicure
- 10 myths about nail extensions. Discover the reality!
Published: 05.04.2022 12:19 Times Read: 22