Gel nail polish. All the best part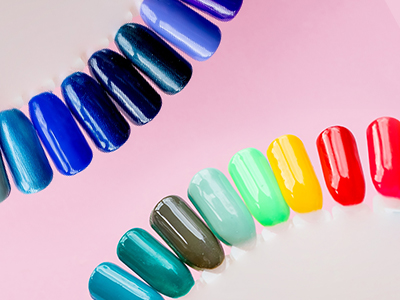 Grooming and beauty, will always be in fashion. These two phenomena are common to both girls and men. But for men everything is much easier, they get up in the morning, wash, shave, put on the same shirt and the same trousers as yesterday, and go to work. But the girls, «there was no way» a lot of questions and dilemmas: What to wear today? What hairstyle? How to put on makeup? And there's a lot of «what?» and «how?» Body care is an integral part of every woman's daily ritual. Particular attention is given to hand and nail care. It's difficult to present the image of a modern girl without well-groomed and neat nails with a manicure of gel polish. Today, its amazing properties, gel nail polish has become an «idol» for both masters and clients of manicure salons. And that's not surprising, because it is so convenient, beautiful and of high quality.
It is not for nothing that we extol this amazing product as gel polish. We want to give you some interesting facts about it, and we're sure you'll love it even more.
Gel polish. Varieties
Gel nail polish
is a combined material for creating decorative manicures, consisting of regular nail polish and modeling gel. The combined properties of these two materials in one creates the perfect decorative surface on your nails.
Different types of gel lacquers
The main gel polish types:
Monochrome
- the classic colour finishes.
Camouflage
- maximum natural and natural colours that are close to skin tone: flesh tone, peachy, pinkish.
Shimmery:
in other words, these are gel lacquers with glitter. Manufacturers experiment and add glitter in all sorts of colours and sizes.
«Cat's eye»
is a gel polish that contains tiny metal particles in its composition. Thanks to this, with the help of a magnet, it is possible to direct the particles and create a shimmering pattern.
Watercolour
gel nail polishes can be used to create the effect of soft watercolour transitions between colours. These gel lacquers are textured.
Stained
- glass varnishes are semi-transparent gel lacquers that can be used to create designs in the Mosaic Glass or Aquamanic style.

Thermal
- a gel polish that changes colour depending on ambient temperature.
Chameleon
is a gel polish that contains particles which respond to changing light. It changes colour when exposed to light.
Luminescent
- gel lacquers which glow under neon or uv light.
These are the main types of gel polish; in fact, there are many more.
Are you looking for quality gel nail polish? Then you're in the right
place
.
The benefits of gel polish 1. Strengthening.
Unlike nail extensions, which were in demand a few years ago, gel nails are not modeled and do not weigh you down. In contrast to nail polish, which was popular a few years ago, nail polish is not modelled and there is no need to put weight on the nails.
2. Fast drying.
Gel polish cures in seconds. This is valuable in today's fast paced lifestyle: when you leave the salon, you know that nothing can harm your nails.
3. Persistence.
The gel finish is flawless for up to 2-3 weeks. However, even after a month, chips may not form. However, it is compulsory to remove the gel polish: the ingrown coating looks unaesthetic.
4. Versatility.
Gel nail polish looks natural and beautiful on nails of any length, but this cannot be said about false or extruded nails.
5. You can make a manicure gel
- you can not only in the salon, but also at home.
6. Everyone can master the technique of gel applicatio
n. First of all, you will need to buy manicure sets. Before getting a manicure, you should always get a good trim or hardware manicure. For a hardware manicure, you need to buy a
manicure cutter
. And, of course, to buy a
UV lamp
is the main task. Without it you will not be able to create a bright and stylish manicure gel varnish. (On our site there are articles
«Manicure router. Manicure art helper»
,
«How to choose a manicure lamp? Let's understand the nuances!»
«Manicurist's basic set»
they will also be useful).
7. Reasonable price.
The price is right in line with the effect you get.
As a side note: You don't have to chase the cheapest gel nail polish. The price may be discounted because the master is being trained, which means - there is a risk that the work will be done sloppily. In addition, a possible reason for the low cost is the low quality coating. Cheap gel polish can damage your nails and change their colour. Therefore, always buy only professional gel nail polish! For example in our
online shop
it is real!

What not to do after applying gel polish?
To ensure that the coating is worn for the full length of time without chipping or peeling, some rules must be followed:
- During the first day, you must refrain from paraffin therapy and sauna visits.
- Also during the first day after application, you should avoid prolonged water procedures. For example, taking a hot bath or visiting a swimming pool.
- Do not pick the nail plate.
- Avoid mechanical damage: knocking your nails, opening jars, etc.
- Do not use household gloves when handling chemicals or detergents, as aggressive constituents of these products may deteriorate the finish.
Tip: To find out what gel shades will be trendy in 2021-2022, have a look at this
article
.
How to choose a gel polish?
It's worth noting that the durability of a manicure depends not on the gel polish but on the good preparation of the nail plate and the right choice of base and top coat.
To learn how to choose the base and top coat you may find in the articles on our web site:
«Nail base. All its subtleties»
,
«Top for gel polish. What is it for?»
What should be paid attention to when choosing a gel varnish:
1. Thickness.
It is worth noting that the liquid material will have to cover in several layers, and more dense can be covered in one layer.
2. The shape of a brush.
There are fan-shaped and square brushes. Some brands have longer brushes while others have shorter ones. Here everything depends on your preference.
3. To be tested.
Before buying a gel lacquer, be sure to check the brush for imperfections! Sometimes hairs may stick out in different directions or be missing altogether.
4. Pigmentation.
Well-pigmented gel lacquers have a thicker texture and tend to follow a single coat. But note that such gel polishes require a curing lamp with at least 48 watts of power. Lamps with less power, such as 24W, will not work - the coating simply will not dry out and boring.
5. Smell.
Some gel polishes have a harsh chemical smell, but others have a pleasant fragrance.
6. Volume of the bottle.
When choosing a gel polish be sure to pay attention to the volume of the bottle. For the same price, some gel polishes may be smaller while others may be larger.
7. Composition and hypoallergenic qualities.
If you are allergic or afraid of allergies, buy hypoallergenic gel polishes.
On a side note: Buy your gel lacquers in
professional gel shops
.
Finally, here are a few more tips and tricks about gel polish.
The intricacies of gel nail polish
Did you know that gel polish:
- Doesn't damage the nail plate, even with regular use.
- It has a protective function that not only protects your nails from external influences, but also strengthens them and treats them if necessary.
- It is possible to do manicures with gel nail polish for pregnant and nursing women. The coating applied to the dead keratinised surface of the nail plate does not allow harmful substances to penetrate the body in any way.
- A gel polish manicure requires 90 minutes. Gel polishing takes only 30 minutes of your time.
- It is recommended to change gel coat every 14 days. For longer wear manicure, gel nail polish is very tightly bonded to the nail plate (almost grows into it), which leads to difficulties during its removal.
- Gel manicure is not a reason to give up your daily hand and nail care routine. Even with a manicure on the nails, use moisturising and nourishing hand and cuticle products.
- Long-term treatment with gel varnish is not recommended in the presence of fungal nail diseases and dermatological hand skin diseases.
- The gel polish composition is hypoallergenic and contains no toxic substances.
- Gel nail polish has no harsh and unpleasant odor, so no toxic fumes during the manicure procedure is not terrible.
On a side note! MYTH - gel nail polish damages nails, making them thin and brittle. The gel polish itself has no effect on your nails. It can only be damaged if the material is applied and removed incorrectly, and if the owner of the manicure picks up the coating.
Buy professional gel nail polish
We hope that this information was very accessible for you. Always be beautiful!
Read also:
1. Nail primer. What is it for?
2. Top for gel polish. What is it for?
3. Nail base. All its subtleties
Published: 28.03.2022 08:57 Times Read: 53