Spa manicure. Hand and nail beauty care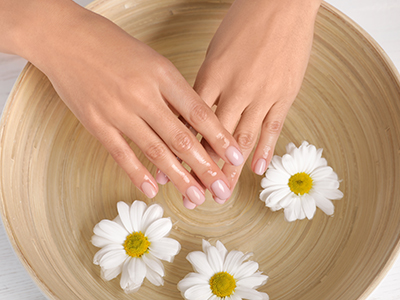 Taking care of the beauty of your hands and nails is one of every girl's body-care tasks. But apart from decorative manicures, the condition of your hands is also very important. Especially in autumn and winter, the hands need a richer care. To date, there are various procedures for the care of the nails and skin of the hands. Combination manicure, which includes care for both the nails and skin of the hands, enjoys great popularity. One of the varieties of this manicure is the spa manicure. It is considered to be the most enjoyable manicure, as it combines aesthetics and wellness, as well as guaranteeing the pleasure of the procedure itself.
WHAT IS A SPA MANICURE?
A spa manicure is a manicure that improves your skin, strengthens your nails and boosts your circulation. It is a treatment that combines different methods of nail care: from a simple manicure to aroma and paraffin therapy. Spa-care includes deep moisturizing of hands, exfoliation of keratinized cells of epidermis, proper care of cuticles, restoration of skin elasticity, smoothness and strength of nails. After such manicure skin of hands remains soft and delicate for a long time, problem nails stop flaking, they begin to grow better, cuticle is renewed, and burrs go away.
INTERESTING! SPA is a Latin acronym that stands for «To Health Through Water».
PECULIARITIES OF SPA MANICURE

- A spa manicure takes around two hours compared to other manicure styles.
- Unlike conventional manicures, spa manicure focuses not only on the nails, but also on the hands as a whole.
- Massage, as one part of a spa manicure, speeds up circulation. A good blood flow accelerates the regrowth of the nail plate.
- Natural ingredients of the products have general relaxing effect on the client and saturate skin with vitamins. Vitamin E and Shea butter are often used in SPA manicure products that penetrate deep into the skin layers thanks to their preliminary softening.
- SPA manicure serves as a prophylactic treatment to prevent fungal diseases.
- All natural healing procedures such as sea salts, muds, algae, herbal extracts, and aromatic oils can be applied during manicure.
DID YOU KNOW? Spa first appeared in Belgium, in a small town that has had healing springs for generations.
SPA MANICURE STEPS AND TECHNIQUE
Stages:
1.
Cleansing.
2.
Moisturising.
3.
Nourishing.
4.
Protection.
Spa manicure technique:
1. Preparation.
Removal of the old coat, if available (use only acetone-free products, so as not to worsen the condition of the nails). 2.
2.
The treatment of the hands. Hands treated with an antiseptic agent.
3. Working with nail plate.
Shaping with a special file and treatment of cuticles with a softening agent.
4. Paraffinotherapy.
Special bath of cosmetic paraffin is prepared, it is heated up to the temperature of about 55 degrees, sometimes essential oils are added, but according to a client's wish. It is also possible to use softening vitamin complexes for additional moisturizing. (You can find everything you need for paraffin therapy in the
on-line shop Global Fashion
).
5. Manicure.
Remove cuticles with a pusher or use an orange stick to push them away from the nail bed.
6. Deep peeling.
This is an optional treatment that can only be performed if the hand skin is not sufficiently cleansed; a fruit acid peel is applied and rubbed in for 2-3 minutes.
7. Massage.
This is carried out with massage aroma oil, in order to make the skin smooth and elastic, while preparations for the SPA manicure perform a protective effect.
THERE INTERESTING: On our site there are articles
«Paraffin therapy. Your body is beautiful and healthy»
,
«How to strengthen your nails? Simple and efective tips»
, they will also be useful. it will be useful. it will be useful.

SPA MANICURE RESULTS
After a spa manicure, you get:
- Silky skin.
- Smoothness.
- Filling of the skin cells with vitamins and minerals.
- Rejuvenation.
- Nourishment for the skin.
- Soothing.
- Rest for the whole body.
Wide and high-quality assortment of manicure tools and products
buy in Global Fashion's professional online shop
.
Always nurture and care for your hands!
We also recommend that you read:
1. Which manicure suits you?
2. A manicure machine is a super tehnology!
3. Shapes for nail extensions. Everything you need to know about them
Related articles
Published: 28.03.2022 12:26 Times Read: 33