Our 21 Favorite Dip Powder Nail Designs and Ideas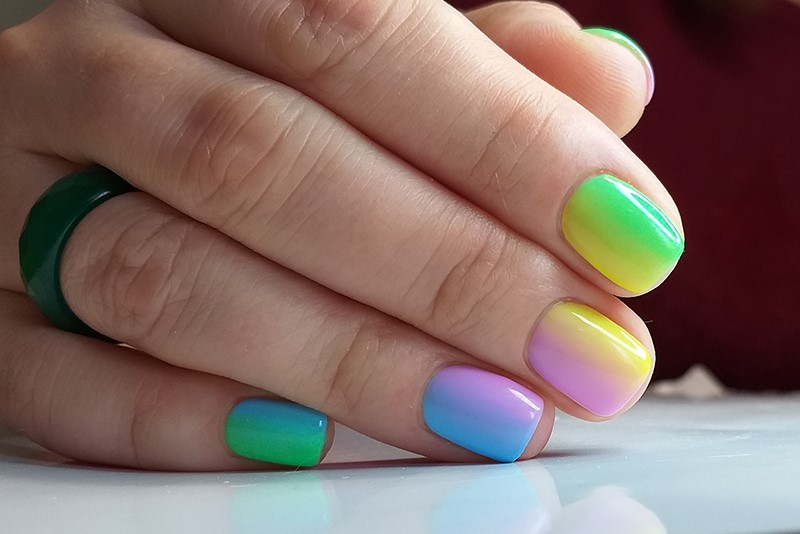 There's something particularly frustrating about discovering a chipped nail after recently having had a manicure. (Once it happens, you know it's only downhill from there.) And as much as we love gel manicures, the term «no-chip» is occasionally a misnomer.


That's why dip powder manicures —often referred to as SNS manicures—have changed the game. While dip powder manicures were technically «invented» in 1990, the technique didn't enter the public lexicon until years later, made popular by the leading brand SNS.


Dip powder manicures are known for their durability and resistance to chipping. The technique involves literally dipping the nails into colored powder while brushing on layers of bonder as an adhesive, then using a clear sealant on top. They work for both natural nails and extended ones.


And while you might
think
the nail polish colors lined up in the nail salon are tempting, the options you'll find for dip powder span the color spectrum, too—and more importantly, they'll likely last twice as long on your nails.
Below, find 21 dip powder nail ideas that'll inspire you to dive into dip.



1. BLANK SLATE

There's nothing fresher than soft white nails, year-round. Plus, with dip manicures, lighter hues tend to look more saturated—meaning you won't have to worry about your nail color peeking through a sheer, light shade like white.
2. PUT IT IN NEUTRAL

The perfect swath of neutral, a dip powder nail color like this will go with your entire wardrobe, so you'll fully enjoy your manicure throughout its long life.
3. MINTY GREEN
Pick a bold hue like this minty green—it shines through perfectly with dip powder, which usually lends itself to more saturated, pigmented hues.
4. COBALT BLUE DIP
Few shades are more striking than cobalt, which gets its chance to shine in a long-lasting dip powder style.
5. FRENCH OMBRE
Two different shades create a cool, seamless ombré. It's like a modern update on a French manicure, if you will.
6. OCEAN VIBES
Don't be afraid to mix and match colors: You can achieve these nautical-feeling nails with different shades of blue, teal, yellow, and green.
7. MILKY PEACH
This neutral, milky peach shade is perfect all year 'round.
8. GLITTER DIP
Most dip powder nail salons carry a number of glitter hues, so the exact color choice is yours. We love the subtle contrast between the pink and silver here.
9. DEEP CORAL DIP
This dimensional coral shade looks amazing on any skin tone, plus it works well in every season, too.
10. LIGHT PINK WITH GLITTER ACCENT
Dip powder permits creative nail ideas, too, so you definitely won't miss polish or gel—and we love this subtle light pink manicure with sparkly accents.
11. CLASSIC BLACK
There's nothing quite like a classic black shade—especially when it looks this shiny and lustrous, thanks to the glossy sealant on top.
12. HOT TAMALE
Yes, this color is literally called «Hot tomale»—and if you have a hankering for an ultra-bright hue that works for every skin tone and season, we think we've found the one for you.
13. BURNT ORANGE DIP
This orange-toned gradient is suitable year 'round, but we especially love it for fall.
14. GOLD SHIMMER
A dip powder shade with some slight shimmer will have your nails looking chic and subtle.
15. SUNCHINE STATE
This dip powder nail color idea is sunshine in a bottle. We love how it coordinates with the sheer sunglasses.
16. STARK WHITE
A stark white that you won't have to worry about sheerness with? Yes, please. The multiple layers of dip powder prevent those pesky «I-didn't-think-this-color-would-be-so-faint» moments.
17. PRETTY IN PINK
Calling everyone who loves an especially joyful moment: Pick varying shades of pink for a «monochrome» manicure you'll be showing off at every turn.
18. LUXE LAVENDER
Embrace a chic pastel shade—like luxe lavender—knowing the pigmentation with a dip manicure will come out perfectly.
19. COOL COBALT
As far as we're concerned, you can't go wrong with an eye-catching electric blue.
20. PURPLE MATTE
Depending on the sealant you use, you can go for a glossy, lustrous finish or a matte one. Here, we think the matte finish complements the purple shade and acrylic extensions perfectly.
21. CLEAR AND GLITTERY
Instead of using a clear glittery shade as an accent nail, use it for all of your nails for a fresh take on neutral.
Source :
www.byrdie.com
Author: Sophia Ross
Global Fashion store
provides you with professional products for nail care and modeling.
Other articles:
- 14 velvet nail designs you can wear all year long
- 25 natural nail designs for the manicure minimalist
- Everyday manicure: simplicity and originality in one «bottle»
- Bright manicure or «luscios» nail shades
Published: 18.05.2022 13:45 Times Read: 23