How to Make Your Own DIY Nail Strengthener From Common Kitchen Staples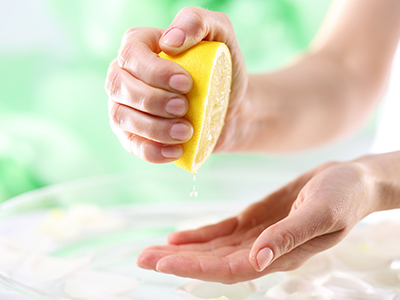 Nail damage can happen for any number of reasons. Cold weather can weaken nails, as can improper removal of gel manicures. And if you bite your nails, you could be impeding future growth and harming your nail bed. Enter: nail strengthener, which is vital in bringing life back to your nails. And luckily, nail strengtheners are fairly easy to DIY with products you might already have in your pantry.


Ahead, spa experts, nail polish formulators, and a medical pedicurist share tips on how to make your own DIY nail strengthener from pantry staples.



MEET THE EXPERT

- Marcela Correa is a medical pedicurist and owner of Medi Pedi NYC.

- Daisy Kalnina is a former celebrity nail artist and founder of The GelBottle Inc. and Peacci, a vegan polish line that makes an at-home nail nutrition kit.

- Shel Pink is the author of Slow Beauty and founder of SpaRitual.

- Sara Trabazini is the spa manager at the award-winning The Spa at Monteverdi Tuscany.



BENEFITS OF NAIL ATRENGTHENER


There are so many ways that nails can become damaged. Kalnina says, «the list is endless.» Correa points out that silk wraps, acrylics, and gel nail polish may look fabulous, but end up wreaking havoc on your nails. «Also if you work with your hands a lot like washing dishes or heavy lifting,» you're more prone to nail damage. She adds that you can damage toenails from physical trauma, doing exercises such as running, hockey, and tennis, or wearing shoes that are too tight.


Nail strengtheners can restore nails to optimal health while «replenishing lost nutrients and restoring the keratin needed to keep your nails growing and healthy,» says Correa.


«With a small amount of care, you can keep your nails strong and healthy very easily,» says Kalnina. Results are pretty immediate, too. She says you can start seeing stronger nails «within just two weeks of application, usually much earlier.»



HOW TO APPLY NAIL STRENGTHENERS


If you're used to using over-the-counter nails strengtheners, Correa explains, «they are applied as the first coat to any polish. Some clients skip polish altogether and opt for nail strengthener alone.» She notes that people don't usually remove strengtheners you buy on the market. If you do, be sure to use non-acetone remover.


For the recipes below, leave on as directed. Kalnina adds, always apply to «clean, prepped nails on a regular basis.» She recommends using strengtheners «in conjunction with a cuticle oil which also supports nail health too.»



DIY NAIL STRENGTHENER RECIPE


This recipe comes from Trabazini at The Spa at Monteverdi Tuscany with an add-in provided by Correa.


Ingredients:

- 2 Tablespoons of olive oil
- 1 Tablespoons of lemon juice
- 1 Teaspoon of chopped garlic (optional add-in)

Instructions:

Mix the ingredients in a bowl. Soak your nails in the mixture for about 10 minutes. «The nails will be deeply nourished due to the moisturizing and strengthening properties of the olive oil and the disinfecting power of lemon,» says Trabazini. Correa likes to add a teaspoon of chopped garlic to the recipe and make a paste. «The garlic contains selenium which promotes nail growth and strength as well as vitamin E.» Repeat two to three times per week.


BYRDIE TIP: A quick and easy nail strengthener is castor oil, which you can massage daily into the nail bed when you're on the go.




DIY NAIL STRENGTHENING INTENSIVE MASK


This recipe comes from Trabazini at The Spa at Monteverdi Tuscany.


Ingredients:

- 2 Tablespoons of shea butter
- 1 Tablespoon of olive oil
- 2 drops of rose essential oil

Instructions:

Mix all ingredients in a bowl. Apply the mask on the hands and nails, massaging for a few seconds. Then cover the hands with cotton gloves and leave on for 20 minutes. Trabazini recommends doing the treatment once a week.


BYRDIE TIP: The key to strong nails is a healthy cuticle. «The cuticle protects new nail growth,» says Pink. «If you nourish the cuticle you are creating a healthy environment for the newest part of the nail to help it to grow out healthy and strong.»




DIY CUTICLE OIL RECIPE


This recipe comes from Pink who says, «Jojoba oil nourishes the skin, promotes nail growth, and helps repair the strength of the nail bed. Tea tree oil is an antiseptic and helps keep fungus at bay.»


Ingredients:
- 1/2 oz jojoba oil
- 1 to 2 drops tea tree oil

Instructions:

Pour the jojoba oil and tea tree oil into an ultraviolet glass pipette dropper bottle, swish together and seal the bottle. In the evening just before bedtime, place one drop of oil onto each fingernail and toenail and massage into cuticles.


Published: 06.04.2022 14:39 Times Read: 15