16 Times Male Celebs Provided Major Nail Inspo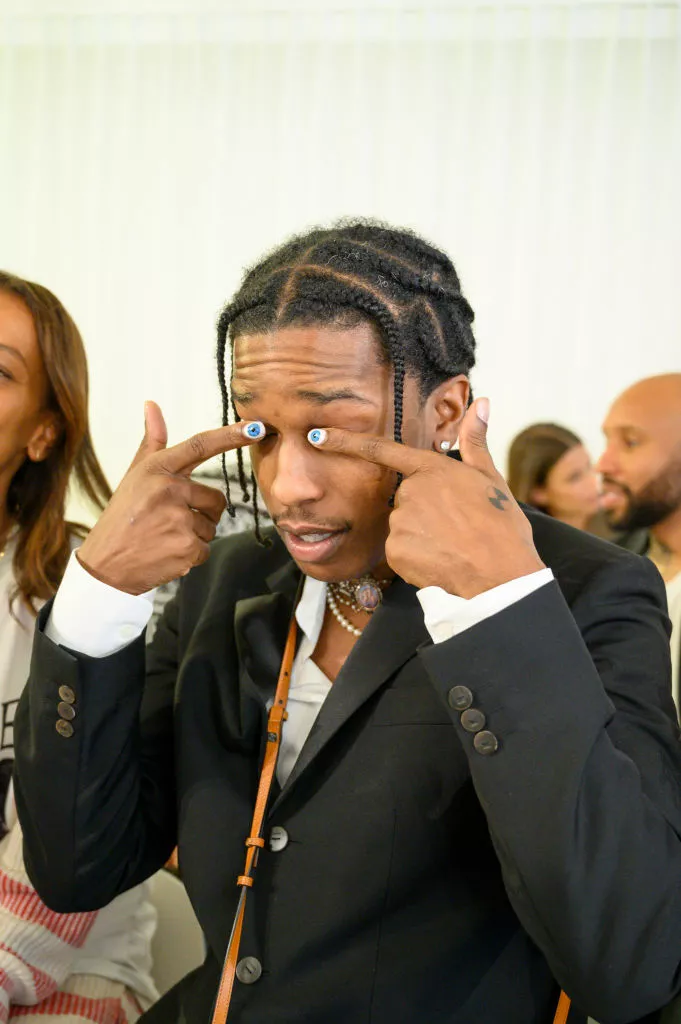 Move over, guyliner—when it comes to the latest male beauty trend, nail art is where it's at. Whether dipped or chipped, stickered or stenciled, creative «mails» are everywhere— from the cheeky smiley faces sported by Harry Styles to the eye-popping bling of Lil Nas X's jewel-encrusted digits. And with the likes of Boy de Chanel, Lil Yachty, and Machine Gun Kelly launching polishes with men in mind, it's a trend that isn't going away anytime soon.


«Men who wore nail polish used to be associated with some sort of subculture (emos, punks, drag queens, etc.), but these days it can be worn by anyone,» says renowned nail artist Leighton Denny, whose celebrity clients include Kate Moss, Penelope Cruz, and Adele. «Just have a scroll through Instagram or TikTok and you'll see lots of men wearing nail polish now.»


Denny attributes this to a combination of shifting gender norms (people are far less bothered about what's deemed masculine and feminine these days), boredom (lockdowns gave men a chance to play with polish), and high-profile celebrities sporting painted nails, making it okay for men to play with polish.


«Women have always known that having well-manicured, attractive nails can give you more confidence and make you happier when they're on show, so why shouldn't men get involved?» he says. Why not, indeed.
So, meet the men—past and present —who put the «ma» in manicure.



1. LIL NAS X

As much a fan of nail art as he is of challenging gender stereotypes, LGBTQ+ rapper Lil Nas X's talons rival that of any female in his field (be afraid, Cardi B). Peak polish came when he treated himself to a diamond-encrusted manicure for his 22nd birthday. Designed by David Tamargo of Alligator Jesus, each bejeweled nail featured $3,000 worth of precious stones, proving that, when it comes to nail art, diamonds are definitely a boy's best friend.
2. DAMIANO DAVID


Winner of this year's Eurovision Song Contest, 22-year-old Damiano David of Italian band Måneskin isn't just notching up global hits, he's rapidly becoming a style icon thanks, in part, to his love of black nail polish. His performance of winning song «Zitti e buoni» brought the trend to a global audience of 183 million. How's that for influence?
3. BILLY PORTER

As razor-tongued MC Pray Tell in
Pose,
Porter knows a thing about shade. But when it comes to nail polish, it's all about shades, plural. From Day-Glo yellow to scene-stealing silver tipped with Swarovski crystals, the 51-year-old Porter has spent the past few years giving convention the finger at every opportunity. And a beautifully decorated finger it is too.
4. HARRY STYLES

If you need a lesson in how nail art can be a talking point, an ice breaker, and a promotional tool, just take a look at Hazza. From headline-grabbing smiley faces to nail art that spelled out the name of his
Fine Line
album to watermelon-colored polish to promote «Watermelon Sugar,» his nails are
always
working.
5. FREDDIE MERCURY

A showman down to his fingertips (quite literally), the Queen frontman was as partial to black polish as he was to figure-hugging leotards back in the day. A 1970s rock star staple, Freddie Mercury's edginess boosted the band's credibility, but when he swapped black polish for pink and donned drag in the «I Want to Break Free» promo 10 years later, it effectively killed Queen's career in the U.S. These were different times.
6. JARED LETO

Never one to shy away from a striking fashion look (lacey capes; loon pants; fake heads—he's sported them all), the actor, musician, and overcoat aficionado has one of the most enviable—not to mention colorful— wardrobes on the planet. Which might explain why, when he does put on polish, it's understated and underplayed, so as not to detract from the main event.
7. LIL YACHTY

So blasé is Lil Yachty about painting his nails that he equates it with getting a haircut. «It's just my thing, you know?» he told
The Washington Post
. He's even launched his own unisex nail paint brand, Crete. He's gone out of his way to make the polish man-friendly: It is quick-drying, available in three easy-to-wear colors (black, white, and gray), and housed in pen-like dispensers.

8. MACHINE GUN KELLY

Another rapper realizing there's money in a mani, «Wild Boy» rapper Machine Gun Kelly is soon to launch his own genderless nail polish line, UN/DN. But then again he has superb credentials: Not only has he worn every color imaginable but he's also ventured where no other male rapper has gone before by sporting stiletto nails. There's even an Instagram page devoted to his digits.

9. DAVID BOWIE

Did you really think any nail inspo list
wouldn't
feature Bowie? After all, the chameleon of pop was challenging gender norms before most of today's trend-setters were born. The Thin White Duke flirted with an array of nail colors (black, blue, and translucent-with-glitter to name a few), and even proved that men can rock a beautifully shaped nude stick-on too. Respect.
10. A$AP ROCKY

Few men are quite as enamored by enamel as A$AP Rocky. The rapper's love of playful nail art has stretched from painted-on cannabis leaves, eyeballs, flags, and smiley faces. As well as being the most playful exponent of nail art, he's also one of its highest-profile public champions. «I feel like men should be able to do nail art without feeling feminine,» he told
Vogue
recently.
11. ADAM LAMBERT

Never knowingly underdressed, solo-artist-cum-Queen-frontman Adam Lambert often uses polish as a finishing touch to his outrageous outfits. Such a fan of lacquer is the «Two Fux» singer that that he even created two branded nail polishes—in Violet and Sage—to support his latest album
Velvet
. A thoroughly modern man, he's described manicures as a 'necessary extravagance'.
12. SEAL

The elder statesman of statement nails, the «Kiss From a Rose» singer has been glossing up for years, often teaming his nail look with smart suits (we especially like the gold polish he sported at the Logie Awards in Australia). He recommends men think about paining their toenails too. «If you've got ugly bloke feet, that's one way around it,» he told London's
Evening Standard
.
13. BRAD PITT

Proving that nail art has the most impact when it appears on men who don't normally sport it, Brad Pitt's colorful nails made headlines when he flashed them at the Palm Springs International Film Festival in 2015. Their cute but slightly amateurish-looking application suggests his kids might have given him a mani makeover, category being: «whacky dad realness.»
14. VIRGIL ABLOH

It's only fitting that the creative force behind Off-White and Louis Vuitton's menswear should have his (immaculately groomed) finger on the pulse of the latest men's style trend. We particularly love the way he matched the color of his polish to one featured in a suit he wore to a recent Louis Vuitton Parfum Dinner, ensuring everything «teamed with the theme.»
15. TROYE SIVAN

The South African singer, actor, and YouTuber first applied polish as a way of showing his support for an anti-bullying cause, but the reaction from his followers was so positive that he began experimenting with more colors until it became his thing. His signature color is white. «I don't have to worry about what I'm wearing if I'm wearing white. It just goes with everything,» he told
Harper's Bazaar
.
16. BAD BUNNY

A lick of polish has become such a part of the Puerto Rican rapper's look that it's hard to imagine him with a totally nude nail these days. «I'm not telling people, «Hey, paint your nails or color your hair, do this or do that,» the mani muse told
Paper
magazine in a mini-manifesto for men who want to experiment with polish. «I'm simply saying, do what makes you happy…and also don't criticize or judge.» Preach.
Source :
www.byrdie.com
Author: Lee Kynaston
Global Fashion Shop
provides you with professional nail care and modeling products.
Other articles:
- Interesting facts about nails and manicure
- History of manicure. Beginning to this day
- Manicure that attracts men
- Which manicure is right for you?
- 8 Myths about nail care that women readily believe
Published: 09.05.2022 15:29 Times Read: 15