Beautiful legs: Discover the secrets of caring for them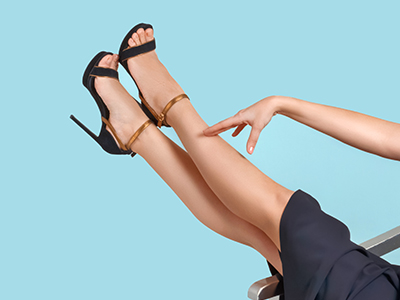 Women are the beautiful half of humanity. Being a woman is a lot of work. Grooming, jewellery, beautiful clothes, beauty salons and if you go down the list, there are many more things that women strive for in order to achieve perfection. No less important part of the woman's body, are the legs. No matter how long or short, thick or thin, the main thing is that they should always be well groomed, at any time of the year. In this article we'd like to share a few tips for caring for your feet.
TIP 1. GROOM YOUR FEET NO MATTER WHAT TIME OF YEAR IT IS
Many women are used to caring for their feet in the summer, but in winter, or rather if the feet are not visible, then why care for them, anyway no one sees them except ourselves. This is a myth, as feet should be groomed all the time, no matter if it's summer or winter.
TIP 2. GET A PEDICURE EVERY 2-3 WEEKS
A pedicure is not only for hygiene and aesthetics, but also as a preventive measure to avoid many problems. With «problematic feet», a
hardware pedicure
is the most effective. Due to the fact that hardware pedicure uses different attachments, cuticle removal, nail grinding, polishing, and skin treatment, it is possible to achieve a nearly ideal condition of feet, correct the irregular shape of nails, and to forget about such troubles as corns, cracks, corns, and ingrown nails. All these problems can be treated very well with a pedicure.
Related articles:
Hardware pedicure - convenient and easy
,
Pedicure tools and products: what they are and that you need to know about them
TIP 3. USE A GOOD FOOT CREAM
A 'good cream' should contain vegetable oils with strong nourishing and regenerating properties and soothing components (allantoin, bisabolol, panthenol). Foot cream should be used daily. If walking barefoot or simply wearing open shoes makes the skin on your feet dry, choose creams with intensely moisturising and moisture-retaining components (urea, glycerin, lecetin, aloe extract, collagen, etc.) for summer foot care.
TIP 4. WATCH OUT FOR ATHLETE'S FOOT
Talcum powder, deodorant cream or a special deodorant can help with a little extra sweating in the summer. If you're prone to excessive sweating, you can also sprinkle some on your shoes. The main condition is that all these products must be applied only to clean and dry skin. Try to wear breathable, weather-appropriate footwear and socks made from natural materials. Another good solution is a foot bath, which can be done once a week. It's a good idea to add sea or rock salt, essential oils or special bath products to such baths. This will reduce fatigue, relieve tension and soften up your heels.
TIP 5: DON'T WALK ON ROUGH SKIN ON YOUR HEELS
While showering or bathing (foot baths), massaging your heels vigorously with a pumice stone or coarse scrub, then apply a nourishing cream like salicylic acid cream (use it daily). Salicylic acid prevents excessive keratin buildup - the main culprit for coarsening and thickening of the top layer of skin on the feet. Such a treatment will also help prevent cracked heels (emollient creams or an old tried-and-true castor oil, which you can rub on your heels instead of using cream, will also help get rid of them).
BATH EFFECT: The main purpose of baths is to soften the top layer of the skin and help loosen rough patches painlessly. Baths with sea salt and essential oils are very useful. They soften the skin, improve blood circulation, and relieve muscle tension in the legs. By the way, natural sea salt destroys pathogenic microflora - the root cause of foot fungal diseases.

TIP 6: TRY NOT TO MAKE ANY MISTAKES WHEN GETTING A HOME PEDICURE
If you prefer a pedicure at home, then start with a foot bath: softened skin and nails are easier to work on. To keep feet soft and smooth for longer, use special lotions with AHA acids or sodium hydroxide instead of pumice stone, pedicure rubs or scrapers to gently loosen dead skin. And don't use a pedicure razor blade: a common mistake with inexperienced technicians is to cut too much skin, touching vital cells as well. This thickens the skin and makes it rough. Remove cuticles with care (no cuts, use quality tools only) and don't trim the pockets too much.
TIP 7: TAKE CARE OF YOUR TOE NAILS
Toe nails also need care. Hygienic care comes down to trimming the nail plate regularly and removing dirt from underneath. Many people trim their nails incorrectly, which leads to deformation and ingrowth of the nail plate. A few simple rules for trimming your finger nails:
1.
Do not cut nails too short and leave a free edge of at least 1mm.
2.
Do not cut corners; toenails do not need to be rounded.
3.
Avoid cutting wet or damp nails: this can cause toenail splitting.
4.
Resuscitate an ingrown nail immediately or see a specialist.
SUMMING UP THE RESULTS OF FOOT CARE1.
Choose shoes and socks made from natural materials. These make your feet sweat less and therefore less susceptible to fungus.
2.
Wear shoes that fit properly. You don't need to wear shoes that are too tight or too small.
3.
But don't forget hydration - it's the best crack prevention.
4.
Keep your feet dry and ensure regular hygiene. Not only can you use foot deodorants, but also talcum powder.
5.
Avoid wearing shoes with thin, flat soles - this will put more strain on your feet.
6.
High heels or wedges are not suitable for daily wear.
7.
The insole should be of medium stiffness and, if damaged, replace it with a new one.
8.
Do not wear other people's shoes, even temporarily.
9.
Do not go barefoot in public places and wash them thoroughly when you return home.
10.
Keep your back straight; it will reduce the strain on your feet.
NOTE: In our Global Fashion shop, we bring you only the best quality nail products.
In the shop --->
Follow our foot care advice and rest assured that you'll always have beautiful feet.
Read also:
1. Interesting facts about nails and manicures
2. Pedicure. What types there are
3. Causes of nail brittleness. The solution
4. How to strengthen your nails? Simple and effective tips
5. 6 - nail care tips and your nails are perfect
Published: 06.04.2022 09:38 Times Read: 17