25 Pretty and Delicate Floral Nail Designs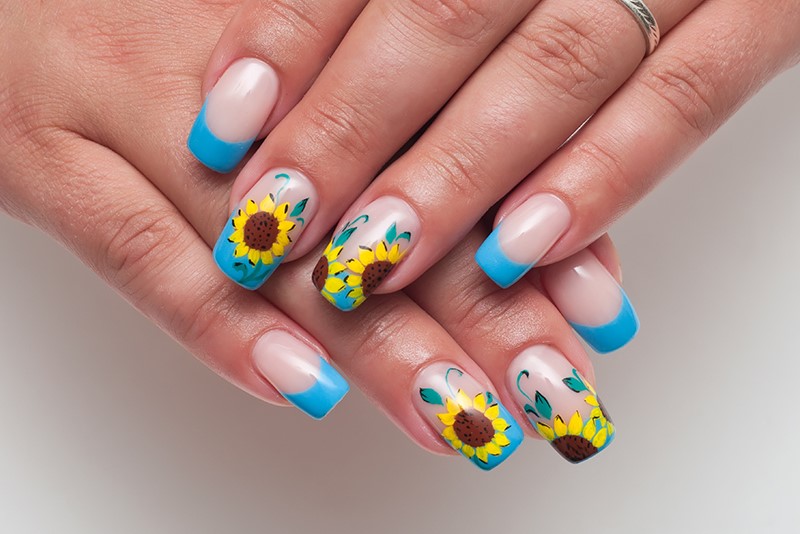 If you're like us, as soon as you book a nail appointment your mind starts racing, trying to land on the design you want to rock for the next few days (or weeks, if you get gels). While rainbow nails and neon peach tones are among the most popular requests in recent years, you can never go wrong with a delicate floral pattern. Whether you want full coats of color or negative space accents, ahead you'll find dozens of different floral nail designs worth saving for a rainy day.
1. NEGATIVE SPACE BLOOMS


If you want to add a pop of color to your nails without fully painting them, look no further than these delicate negative space blooms. To create the look yourself, use a toothpick or dotting tool dipped into the colors of your choice. Since the design is so intricate, don't be discouraged if it takes a few times to nail the pro-made look.
2. NUDE BLOOMS


Nude, natural-looking nails can make a statement too—even better when you add a few flowers to the picture. Instead of picking a plain neutral shade, opt for this pinkish nude and layer each nail with a daisy nail sticker.
3. PRETTY IN POPPIES


This bordered nail look adds a subtle touch of color to your manicure without covering the whole nail. You can accomplish the look with the nude, red, black, and green nail colors of your choice, along with a little acetone. The flowers look semi-faded for an ethereal finish, and dotting the polish with a drop of acetone can help create the watercolor effect.
4. DAINTY DAISIES


We love this look for its seriously simple nature. All you need to bring it to life is a toothpick and bottles of white and mustard yellow polish. Start by creating a few yellow dots to serve as the center of your blooms, then follow up with six white dashes surrounding each to finish the fan-fave mani.
5. PICTURESQUE POPPIES

These lifelike poppies require a bit more expertise than the previous nail art we've covered, so they may not be your best bet for a DIY project. Instead, just bring this picture with you to your nail appointment, and a professional manicurist can likely recreate this gorgeous look.
6. SUNNY FLORALS


There's something so joyful about yellow and white nail art. In this case, part of the happy nature comes from how simple the design is to create. Just grab a toothpick, white, yellow, and green polish, and start stippling your design to life overtop a cheerful base color.
7. BEAUTIFUL IN BLUE


Searching for an eye-catching nail art design that uses negative space? This dark and light blue manicure will make you swoon. It can be difficult to recreate, so this is another design you may want to seek professional assistance with.
8. FLOWER POWER


These complex blooms are a true work of art, sure to turn heads with the intricate line work and ombré stained glass background. Best of all, they don't have to be identical—pick a few favorite flowers and colors, and embrace how they complement one another.
9. DARK BLUE BEAUTS


Here, we have another negative-space look that lets the colorful blooms shine. While we love the blue and purple here, you can swap in any palette of your choice. If you're going the DIY route, make sure you have a good top coat to protect your delicate floral nail design.
10. GEMSTONE BLOOMS


Hi, we're obsessed with these turquoise blue gemstone blooms.
11. PLANT MOM NAILS


Technically speaking, stems are part of the floral family, so if you're a major plant mom or like the look of simple green sprigs, check out this pale pink mani. It's easy to recreate—just paint your nails pink and let them dry. Follow your base coat of color with a quick green stem design using a toothpick or dotting tool, and don't forget to finish the mani with a top coat.
12. HALF-MOON FLORALS


Half moon manis are having a major moment these days, but why opt for a simple crest of color at the base of your nail when you can swap it out for an intricate floral design? This negative space mani uses ultra-fine lines and bold pops of color to create a stunning nail look that's bound to turn heads. Given its intricate design, consider booking a nail appointment with a pro to achieve the look.

13. STUNNING SUNFLOWERS


Nude nails overlaid with cheerful sunflowers? Yes, please. Luckily for us, this particular nail art design is super simple to achieve. Again, just dot your nails where you'd like your flowers to be and follow it up with yellow petals surrounding each dot.
14. PASTEL PETALS


Pale blue nails topped off with pastel pink blooms have a way of making us stop and stare a while. If you feel the same, you'll be glad to know this nail art design is easy to DIY. Start by coating your nails in the blue color of your choice (
consider choosing one from our list of perfect shades of blue polishp
). Next, use a toothpick to layer pink and white dots along the base of your nail, blurring the lines to create artistic blooms. Finish with a few green dashes to serve as the leaves and stems, et voila.
15. TEENY DETAILS


Here's a pressed flower manicure we can't stop looking at. While this one was done with polish, what's so great about these nail art designs is that—if you have a tiny garden—you can even press your own blooms and bring them to your appointment for use. If you decide to DIY the look, start with a base coat and place the flowers on top of it once it's tacky (but before it's dry). Finish with a top coat or two until the blooms are fully submerged under the top layer of polish.
16. DETAILED SUNFLOWERS


Love the idea of sunflower nails but want your mani to look more realistic? These negative space floral nails take the sunny flower up a notch for something that looks straight out of the garden. If you have the patience to try to recreate the intricate look, grab the yellow, brown, and orange polishes of your choice and start creating your blooms one stippled line at a time. If you'd rather sit back and relax while the masterpiece comes to life, head to the salon with this example in hand.
17. BUTTERFLIES AND VINES


Butterfly bushes are undeniably beautiful, so why not use them to inspire your next manicure? This simple negative space nail art features a plain green vine with an intricate butterfly that might be tough to recreate, but with a little patience and a touch-up tool on hand, it's totally doable.
18. STRAY PETALS


Give your nude nails a touch of color with this dainty petal design that's a cinch to copy. Grab the red, green, blue, and white polishes of your choice and use a toothpick to draw little lines to form your blooms.
19. POPPY POLKA DOTS


Create the look of polka-dotted nails with these teeny poppies. They're easy to recreate so long as you have an ultra-fine dotting tool or toothpick and two red polishes—one slightly darker than the other.
20. PEONY POINTS


Um, wedding nails, anyone? This peony design is intricate and chic, creating a romantic take on traditional floral nail art. And don't overlook the gold ring nail accent—
stunning
.
21. A (NOT SO) SECRET GARDEN


Paint a garden on your nails as everyone's favorite LA-based nail studio did here. If you're not sure you have the nail chops to create the mani at home, simply book an appointment at a studio that you know does nail art (doing a quick scope of their Instagram should tell you everything you need to know).
22. BOLD FLORALS


These bright floral nails are one of our favorites for fall and spring, but if you adjust how dark or light the blooms are, you can make them work all year round. Best of all, given their semi-blurred finish, you don't have to be a pro at delicate details or intricate lines—so have fun with it.
23. DOTTED DELIGHT


We love a manicure that's easier than it looks. Once you take a closer look, you'll realize it's just a series of well-placed dots that creates this mini nail garden.
24. BABY BLUES


Give your nails a touch of pale color with this whimsical nail art design that requires few materials. So long as you have a blue and white polish, you're good to go.
25. POPPING PINK FLORALS


Prefer a curated take on floral nail art? These pink and green accent blooms will make you smitten.
Source :
www.byrdie.com
Author: Rebecca Norris
Global Fashion Shop
provides you with professional nail care and modeling products.
Other articles:
- 27 manicure designs that are perfect for square nails
- Update your nude nails with one of these 36 pink nail designs
- Smiley face nails are one of this year's top nail trends-here's how to wear the look
Published: 11.08.2022 08:52 Times Read: 70