4 Ways to Turn Regular Nail Polish Into Matte Nail Polish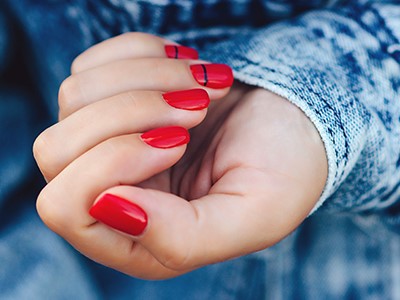 More often than not, the nail polish selections that we add to our collections are different colors of the classic, high-shine finish. And hey, that's totally okay—even if you prefer matte nail looks. These polishes are designed to nix shine in the final drying process, leaving you with chic, matte nails in minutes. Of course, if you don't have a matte topcoat in your kit yet, you might be wondering if there are other options to peruse. Naturally, we're here to let you in on a few options that can be achieved with items you're sure to have in your home.


Intrigued? Keep reading for four ways to make matte nail polish from the comfort of your own kitchen.



MEET THE EXPERT

- Sarah Bland is a celebrity manicurist and brand ambassador for Smith & Cult.

- Cassandra Banel is a Seattle-based nail artist and beauty photographer.

- Winnie Huang is a nail technician and CND brand ambassador.



1. TRY MIXING YOUR POLISH WITH BABY POWDER

Beauty lovers all over the web swear by powder's ability to zap shine from the end look of any once-shiny polish. «Cornstarch is best but you can also use baby powder, fine flour, or baking powder,» says Bland. «I suggest mixing it in small amounts in a separate container instead of mixing it in your full bottle of polish.» See below for how to bring the formula to life.

Materials:

- Small nail polish bowl
- Powder of choice
- Polish of choice
- Toothpick

Instructions:


Add a smidge of baking powder, cornstarch, or finely-milled flour to a small nail polish bowl and mix a few drops of nail color into it with a toothpick. Once fully mixed, use the nail polish brush to apply the color to your nails. Just be sure to fully rinse the brush before putting it back in the pot of color, as any powder remnants could transform the entire bottle of polish.


While self-proclaimed nail pros across the web swear by this process, Banel doesn't recommend it as a first choice, as the powder can risk making your polish look lumpy or may even alter the color altogether.
2. BUFF THE SURFACE OF YOUR MANI
While Banel doesn't love the idea of mixing powder with polish, she says that lightly buffing your nails post-paint job can do the trick.
«If your nail polish is completely cured (a few hours after painting) or you are wearing gel, a super quick hack is to just lightly buffer the surface of the nail until the entire area is matte,» she explains. In addition to removing the high-shine finish of your polish, she adds that this will also smooth out the surface of your nails, giving them a more professional look. «Just be sure not to buff too much and remove all of your topcoat,» she adds, noting that doing so can take away from the lifespan of your manicure. To buff your way to matte perfection, follow the instructions below.
Materials:


- Baf for nail

Instructions:

Once your nail polish has completely dried (which, by the way, for classic polish may be hours after application), gently buff your nails from side to side using the buffer block. A few swipes will do the trick, as you don't want to fully remove all of the topcoat.



3. STEAM YOUR NAILS (CAREFULLY) WITH A FACIAL STEAMER

Huang says that another option is to steam your nails. When you do so while your polish is drying, it minimizes the high-shine end result. For this particular method, be sure to use an actual facial steamer, which is safe for use on the skin. Attempting to use steam from boiling water or a clothing steamer poses the risk of serious burns to the skin.

Materials:

- Facial steamer

Instructions:


While nails are still wet, Huang says to hover your manicure over steam from your facial steamer. When you pull your nails away from the steam, you'll notice that they're noticeably mattified.
4. INVEST IN A MATTE TOP COAT
It might seem like an obvious option, but don't count out matte top coats. Painting on a layer of matte top coat can transform practically any shiny nail lacquer into a matte dream. In fact, while Huang acknowledges the desire for DIY nail matting techniques, she still swears by matte topcoat first and foremost.
Materials:


-
Clear matte top coat

Instructions:


Published: 18.05.2022 10:04 Times Read: 29