Gel Nail Extensions: everything You Need to Know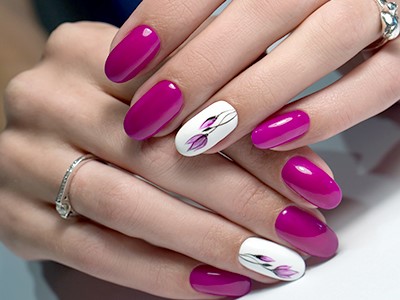 Gel extensions are one of the most popular and loved ways to get longer and stronger nails nowadays. Although every length and shape gives us tons of possibilities in the nail department, sometimes the goal is really just to add long, durable tips to the end of each nail or even to provide more room for nail art and polish in general. That's when they come in handy.
This nail technique could very well be the answer to our beauty-inspired prayers, but of course, it has its own pros and cons. Just like acrylic nails (one of the first salon-approved ways to extend your natural nail), it may last for up to four weeks, but both have a reputation for being damaging. That's why it's important to understand what they are before deep-diving into the nail extension world.
Read on to learn all there is to know about gel nail extensions, including how they're applied and how they differ from acrylic nails, straight from the experts.
MEET THE EXPERT
Ellegra Davis is a Chicago-based manicurist, also known by her business name Lady Legs. She specializes in gel nails and hand-painted nail art.
Trenna Seney is an NYC nail technician known for her work in the industry as an editorial manicurist. She's also the founder of Very Shameless Nails, a luxury press on nails brand.
WHAT ARE GEL NAIL EXTENSIONS?
Gel nail extension is a process that involves hard
gel
built on a natural nail and cured with UV light. The manicurist uses a
nail form
, which is basically a sticker that goes under the free edge (the tip) of the nail, to extend the length of the nail.
Top manicurists like Davis and Seney also rely on a newer method. «It's an already shaped full soft gel nail tip that you secure on the natural nail with gel,» explains Davis. They come in different sizes and shapes like stiletto, round, coffin, square. As it doesn't need filling, it's even quicker than the actual gel extension building. «I definitely recommend brands Kiara Sky Gelly Tips and Apres Gel X,» says Seney.
The only prerequisite is that your nails can't be bitten to the quick. «For a gel extension, your nail needs to have a little length, not a ton but just a bit,» says Davis. «If your nails are too short, there isn't anything for the extension to stick to.»
THE BENEFITS
- Long and strong nails.
- Lightweight nail tips.
- An easier and quicker removal process.
- Safer and healthier than acrylic nails.
THE DRAWBACKS
- Can weaken nails over time.
- Might not work well on too short nails.
HOW ARE GEL NAIL EXTENSIONS APPLIED?
When it comes to either getting a box of pre-shaped gel nail extensions or actually creating them, the nail technician needs first to prepare the nails (
file
, clean, and buff nails). Then, the expert applies a
form
underneath the natural nail to create the length one by one with a gel builder, a gel primer, and a gel top coat, letting them dry under the
LED or UV light
.
If a pre-shaped kit like Apres Gel X is used, Seney explains: «The second step, I use a bonder (this dries your nails) and a
primer
(this makes your nails sticky) so the
gel
can stick to it,» she says. All these products come with the kit. «Third, I apply a layer of gel to the actual nails and let it dry in light for about 60 seconds. After choosing which size fits the client's actual nail, I apply the gel to the inside of the gel extension and place it on the actual nail. Now it's time to press down and hold then sit in the
light
for 60 seconds.» Poof! Nails are ready for your favorite polish and nail art.
GEL NAIL EXTENSIONS VS. ACRYLIC NAILS: WHAT'S THE DIFFERENCE?
Both
acrylics
and
gel
can be used to create nail extensions. They also usually have a similar look, although gel tips may feel lighter. It's mainly about the structure of the nail, but the real difference lies in the polymerization process, ease of removal, and density. «The process of using gel is definitely quicker. There are no strong odors and you won't have the hassle of filing or dealing with dust,» explains Seney. «With acrylic nails, you have to mix a liquid called monomer and a powder (polymer) to mold the artificial nail.»
Davis warns that some salons have manicurists upselling their gel extensions when they're really acrylic. «Gel comes in a pot and looks thick like honey; acrylic is a powder. Know the difference,» she notes.
Acrylics tend to be harder than gel, which also means less flexibility. They may also be more damaging to the nail, especially as it requires more difficulty in removing it with soaking in acetone and buffing off. Too much buffing also means thinner nails over time.
HOW LONG DO GEL NAIL EXTENSIONS LAST?
According to Davis, the lifetime of gel tip extensions depends on how you use your hands—for some people, they'll last two weeks; for others, they'll last four to five. «I suggest having a manicure every 12-16 days. You'll have natural growth after that time,» she says.

HOW DO YOU REMOVE GEL NAIL EXTENSIONS?
Davis says they're only detrimental to your nail health if they're not removed properly. «Aprés are soft gel so they completely soak-off like a regular gel manicure,» she explains, noting that intense buffing isn't required. However, like regular gel nails, Davis does recommend getting gel extensions removed by a professional—preferably the one who applied them so that they know exactly which type of gel they're removing so that damage is less of a possibility.
To remove gel extensions the nail technician will file down about 85% of the extension and soak off the remaining gel in acetone wrap with aluminum foil and wait 15 minutes. «Then I gently push off the product and buff the natural nail. Removal should take you 30-40 minutes [at] the very most,» says Seney.

ARE GEL NAIL EXTENSIONS SAFE?
If applied and removed properly, gel extensions are very safe. «They're considered a healthier version of acrylics especially because they don't have the powder or harsh chemicals like methyl methacrylate and toluene,» says Seney. You just need to be sure to find a professional you trust and one who has good reviews.
Like any other type of manicure, the benefits of gel nails are individual. While they certainly create more options for popular nail art, Davis reminds us that nails of any length can be on trend, as long as they are neat.
Source:
www.byrdie.com
Author: Rebecca Norris
Global Fashion store
offers you professional products for nail care and modeling.
Other articles:
- A machine manicure is a super technology!
- A hardware manicure: how to avoid making a mistake?
- Correction of permanent nails. Why do you need it?
- 10 myths about nail extension. Discover the reality!
- Nail extension with gel. All the nuances
Published: 06.04.2022 10:47 Times Read: 16