17 Jade-Inspired Nail Designs That Bring Crystal Magic to Your Fingertips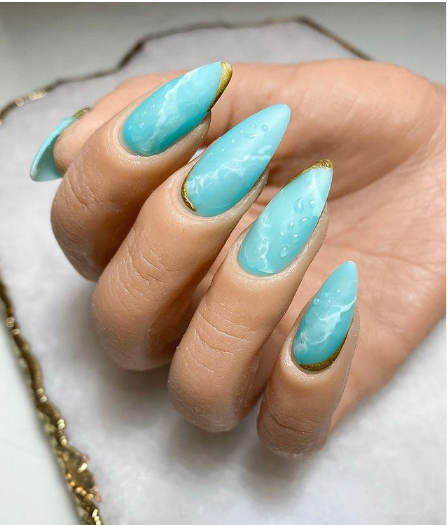 We're not ones to shy away from a little crystal magic. Whether it's the healing properties of amethyst or the skin-perfecting effects of a jade roller, we'll be the first to admit adding earthly stones into your beauty and wellness routine can be beneficial—even if it's just the color and appearance of the stones that boost your mood.


While spiritual healers tout crystals for their abilities to realign chakras, other less-spiritual folks might question their effects at all. Whichever side of the line you stand on, there's no denying that, at the very least, crystals are appealing to look at.


It's because of this, we believe, that jade nails are starting to circulate the 'gram. While we adore jade stones and the appearance of these swirly green nail looks, we'd be lying if we said there are a million ways to create them. Sure, you can get creative with how you paint the design on—opting for full nails, negative-space designs, half-and-half alignment, and so on—but the pattern itself remains the same. So ahead, find 17 of our favorite ways to wear the jade nails trend.





1. JADE MARBLE


These pale-green nails make us feel calmer just looking at them. And it makes sense considering jade is renowned for cultivating feelings of harmony and protecting wearers from harm. While jade nails are definitely not the same as jade stones, we're going to pretend that rocking this stylish crystal mani will be just as centering.
2. QUARTZ NAILS

If you're more of a neutral mani lover but want to get in on the crystal nail trend, consider these quartz-inspired nails. The simple milky white design requires sheer and opaque white polishes, as well as a lining brush or toothpick to bring the design to life.
3. ROSE ROUNDS


Rose quartz is one of the most popular crystals on the market—and for good reason! It's the gemstone of unconditional love and helps bring harmony to the heart and all relationships.
4. LABRADORITE TIPS

Labradorite is known for being a transformative crystal. And let's be clear: If you copy this labradorite
french manicure
, it's bound to elevate your entire beauty look, not to mention any hand pics you post to your grid. Best of all, they're easy to DIY. Simply use circle stickers to section off the tips of your nails, paint a blue base on each, and use an ultra-thin striping brush to create black and white swirls throughout. Don't forget topcoat.
5. DARK JADE NAILS

If you love the idea of a harmonious manicure but prefer a darker color palette, consider these dark jade nails. While we love the look of fully-painted nails, we can only imagine how chic this design would look with a little negative space added to the mix. Perhaps diagonal, half-and-half nails?



6. PINK TOURMALINE TIPS


You may know that tourmaline is a powerful component of health hot hair tools, but did you know that it's actually a beloved healing crystal? It's particularly known for its heart-healing effects, though it's also known to reduce stress, boost positivity, and promote balance throughout. Just a touch darker than rose quartz, pink tourmaline maintains the marbled look of the popular stone.
7. FLUORITE FEELS


Fluorite is another stone known for reducing stress and promoting balance. Here, the look of the stone is copied for an artsy take on a classic French mani. And, let's be clear: We're here for it.
8. JADE SQUARE TIPS


Jade on its own is pretty enough, but add gold foil to the mix and you have a creative take on the crystal nail trend that surely won't go unnoticed. You can copy this manicure on any NAIL nail shape. You just have to learn how to file your nails.
9. LAPIS LOVE


How stunning is this royal blue, lapis-inspired manicure? With dark and light blue swirls mixed with hints of rose gold, we simply can't look away. Of course, such intricate swirls require extra patience to create, so be sure to set aside an ample amount of time if your goal is to recreate these on your own.
10. OPAL NAILS


The uneven opal tips give the manicure an even more organic take on the crystal nail trend. If you love the look of the gold-lined negative space design, know that you can recreate it to look like jade crystals, rose quartz, or any other stone on the block.
11. CRACKED JADE


These almond-shaped beauties look like purposefully shattered jade.
12. ROSE QUARTZ NAILS


These embellished rose quartz nails offer the nurturing nature of the love stone topped off with a bit more grit for a slightly edgier nail look. By layering black confetti and a rose gold star on each nail, it helps cover a bit of the stoned look which has its benefits if you're having trouble perfectly recreating the marbled design.
13. ROSE QUARTZ NAILS

Here's a pale mani that could pass for neutral. With light blue calcite tips and minimalist hints of gold layered over a milky-white base, it's a dreamy nail look that goes with just about everything.
14. AQUAMARINE ALMONDS

Pale turquoise tips are another way to get in on the gemstone-inspired nail trend. Again, we're shown how stunning the stone color looks with traces of gold woven throughout.
15. MYSTICAL ROSE QUARTZ


We love the layering technique used to create this rose quartz mani—it gives it cloudy dream vibes, no?
16. JADE ACRYLICS

Take this design up a notch with a set of long, squared-off acrylics.
17. GOLD-ADORNED


These chic embellishments add a certain sophistication to your classic jade nail design.
Source :
www.byrdie.com
Author: Rebecca Norris
Global Fashion Shop
provides you with professional nail care and modeling products.
Other articles:
- Smiley - face nails are one of this year's top nail trends - here's how to wear the look
Published: 01.08.2022 12:09 Times Read: 94