Ways to level the nail plate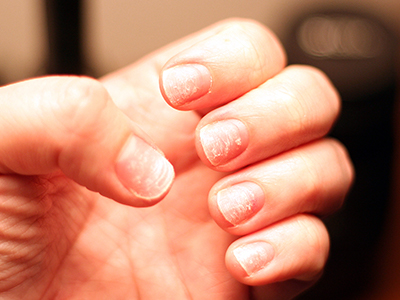 You dream of a perfect gel-coat, but unfortunately your nails are not so smooth and even. Don't take it personally, as it's a problem that can be solved. Here are various methods which will help you achieve the desired effect: straighten your nails. Take note!
First, let's look at the causes of an uneven plate.
CAUSES OF NAIL PLATE UNEVENNESS1. Mechanical damage:
bumping, pinching, improperly performed manicure. An injured nail can grow back over time and the plate will be smooth and even as before, but a serious injury can permanently deprive a neat nail.
2. Bacterial or fungal infections.
Skin and nail diseases often cause nail plate deformation, thinning and peeling.
3. An unbalanced diet.
Longitudinal furrows in the surface of the plate can indicate a lack of iron or protein, and brittleness can indicate vitamin deficiencies.

WHAT TOOLS CAN I USE TO STRAIGHTEN MY NAILS?
Unfortunately, not all girls can boast of straight nails. There are a few basic ways to even them out. Namely as such are:
-
Base.
- Biogel.
-
Acrylic powder
.
_________________________________________________________________________________
Articles on the subject:
Nail base. All its subtleties
,
Nail extensions with gel. All the nuances
_________________________________________________________________________________
Now let's talk about each method of nail plate levelling in order.
Smoothing with a base
You will need a thick to medium consistency base for smoothing. We recommend to align and dry one nail at a time.
How to use a nail base for levelling?
1.
First prepare the nail plate: prepare it with a manicure, wipe the surface with a degreaser.
2.
Apply a thin layer of the
base
, seal the ends, dry it in a
lamp
.
3.
For smoothing, place a drop of the base in the centre of the nail and distribute from the cuticle to a free edge of the nail.
4.
Dry for 30 seconds in a
UV/LED lamp
.
Now the nails are flat, you can safely apply the
gel polish
.
IMPORTANT: Liquid bases are not suitable for levelling as they can spread.
Alignment with biogel
A nail plate levelling can also be done using biogel. Both transparent and camouflage shades are suitable for this purpose. Such material will have a number of advantages: naturalness and ecological compatibility, absence of chemical impurities, not only cosmetic but also therapeutic effect; nail plate growth stimulation, strengthening nails by activating keratin production, manicure durability, as well as its gentle levelling and easy removal.
How to line my nails with Biogel?
1.
Prepare the nail plate: do a manicure, wipe it with a degreaser.
2.
Finish nail with a
base
, dry it under a
UV lamp
.
3.
Apply the biogel with a brush, first in a thin layer, then a drop in the middle. Finish with a buff, then buff in a drop in the centre. The nail bed should be thinner than the centre of the nail, this helps to create the correct convexity.
Now dry the biogel in a
UV/LED
light for 30 seconds.
After all the steps, we can proceed with the gel lacquer.
_________________________________________________________________________________
Article on the subject:
How to choose a manicure lamp? Let's understand the nuances!
_________________________________________________________________________________
Smoothing with acrylic powder
With an acrylic powder coating, your coating will be more permanent. This is its main advantage over base and biogel. But you should bear in mind that you will need additional products to remove the acrylic.
How do I smooth with acrylic powder?
1.
We prepare the nail plate, cover the base and dry it in a
UV/LED lamp
for 30 seconds.
2.
Apply the second layer of the base, then powder it with
acrylic powder
, focusing on the centre of the nail and the free edge. Then dry it under a UV/LED light.
3.
Brush off the remaining acrylic and apply a final coat of base. Allow to dry.
After the third layer of base, you can apply
gel nail polish
and make a design.
Always flaunt your luxurious manicure. And buy everything for a manicure in our online shop Global Fashion! Professionalism and quality is our pledge!
Shop Global Fashion --->
Other articles on the topic:
1. Nail wxtensions with acrylics. All the subtleties
2. Gel nail polish. All the best part
3. Which manicure suits you?
4. Nail file. The indispensable tool in every girl's make-up bag
5. Gel polish burns when drying in the lamp: causes and solutions
Published: 29.03.2022 13:08 Times Read: 13