Pedicures for Men: The Complete Guide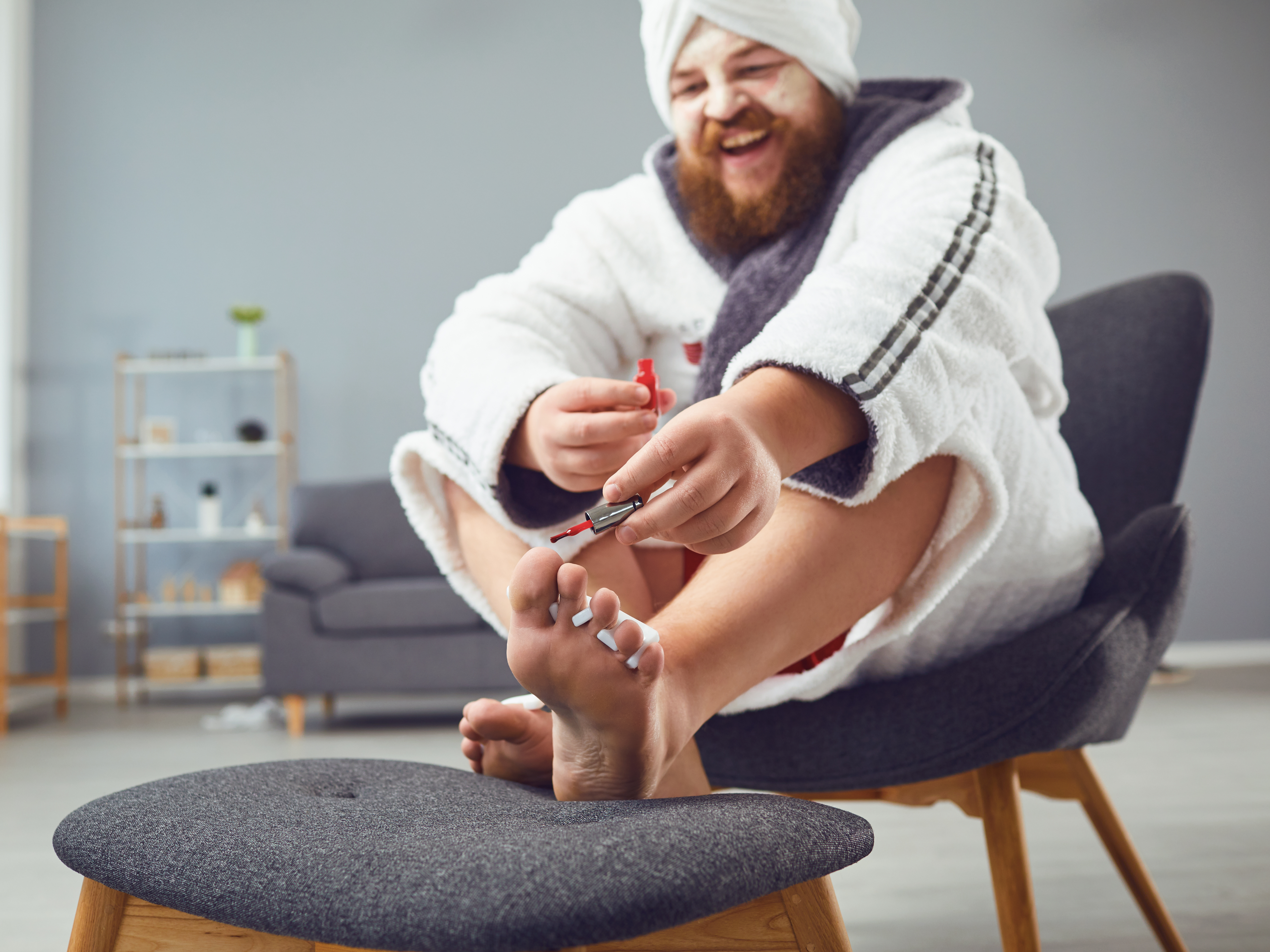 Aman getting a pedicure used to be a rare occasion, but by today's standards, no self-care routine, regardless of gender, is complete without the head-to-toe treatment. And when you think about the beating our feet take more than any other part of our body, it gives rise to a number of both practical and indulgent reasons why pedicures are beneficial to us—from alleviating the discomfort of ingrown toenails to the stress of being on your feet all day. All in all, pedicures for men is a great idea all around.


We did the footwork, getting the lowdown on everything you need to know about getting a pedicure for men, whether at a fancy salon or in the comfort of your own home. We talked to two experts who are well-versed in all things feet, Marcela Correa, licensed medical pedicurist and Founder of Medi Pedi NYC, and Chrissy Cabrera, Founder of Natyrally London, to impart their wisdom on the ins and outs of men's foot care. Keep reading for what they have to say about pedicures for men.




MEET THE EXPERT

- Marcela Correa is a licensed medical pedicurist and the founder of Medi Pedi NYC.
- Chrissy Cabrera is the founder of Naturally London.



SHOULD YOU GET A PEDICURE?

Unless you spend your days lounging atop clouds with your feet bathed in the pristine air, the chances are high that you could use a proper pedicure. Men's feet are just like women's feet, Correa explains; they take a lot of abuse. In fact, the top reason male clients seek her services is for shoe-related ailments (mostly caused by business shoes), such as corns on the small toes. Other top-ranking reasons for a pedicure for men include athlete's foot, nail fungus, and cracked heels. Cabrera also pointed out that many illnesses can show up in your feet, such as gout, neuropathy, and edema, and regular maintenance could help you stay aware.

Even if you're lucky enough to have fairly unblemished feet, a pedicure could do wonders for your mood, Cabrera says. «When you tend to your feet, you are tending to your health.» She also mentions that many practices look at our feet as our bodies' roots, and tending to them with care can help reduce stress and release feel-good hormones.



BENEFITS OF A PEDICURE

First and foremost, it feels great. Both specialists are adamant about the inextricable bond between foot care and general wellbeing. «When your feet are healthy, they don't hurt, allowing you to walk longer, exercise more, and focus more,» Correa says. «It is beneficial to our overall self-care maintenance to have simple rituals such as pedicures that target emotional and physical health,» Cabrera adds.

But sage wisdom aside, getting a regular pedicure also supports the adage that prevention is the best medicine. «Prevention is the most important benefit of getting pedicures,» Correa says, «Cleaning your feet and cutting your nails the right way will prevent ailments that are not only hard to eradicate but can be painful and cause a ripple effect that can change your way of life in the future. For example, the smallest callus build-up or corn can cause you to shift how you walk or stand, potentially causing harm to your back alignment. It's all connected, but sometimes we don't realize until it's too late.»

Correa also explains that regular pedicures could help men deal with chronic problems like foot odor, nail fungus, and athlete's foot that, without more specialized care, may be harder to control.

And when all that is said and done, Cabrera points out that keeping your feet in tip-top condition can also save your socks from excess wear and tear.



WHAT TO ASK FOR AT THE SALON

Most salons nowadays offer a basic pedicure for men, which usually includes a foot soak, exfoliation, nail clipping, and buffing. Still, Cabrera recommends going the extra mile, asking for a leg massage (for relaxation's sake) and a clear nail polish coat to strengthen the nails. But before you put your feet at the mercy of a pedicurist, there are a few things you should keep in mind:

- Inform the nail technician of any medical conditions or allergies that would require them to be gentle with your feet, as well as any products or ingredients that could cause a reaction.

- If you're looking to address specific concerns, tell your nail tech right off the bat so they can customize your treatment to meet your needs better

- Ask them not to cut your cuticles, as this could open the skin and lead to a serious infection. Tell them to cut the nail straight across to avoid the formation of ingrown toenails.

- «Avoid any tools that look like the nail technician is making a salad,» Cabrera says. This means no peelers or cheese shredders.

- If you plan to make a salon pedicure a regular part of your routine, Correa recommends bringing your own tools, including nippers, file, and trimmers, to avoid cross-contamination from other clients.
While most men are happy with a quick buff-out at the end, Correa says many of her high-flying clients also ask for a reflexology massage after their pedicure as an extra measure of relaxation.
HOW TO DIY A PEDICURE AT HOME
While a visit to the salon could leave you with a pedicure for men par excellence, there are still plenty of ways to achieve similar results in the comfort of your own home.
Tools and products you'll need:
- Nail clipper (or nipper for thick nails that are hard to cut with a regular clipper)
-
Disposable nail file
- Pedicure file with disposable buffing sheets
-
Disposable nail buffer
- Disposable wooden nail stick
- Epsom salts (unscented is best) or foot soap
- Thick foot cream
-
Cuticle oil

Step 1: Soak your feet

Correa recommends soaking feet in warm water for 15 minutes with Epsom salts or foot soap to soften the nails and make them more pliable to cut. If you're in a hurry, Cabrera recommends waiting until after you've showered to get the same effect. But if you have the time, kick back with some quality TikTok and enjoy a good soak.


Step 2: Cut and file your nails


Cut each nail straight across, and follow up by gently filing each.


Step 3: Cuticle care


Using cuticle oil or jojoba oil, massage into your toenails and cuticles before gently pushing back with a wooden cuticle stick. Remember never to cut your cuticles!


Step 4: Heavy-duty exfoliation


After you've cleaned and moisturized your nails, Correa recommends putting lotion on the bottom of your feet. Then take your foot file and file away the skin in an up-and-down motion (as opposed to straight-across or back-and-forth) to follow the skin's natural cracks.


Step 5: Rinse and dry


Rinse off your feet and dry thoroughly, especially around the toes. Correa suggests using a blowdryer to make sure feet are dry, which is especially important if you're treating nail fungus or athlete's foot.


Step 6: Moisturize and buff


Finish up with a healthy dollop of thick foot cream and gently buff nails to bring out their natural shine.


Published: 06.04.2022 11:56 Times Read: 11