Pedicure. What types there are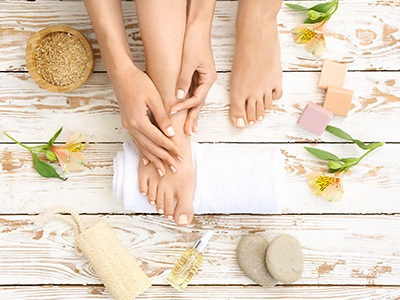 «Beauty will save the world», what do you think? In today's world they say that you are met by the «clothes» and seen off by the «mind», so that you were met at the level, it is necessary regardless of the situation always look well-groomed. It is clear that everyone loves to look after themselves, and it is natural, but agree with the fair sex, somehow everything is different. Girls are willing to sacrifice a lot, just to be famous for their extraordinary appearance. Of course, brand name clothes, various jewellery and a nice haircut - it's cool, but if your body is not well-groomed, all this will not help you. There are various body treatments, one of which is a pedicure. Many girls only get pedicures in the summer, forgetting that in winter their feet also need grooming. There are several types of pedicure, and we will talk about them in this article.

WHAT IS A PEDICURE?
A pedicure or toenail manicure is the generic name for procedures to care for your toes and nails. Alternatively, a pedicure can be called a foot manicure.
A standard treatment includes the following elements:
- removal of rough skin.
- cuticle treatment.
- nail shaping.
TYPES OF PEDICURE1.
Сlassic pedicure
2.
European pedicure
3.
Machine pedicure
4.
Medical pedicure
5.
SPA pedicure
CLASSICAL PEDICURE
Classical pedicure is also called 'trimming'. This is because this pedicure uses cutting instruments. Technique classic pedicure involves handling nails and skin clippers after it softens with water. Even the coarsest, driest cuticles and burrs can be treated with this technique.
Despite the versatility of the procedure, it has some serious drawbacks: Sloppy handling can lead to cut wounds and even infectious diseases (such as AIDS and hepatitis) through blood, if the handyman is not too careful and does not disinfect his tools carefully. It is therefore crucial to choose a proven craftsman whose workplace is always clean and tidy and whose tools are
sterilised
.
Step by step implementation of a classic pedicure:
- Clip your nails.
- Dip your feet into a soothing foot bath.
- Rub your feet with a pumice stone.
- Remove cuticles and skin around nails with a pair of clippers or scissors.
- Polish or apply a decorative varnish.
- Soften the skin with nourishing oil or cream.
EUROPEAN PEDICURE
This type of manicure is also referred to as an 'uncut' manicure. The difference between the European and classic manicures is that the skin is not softened with water and no cutting tools are used - scissors, clippers and other devices for removing cuticles. The skin is softened with special products for removing cuticles and corns and then it is removed with a chopstick or scraper. Once the skin is removed, nail polish can be applied immediately. This minimises the risk of skin damage and infection and makes foot treatment completely safe. If the treatment is performed regularly, cuticle growth slows down.
Step by step European pedicure:
To get your feet in shape, you need to:
- Remove old nail polish.
- Apply cuticle softener to the cuticles. Use an orange stick to gently push all cuticle stumps away so they look neat.
- Polish rough and calloused skin around nails with a nail file.
- Polish nails to give them a neat shape. Apply a softening solution to feet.
- Rub thoroughly with a pumice stone after 15-20 minutes to remove all traces of rough and dead skin.
- Apply nourishing foot cream and massage to allow it to soak in.
- Polish your nails with clear protective or coloured nail polish.
HARDWARE PEDICURE
A hardware pedicure does not involve the use of softening baths, removers or saws. The entire procedure is performed with a special machine. With this device you can forget about calluses, corns and ingrown toenails for a long time. The doctor carefully saws off the calloused areas with various nozzles, shaped the nails, and even removes the gel polish. The advantage of this type of pedicure is that it is performed without using water, which means that the risk of catching a fungal infection is minimal. In addition, the likelihood of cuts and scratches when using this device is also excluded. During hardware pedicure, only the keratinized layer of skin is removed, while during classical pedicure, the dead cells are cut off along with the living tissue. The disadvantage of this technique is the difficulty to repeat at home.
On a side note: Our site has an article
«Hardware pedicure - convenient and easy!»
It may also be useful.
It is worth paying attention to the fact that the classic, European and hardware pedicures relate to aesthetic types. They have a number of contraindications. Namely:
- fungus (a contraindication to covering).
- bruises, when there is a bruise or dent under the nail, a crack in the nail (contraindication to coverage).
- deep cracks.
- Severely ingrown nail.
- Onycholysis (a disease in which the nail plate peels away from the tissues of the finger).
For these problems, there is an alternative - medical pedicure. It is designed for problematic feet and is performed by podiatrists.
ABOUT MEDICAL PEDICURES
The medical pedicure works in the same way as the European pedicure. First, the technician soothes the feet with a special solution and then begins treatment with the appliance. Depending on the severity of the disease, the procedure can last from 20 minutes to two hours. Accordingly, if you decide to have a medical pedicure for prevention, the treatment with the apparatus will be short. In the final stage, regenerating and antifungal medications are applied to the feet, while the nails, if they have not been damaged or removed, are treated with antifungal nail polish.
SPA-PEDICURE
SPA is a spa treatment that is performed as a package. SPA pedicure is health-improving care of feet, toes, and nails, where baths, herbs, and oils are actively used. SPA pedicure uses cosmetics that contain an increased amount of natural components. First, the technician painlessly removes dead cells. Then the client takes a relaxing foot bath with essential oils. This is followed by a foot massage, which focuses on the bioactive points.
Materials and accessories used in SPA pedicure:
1.
Tub. It can be with an integrated temperature or thermometer, a normal bath or a whirlpool. Such a bath is advantageous because it eliminates swelling and improves blood circulation. Massage, aromatherapy and infra-red heating can be used.
2.
Oil. Tea tree oil is the best, as it has an antiseptic effect. Nutmeg, ginger or clove oils are also suitable.
3.
Foot towels.
4.
Scrubs and masks.
5.
Grease-based creams.
The basic steps of the SPA pedicure:
The technology of the procedure is roughly as follows:
- Steam your feet.
Fill the tub with water and add antiseptic agent or oils and steam your feet for about 7-10 minutes. The temperature should be kept between 38-40 degrees.
- Cleansing.
The cleanser can scrub the skin with a soft scrub base, which removes all keratinized parts without rubbing or rubbing with a pumice stone.

- Moisturising.
To moisturise your skin, apply a mask to your feet for 10-12 minutes. The mask must be nourishing and contain only natural ingredients. The most common products used in such procedures are those containing mineral clay and aloe extracts.
- Massage action.
This improves blood circulation in the feet and relieves tension. Afterwards, nourishing cream should be applied to deep moisturize skin.
Step by step SPA pedicure:
- Prepare water in a tub by heating it to 38-40 degrees.
- Soak your feet in water for 8-10 minutes.
- Blot the skin with a towel.
- Scrub your feet, paying attention to the heels, and wash your feet with warm water.
- Read the instructions on how to apply the mask.
- Apply the mask on your feet, following the instructions. The mask can be applied to dry feet, or to slightly damp - this must be taken into account.
- After 8-10 minutes rinse off the mask, massage your feet for 12-15 minutes.
- Apply a nourishing cream.

Contraindications
Of course SPA pedicure is a pleasant procedure, however, has contraindications. Namely in the following cases:
- The presence of fungus on the nails.
- Pregnancy at any stage of pregnancy.
- Varicose veins and thrombophlebitis.
- Rashes of an allergic or unknown nature.
- Diabetes.
Online nail extension material shop «Global Fashion»
offers you professional materials for pedicure and manicure.
Never forget to take care of your feet!
Read also:
1. Manicure router. Manicure art helper
2. How to choose a manicure lamp? Let's understand the nuances!
3. Manicure extractor. Master and cliend safety
Published: 28.03.2022 10:09 Times Read: 29