6 - nail care tips and your nails are perfect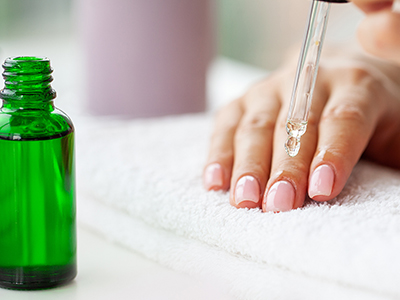 Fingernails, though so tiny, are another indicator of grooming. To boast of beautiful nails is another task which every representative of the gentle sex sets herself. After all, they need attention every day. Perhaps you are familiar with the methods of care for their nails. But nevertheless, we would like to share some «hat tips», which surely will not prevent you, and even help to give your nails even more gentle care.
DON'T LET YOUR NAILS GET TOO LONG
Keep your nails at an optimum length and trim them in time, without waiting for damage to occur. Use nail scissors or nail clippers and then soften any sharp edges with a
nail file
.
DO NAIL BATHS PERIODICALLY
Try to do different nail baths: nail care and nail strengthening. These preventive measures are good for everyone, but especially for women with delicate, thin, weak nails: they'll help strengthen them. See the article «How to strengthen your nails? Simple and efective tips», you'll find a number of different types of baths.
Read article
KEEP YOUR NAIL PLATE BEAUTIFULLY COLOURED

The colour of the nail plate should be uniform and healthy. If you notice that your nails are dull or that they have absorbed the pigment of the nail polish after a quick manicure without using a base, take advantage of the bleaching properties of lemon - rub the nails with slices of this citrus every day for a week. A «course» of treatment should not last more than 7 days; there is a risk that prolonged exposure to lemon juice will leave nails and the skin around them desiccated.
Interesting article:
Interesting facts about nails and manicure
THE CUTICLE MUST NOT BE NEGLECTED
Well-groomed hands also means soft, moisturised skin around them. Dry cuticles inevitably spoil the look of your nails because they won't look neat. To get rid of cuticle problems, you need to keep an eye on the cuticle and take appropriate measures if they show signs of dryness - with
cuticle oil
. The compact size of the oil bottles makes it easy to take with you so you can take care of the cuticle while walking. Massaging the cuticles is also efficient - after applying the oil, massage it into the skin. This action on the nail roots will stimulate nail growth and they should become healthier, stronger and stronger.
THE SKIN ON YOUR HANDS MUST NOT
«
SUFFER"

If you leave your hand care for «later», over time your hands will simply «fade away». So get a hand cream with a comfortable composition, texture and scent to use at your leisure. By the way, it's really best to apply it when your hands are not involved in anything. In addition to applying cream, you may prefer products with nourishing oils - they can help keep your skin moisturised for longer.
Interesting articles:
Causes of nail brittleness: the solution
Spa manicure. Hand and nail beauty care

CHOOSING THE RIGHT FIL
E
Forget the metal files! They can be traumatic and cause chipping. If your nails are brittle and broken you'd be better off with a fine-grained glass, crystal or ceramic nail file. These files are as gentle as possible and seal the nail edge. You can also use files on a cardboard or plastic basis with a working coating glued on. Bear in mind: the optimum abrasivity for natural nail files is 180-240 grit. For further information on , read the article
«Nail file. An indispensable tool in every girl's make-up bag»
.
We're sure that if you follow these simple tips, your nails will always be beautiful and healthy.
Read also:
1. A machine manicure is a super technology!
2. The history of manicure. The beginning to the present day
3. Which manicure suits you?
4. A manicure that attracts men
More articles --->
Published: 01.04.2022 08:17 Times Read: 16