Everyday manicure: simplicity and originality in one «bottle»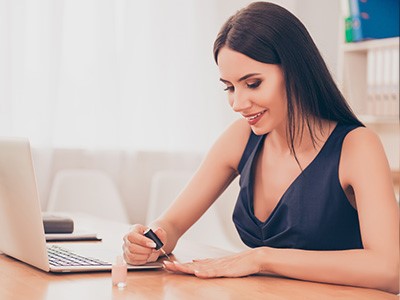 Every girl always strives for a beautiful manicure. There are nowadays a large number of design ideas for manicures. You can do anything you like on your nails, as long as it's tasteful. One of the most in-demand manicures is the everyday manicure. This manicure has its own simplicity, but at the same time looks original. In this article we will deal with what is the everyday manicure and what design ideas you can fantasise on your nails.
EVERYDAY MANICURE: FEATURES
The everyday manicure is a versatile solution that will go with all outfits, from classic to bright evening looks. The main feature of this manicure is that it should be as simple and aesthetically pleasing. Manicure of the day - it does not mean only the monochrome nude colors, you can improvise different, but it is important not to forget that the conciseness is the main attribute of this manicure.
Now, let's pick up the pieces for your manicure.

COLOR
The main hues of the manicure are neutral tones: beige, peach, different shades of pink, white, black and gray. Such shades can be combined with any dress code and are not conspicuous, but at the same time quite attractive.
These shades can also be combined, but no more than two or three shades. The manicure can also be completed with light patterns. But in this case, do not forget the main rules: the patterns should not be bright and there should not be a lot of them. In other words, the choice must adhere to brevity and maximum simplicity.
DECORATIVE ELEMENTS
Bright rhinestones, sparkly stones and other elements - NO! You know that this will be unnecessary, just your everyday manicure will turn into a party manicure. Keep it simple. Try to decorate your nails in a way that suits your daily duties.
INTERESTING IDEAS FOR EVERYDAY MANICURESFrench manicure
There's a good chance that this manicure will never lose its popularity. It's true that it's still in demand for years to come. The French manicure is perfect for school or the office. Even if you do not fall into this category, it will still suit any look. The main thing is that there are no bright colours, as there are a million variations of the French manicure. But if we're talking about an everyday version, a classic French, or variations with neutral shades will do just fine.
Ombré
A rather interesting manicure design. It's all about the seamless transition from one colour to the next. It looks very stylish, unique and delicate.

INSIGNIFICANT PATTERNS
After all, a casual manicure isn't necessarily about nails in one neutral tone and all. Not at all, you can add simple patterns to your nails that won't catch the eye and cause a negative reaction. The main thing is not to go overboard, stick to conciseness, neatness and refuse bright shades. Simple patterns include: dandelions, chamomile, stripes, white petal, white branch, hearts etc.
A MIX OF EVERYDAY MANICURE IDEAS
Global Fashion Shop offers a huge variety of gel lacquers. With us you can achieve unique manicure.
Shop here --->
We hope you found our information useful. Take care of your nails and keep them always beautiful.
Other articles:
- French manicure. A symbol of femininity
- Wedding manicure: rules and beautiful nail design
- Top 10 tips for extending the life of your manicure
- How to strengthen your nails? Simple and effective tips
- 6 - nail care tips and your nails are perfect
- Gel nail polish. All the best part
- Gel nail polish: exposing all the myths about it
- 5 - destructive habits that make nails worse. How can you beat them?
Published: 06.04.2022 09:22 Times Read: 24