Top 10 tips for extending the life of your manicure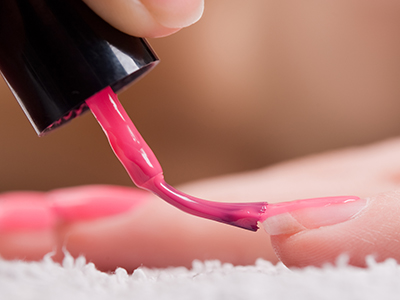 Surely every member of the fairer sex dreams of a beautiful manicure. But apart from that, she wants her manicure to last longer on her nails. But unfortunately in everyday life, it does not always succeed. We are going to give you a few secrets to help prolong the life of your manicure. So write these down somewhere, or better yet, memorise them.
So, those 10 tips!
TIP NUMBER 1: CHOOSE A SAFE NAIL VARNISH
The wrong nail varnish will cause the nail plate to dry out. The result is brittle, flaky nails, skin irritation and allergic reactions. To avoid these problems, polishes with safe formulas labelled «5-free» should be preferred. These are free of potentially harmful substances such as formaldehyde, formaldehyde resin, toluene, phthalates and camphor.
TIP NUMBER 2: GLASS NAIL FILE
Before you paint your nails, use a glass nail file to keep the nails from chipping the very next day. They «seal» the edge of the nail and prevent it from flaking.
TIP NUMBER 3: USE A DEGREASER
Before varnishing, you must carefully degrease the nail plate. This is a very important procedure as there is a grease residue on the nails which prevents the nail polish from adhering firmly to the nail plate.
TIP NUMBER 4: USE A BASE BEFORE AND AFTER
Always use a basecoat under the nail polish. The nail polish base will last longer, the colour will be deeper and more even. The base allows the nail polish to adhere more firmly to the basecoat, protects nails from staining and strengthens the nail plate. It is preferable to use the same colour base as the varnish for best results. The final step is also the base coat. The nail tips are prone to chipping so make sure to work in two additional layers of nail base.
_____________________________________________________________________
Related Article:
- Causes of nail brittleness: The solution
- How to strengthen your nails? Simple and efective tips
- Spa manicure. Hand and nail beauty care
- Ways to leved the nail plate
_____________________________________________________________________
TIP NUMBER 5: DON'T USE TOO MUCH VARNISH

The most common mistake is to use too much polish at one time. Many people think it's better to apply a lot of varnish at once and wait for it to dry. But after an hour, the varnish still smudges and there is no even coverage. It is better to paint your nails in 3-4 as thin layers as possible and wait to avoid bubbles and unevenness. Make sure to wait one or two minutes before each coat so that the solvent in the varnish has time to evaporate, otherwise we will damage the nails and not achieve a permanent manicure.
TIP NUMBER 6: DRY YOUR NAILS PROPERLY

- The 'dipping your fingertips in ice water for a couple of minutes to make the nail polish dry faster' procedure doesn't work. At first glance, the nail polish does dry, but that's just an illusion. In fact, this method only changes the consistency of the nail polish, which in no way prolongs the life of the manicure.
- «Blowing on your nails» is a myth! Technically, only the top layer dries, but not the entire coating. In addition, tiny droplets of saliva can get on your nails, resulting in small bubbles.
The correct way to dry quickly is to use special products, because they are designed to oxidise the varnish from the inside. It's best to let them dry naturally.
TIP NUMBER 7: DAILY NAIL AND CUTICLE CARE
In order to keep your manicure in top condition for as long as possible, you need to take regular care of your hands and nails. So make sure you use cuticle oil or hand cream every day to keep your nails from drying out. For deep, dry and cracked cuticles you can use shea butter, jojoba oil or almond oil. It is best applied by rubbing the oil in for a minute or more with massaging strokes. Such a simple treatment will relieve unpleasant dryness and irritation and help prevent chipping.
TIP NUMBER 8: PROTECT YOURSELF
When washing the dishes or cleaning, always use gloves to protect your nails and manicure from water and chemicals. Nothing shortens the age of manicure like household chemicals and hot water. And don't let your nail polish come into contact with antiseptic agents.
TIP NUMBER 9: DON'T SHAKE THE BOTTLE
Do not shake the bottle of varnish before use, then the manicure will bubble and will soon come off. Remember! Roll the bottle gently between the palms of your hands.
TIP NUMBER 10: COVER YOUR MANICURE WITH A FIXER
Use a special fixer and apply it every two days to avoid cracking and to give your nail a touch of extra gloss. This way, your manicure will give a fresh-looking impression for a long time.
We are sure that if you follow these tips, your manicure will last a long time.
Global Fashion Online Shop
has a wide range of manicure products and tools. So visit the
shop --->
Read also:
1. Nail base. All its subtleties
2. Pedicure tools and products: what they are and what you need to know about them
3. Interesting facts about nail and manicures
4 The history of manicure. The beginning to the present day
5. Which manicure suits you?
6. A manicure that attracts men
7. Nail file. An indispensable tool in every girl's make-up bag
8. French manicure. A symbol of femininity
Published: 01.04.2022 10:26 Times Read: 21