Cat Eye Nails - Here Are 17 Ways to Wear the Trend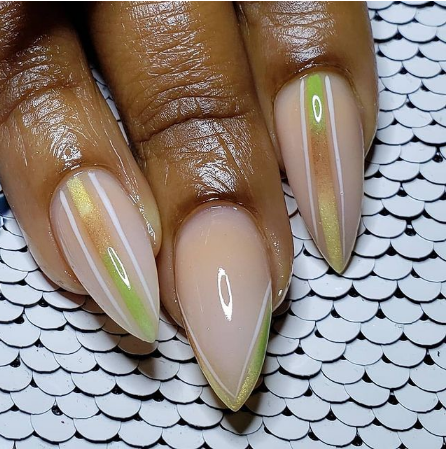 There are few things more striking than the marbly, mystical appearance within the eyes of our favorite feline friends. Shades of blue, green, brown, purple, gold, black, and amber combine in a swirly combination of an almost metallic appearance, complete with a striking dark pupil. So, like a true nail art aficionado would do—why not capture the viral cat-eye look on your own nails?


While leopard manicures may have long held a monopoly on nail art inspired by our favorite cats, perhaps it's time they step aside to let cat eye nails have a major moment.


To achieve the look of this gorgeous trend, a metallic, diagonal line runs across the nail, typically painted with different deep jewel tones, creating the mirror-like effect of staring straight into a cat's eyes. Most nail artists and at-home DIYers alike use magnetic nail polish to create the illusion, using the magnet as the final step to create the look. Ahead, our 17 favorite ways to wear femme, feline-inspired nail design.




1. GREEN AND BLUE


Green and blue combine to create this deep, dark, almost celestial look.
2. BEAUTIFULLY BRONZED

Where brown meets bronze, this look is born.
3. BLUE AND BOLD

Royal blue and baby blue combine in this ocean-inspired color scheme.
4. BLACK CHERRY


Cat eye meets cosmic vibes in this black cherry hued masterpiece.
5. MULTICHROMATIC


Call it multicolored. Call it multichromatic. Whatever you call it, it's gorgeous.
6. SILVER GLITTER

We're not sure what we love more, the glittery accents or the cat-eye look.
7. PRETTY IN PINK


This deep magenta polish serves as a perfect backdrop for the lighter diagonal accent.
8. PURRRFECT PURPLE


This metallic purple mani is pretty purrrrfect if you ask us.
9. LINES ONLY


With a nude base, this look uniquely encompasses the cat eye with the marbly color presentation on the actual line.
10. STARRY NIGHT


Reminiscent of the sky at night, this deep blue, and cobalt combination is out of this world. (Literally.)
11. THE SPECK EFFECT


This nail art takes the cat-eye inspo a bit further, with gorgeous reflective specks across the nail that add even more dimension and shimmer.
12. EARTHY RAINBOW


The way these earthy tones combine in an almost rainbow-like line is truly mesmerizing.
13. MULTICOLOR


Selecting a color to use for this trend can be a little overwhelming — good thing we have 10 fingers. Opt for a different color on every nail to get this fun and funky look.
14. GREEN WITH ENVY


The way this vibrant, deep emerald green reflect's light is what cat-eye nail dreams are made of.
15. SHINY MIRROR


What's not to love about the way this nail art reflects nearly every color of the rainbow.
16. PURPLE AND POLISHED


The high-shine of this topcoat might catch your eye first, but the longer you look, the more mesmerizing this purple combination is.
17. GOLD AND TAUPE


Yellowy-gold and taupe may not be the first color combo that comes to mind for a manicure, but you can't deny just how pretty this final product is!
FAQ

How does cat eye nail polish work?


Achieving a cat eye nail look is often does with magnetic polish. This polish contains iron particles which come up to the surface when a magnet is held over it. This leaves the particles sitting at the top and creating that cat eye effect.
How can I do a cat eye nail polish look?
Creating this look is as simple as getting some magnetic polish and crafting your favorite design. Magnetic polish can be purchased as a regular polish or gel polish (which requires UV light) and typically comes with a magnetic tool. After applying the polish, create your preferred design by moving the magnetic tool over the nail without touching it and guiding the polish to where you'd like it to be.
Source :
www.byrdie.com
Author: Erin Selletti
Global Fashion Shop
provides you with professional nail care and modeling products.
Other articles:
- Smiley-face nails are one of this year's top nail trends - here's how to wear the look
Published: 21.06.2022 19:36 Times Read: 16