24 Short Almond Nail Designs to Consider for Your Next Nail Look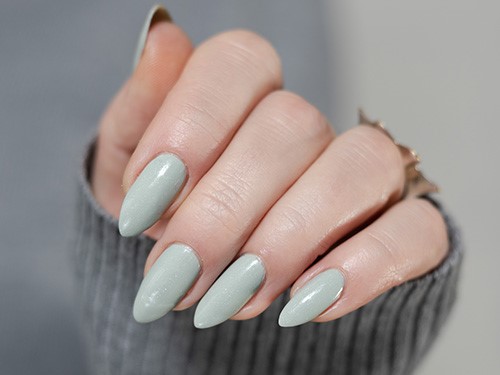 As soon as we notice a chip in our nails—and, if we're being honest, sometimes even before—we're already brainstorming our next manicure. While nail polish colors certainly play a role, you first have to figure out what nail shape you want to work with. And, if we do say so ourselves, if you have a little length to work with, you simply can't go wrong with a stylish almond-shaped nail look.


The thing is, all almond-shaped nails require a touch of length to score the slightly pointed shape. However, if you prefer to keep your nails on the shorter side, you'll be glad to know that there are a bunch of short almond nail designs to copy on Instagram.


To save you from diving (er, scrolling) down that rabbit hole, we rounded up 24 of our favorite nail designs for short almond nails. While some of these are a little longer than what you might consider as short, just remember that many almond nails can be quite long, so consider this our modest in-between.


1. RAINBOW TIPS

Two-toned rainbow tips? Talk about a bright way to embrace a modern french manicure.
2. PINK AND ORANGE

The best part about these abstract pink and orange nails is that they don't require loads of effort to bring to life. Simply swipe on a couple coats of color and finish with a few small black dots clustered throughout.
3. DAINTY FLORALS

How pretty are these floral nails? We love how the base embraces the milky-white manicure trend.
4. OPAL SHELL
This opalescent nail look is so versatile—it will look nude in some lights and magically reflective in others.
5. TORTOISESHELL NAILS
Everyone's favorite hair accessory and glasses material is now fodder for your next nail look.
6. PINK AND BLUE DREAMS
Ombré almond-shaped nails topped off with bright white clouds and stars? Dreamy.
7. BUTTERFLY BEAUTIES
Forever a fan of Instagram's butterfly filter? Show it some love by replicating the look on your almond-shaped nails.
8. PALE PINK FADE
A pretty pink nail look never goes out of style.
9. GOLD GLITTER TIPS
Craving a neutral nail look but hoping to do so with a touch of sparkle? Look no further than these glittery almond-shaped nails.
10. ORANGE TIPS
We never knew we'd be into orange ombré nails—but then we laid eyes on these beauties.
11. METALLIC SILVER
Crazy for chrome? These metallic silver nails will make you swoon.
12. PASTEL RAINBOW
Why stick to one shade when you can paint a different color on each nail?
13. BOLD ABSTRACT
Nails, like all beauty statements, are a way to express yourself. And, in case you forgot, you can do so with a handful of colors, shapes, and designs—all wrapped into one Insta-worthy abstract mani.
14. NEGATIVE SPACE RED
You can never go wrong with cherry-red nails, especially in summer. But if you prefer not to paint each entire nail, here's one way to add a little extra allure to your almond-shape mani.
15. NEGATIVE SPACE DETALS
Peach, periwinkle, and pale pink come together for a pastel masterpiece we can't take our eyes off of. Of course, to recreate it you'll need French manicure stickers to section off your nails—or an expert's help to get the job done for you.
16. HOT AND COLD NAILS
From blue to green to yellow to orange to pink—we're in love with this colorful, almond-shaped fade.
17. PINK AND BLUE CLOUDS
Clouds are having a bit of a mani moment. Here, they're layered over a different color on each hand, which creates a cohesive element to an otherwise mismatched nail look.
18. MERMAID-INSPIRED TEAL NAILS
These high-contrast teal nails make us think of mermaids and warm days spent by the sea.
19. WARM WATER MARBLE NAILS
Orange, yellow, pink, and white make for a warm color palette that looks even hotter when marbled together.
20. PASTEL FLORA
These pastel almond-shaped nails give us mermaid, fairy, and unicorn vibes, but in a modern way that looks lovely on babes of all ages.
21. GLITTER JELLY NAILS
These clear glittery nails remind us of our favorite '90s shoes: jelly sandals, of course.
22. COW PRINT CONTRAST
Cow print is the ultimate nail accent, as it rings true to the animal print trend and provides a high-contrast layer to any nail look.
23. GROOVY ACCENTS
How fun is this nail look? The accent nails give us all the '70s vibes.
24. SIMPLE DOTS
If you don't have a lot of space to work with, opting for a clear coat layered in colorful dots can draw attention to how much length you
do
have.
Published: 23.05.2022 13:21 Times Read: 25