Bright manicures or «luscious» nail shades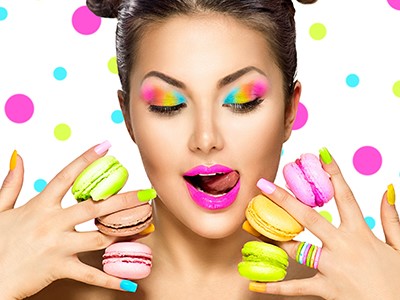 It's no secret that the fairer sex likes to experiment with their nails. Nude, glitter, red shades, after all, it all depends on your mood. But ladies, who want to be charged with positive emotions and a good mood, of course, resort to a bright manicure. After all a bright manicure - is the key to positive emotions and great mood. So we will cheer ourselves looking at the coolest ideas bright manicure, and then experiment? Then let's go!

BRIGHT MANICURE: FEATURES
A bright manicure is the use of saturated colours of the colour wheel with calm tones. But in creating a bright manicure, you need to be as careful as possible so as not to give your nails a lot of 'lusciousness' and instead of attracting the gaze of others, alienate it.
There are several things to consider before doing a flashy manicure.
1. The interest of others.
Anything bright always catches the eye! A bright manicure is no exception to this. Therefore, making a bright manicure, be sure to take into account that it must be done without errors - even coating, cuticle and lack of gore.
2. Taste.
For a flamboyant manicure, you need to know the right colour combinations; without a personal taste and style, there's a risk of creating a gypsy colouring.
3. Limit in application.
It's worth realising that this manicure isn't suitable for everyone. Bright coating is recommended to do girls whose fingers and plates have no flaws. And also need to consider that this coating is not always appropriate, it is not suitable for a business meeting and it can not be combined with a business suit.
A MIX OF BRIGHT MANICURE IDEAS

Yellow and blue print
Bright ombré
Pink print
Not the classic frenchAn assortment of bright colours
Global Fashion
offers you Summer/Spring gel polish with a rich colour palette.
The Summer/Spring gel polish palette --->.
Global Fashion
provides a wide range of quality gel nail polishes.
Always be in a good mood! Vibrant manicure will help!
Other articles:
- 5 - destructive habits that make nails worse. How can you beat them?
- Lacquer and gel polish: what's the difference
- Beautiful legs: discover the secrets of caring for them
- Gel polish burns when drying in the lamp: causes and solutions
- Scattered decor for nail design
- Top 10 tips for extending the life of your manicure
Published: 06.04.2022 10:18 Times Read: 27