The 18 Best Gold Nail Designs Instagram Has to Offer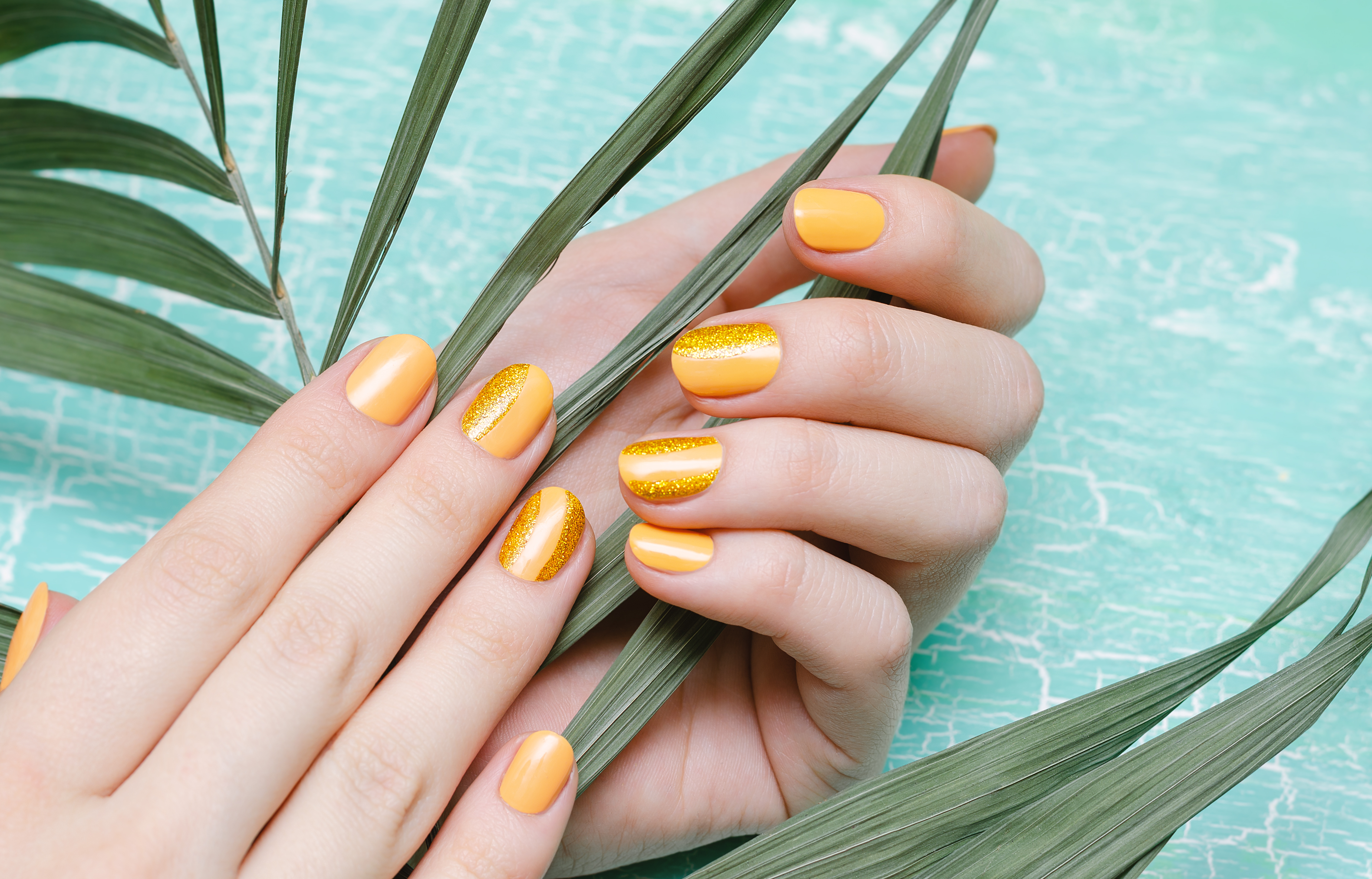 Gold embodies luxury and taste no matter how you wear it, but our method
du jour
is on our nails. You can embrace the timeless golden nail look art in so many ways—glitter, foil, metallic, matte, textured—the options are endless. Whether you're looking for gold nail designs that are dripping in the metallic hue or different ways to wear a subtle accent nail, Instagram has no shortage of options. To help you decide which aesthetic is right for you, we scoured the platform to find some of the best gold nail designs to date.
Ahead, see our 18 favorite ways to wear gold nail designs.1. GOLD FOIL


Nothing makes a metallic gold pop more than a black background. We love this combo and foiled look.
2. SUBTLE STARS


Sometimes, less is more. This tiny, subtle star is the perfect addition to this navy mani.
3. OVER THE MOON


These tiny painted gold crescent moons are out of this world. (See what we did there?)
4. GOLD DUST


Placing gold, star-speckled glitter on the upper, lower, or side portion of the nail is a perfect way to add some flair to your mani without verging on full-on bling.
5. GLITTER ALL-OVER


Glitter is a neutral, right?
6. ROSE GOLD TIPS


How about a fancy twist on a traditional French manicure? Swap the white tips for gold (or in this case, rose gold).
7. WAX SEAL


The gold, textured ring on one nail reminds us of an old-school wax seal.
8. SLANTED FOILS


This negative space mani pops just at the edges with the most delicate gold foil appliqué.
9. SIMPLE STREAKS


Sometimes, less is more,, even when it comes to nail art. In this mani, these thin gold lines stand out beautifully yet simply on a pure white background.
10. LOTS OF LINES


Almost creating a web-like vibe, these assorted straight lines intersect one another and create an eye-catching design on top of a neutral base.
11. STRIPING TAPE


These thin, straight lines make for the perfect geometric designs.
12. ART DECO


What's better than gold? When it's paired with art deco digits. Adorn your nails with these perfectly painted stripes for the ultimate glam-icure.
13. TREFOILS


Call it a trefoil, call it a honeycomb, whatever you call it—this intricate pattern created with gold foil is a stunning way to rock some gold nail art.
14. GOLD MEETS MATTE


Nothing makes a matte polish pop like a simple, gold accent.
15. LOTS OF LEOPARD


What's better than leopard print nails?
Gold
leopard print nails.
16. EMERALD CITY


Emerald and gold gives us
Wizard of Oz
vibes.
17. MIXED MEDIA


Glitter, foil, and glue-ons make for a high-impact manicure.
18. MARBLE AND GOLD FLAKES


Adding golden flakes to this teal marble mani adds the perfect amount of pizzaz.
Source:
www.byrdie.com
Author: Erin Celletti
Global Fashion store
offers you professional products for nail care and modeling.
Other articles:
- Cat eye nails - here are 17 ways to wear the trend
Published: 02.08.2022 17:58 Times Read: 44