26 Yellow Nail Looks to Try on Nails of Any Length or Shape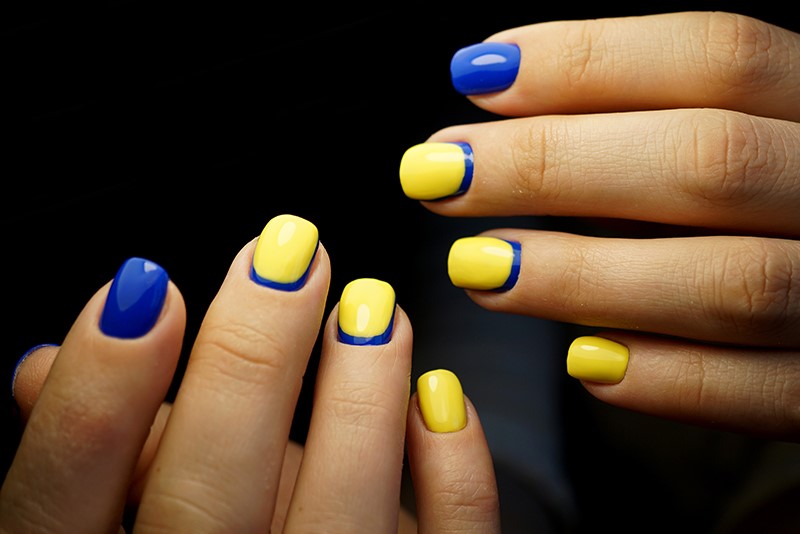 When it comes to picking a polish for your latest nail look, yellow may not rank very high up on your go-to look list. After all, yellow nails are often associated with discoloration, nail trauma, or even fungus. But it's time to broaden your nail-color horizons, because these yellow nail looks may very well change your mind.


One of our favorite bright, cheery colors, yellow is sure to make you smile while invoking sunny summer and springtime vibes regardless of the season. From pale pastels to golden hues, glitter, nail art, and everything in-between — read on for 26 of our favorite yellow nail looks on Instagram, certain to look great on any nail shape or length.


1. YELLOW SLASHES


Yellow can be a subtle or bold, depending on the design you choose. These chic slashes are super minimalist and work on all nail shapes, sizes, and lengths. Try to DIY it with the tip of a bobby pin.
2. CHECKERS, ANYONE?

Leave one accent nail nude with horizontal and vertical stripes to create a fun and neutral checkered style.
3. YELLOW FRENCH


A fun, colorful spin on a classic French manicure is always a good idea.
4. NEGATIVE SPACE HALF MOONS


5. PALM TREES


Nothing gives off vacation vibes like a perfectly painted palm tree.
6. LOVELY LEMON


A yellow color scheme complete with a handpainted white lemon is pretty much a classic pairing.
7. MUSTARD YELLOW


8. TOO CUTE TULIPS


This certainly takes a steady hand and artistic eye, but these painted tulips are gorgeous.
9. YELLOW LEOPARD


Yellow leopard? Yes, please.
10. SUNFLOWERS


11. LIGHTENING


These little lightning bolts on the ring finger add just the right amount of funky fun to an already playful manicure.
12. CATCH A WAVE


This pastel-rainbow wave-inspired art with tiny white star accents gives off fantasy vibes, and we love it.
13. SUNNY, SIMPLE AND CHEERFUL


Go back to basics with a perfectly painted, single-color yellow mani in this beautiful sunshine-y hue.
14. WAVERY FRENCH


Not quite a french manicure, these half neutral half yellow nails are split with a wave in the most adorable way.
15. LOVE ON LEMONS


There's really no wrong way to rock a lemon.
16. GLITTER GLAM


Pile on all the glitter for a glitzy accent nail!
17. NEGATIVE SPACE


A natural nail base, strategically placed lines and sections of yellow nail polish make for a gorgeous negative space manicure.
18. SIMPLE GOLD LINES


Simple gold lines elevate this manicure to the next level. Plus, gold and yellow look gorgeous together!
19. PASTEL PEACH AND YELLOW


Pairing pastel yellow with a pastel peachy-pink is an excellent combo, and the subtle swipe of gold glitter at the cuticle is the prettiest little accent.
20. REVERSE FRENCH


With this reverse french manicure, only the area closest to the cuticle is painted yellow for a unique, eye-catching look.
21. YELLOW-GOLD FOIL


22. MARVELOUS AND MARBLED


Marbled yellow and pink on top of a white base is the stuff tie-dye nail dreams are made of.
23. SMILEY FACES


Brighten your nails with these adorable smiley faces. See a pro manicurist to recreate this look, or try nail appliques for a DIY smiley manicure.
24. NEON YELLOW TIPS


Make a statement with electric yellow, neon tips that practically glow.
25. MORE LEMON LOOKS


When life gives you lemons, put them on your nails.
26. YELLOW TIPS WITH WHITE HALF MOONS


Yellow and white reminds us of puffy clouds on a sunny day. Try this twist on the traditional French manicure by using sunny yellow tips and white half moons at the base of the nail.
Source :
www.byrdie.com
Author: Erin Selletti
Global Fashion Shop
provides you with professional nail care and modeling products.
Other articles:
- How to wear lipstick nails according to the manicursit who made them
Published: 16.06.2022 12:16 Times Read: 16