Oval nail designs that will convince you to round the edges of your nails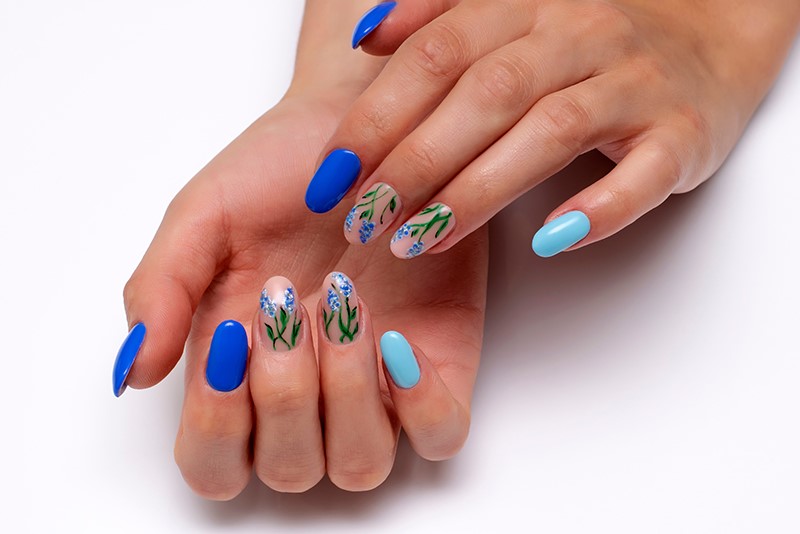 If you catch yourself looking down at your nails wondering how you let yourself go so long without a manicure, we're right there with you. Whether you're unable to get to a salon at the moment or too slammed to invest time in a DIY, we feel you.


Nevertheless, as the beauty lovers that we are, we believe that it's important to take time for self-care. One such way to invest a little time in yourself by trying a new nail color, design, or even shape (our beauty experiment du jour, these days). While there are square nails, squoval nails, and round nails, today, let's chat about oval nails. If you've been letting your nails grow out, filing them into long, ovular shapes will be a cinch. And, once you perfect the shape, you can choose from one of the 26 nail looks below to make them look their very best.


1. FAUX STILETTO TIPS
If you love the look of stiletto nails but are worried about having sharp talons, opt for this oval nail look that's quite the illusion.
2. OMBRE FRENCH TIPS

A blurred pink-to-white ombre fade is just one way to update a classic french manicure.
3. OUTLINED NAILS

Who knew outlining your oval nails in gold nail polish could be enough to create an eye-catching manicure?
4. LEOPARD SILHOUETTES

This negative space leopard design is the minimalist way to enjoy animal print for everyday, and we're 100 percent here for it.
5. CORAL DOTS

Coral and peach polishes combine with high-shine crystals for a negative-space nail look we can't take our eyes off of.
6. MARBLE OVALS

An intricate, translucent marble design in varied shades of green makes this oval mani a must.
7. STICKER NAILS

This nude mani is embellished with intricate, sticker-like designs that make a nail art extravaganza that even minimalists can get on board with.
8. TERRAZZO NAILS

Terrazzo nails are another trend to keep on your radar. Here, the spotty design is perfected on oval tips.
9. HEART NAILS

These animated heart nails caught our attention and won't let it go. We love how the base is nothing but a sheer wash of glitter.
10. MAUVE MOMENT

These mauve-and-camel oval nails check all the boxes: rounded shape, negative space, and neutral hues.
11. BLACK AND WHITE

This black-and-white nail art reminds us of coral reefs and cow print, only abstract.
12. YIN YANG NAILS

This pink and white yin/yang nail art will add gentle balance to any outfit or beauty look.
13. PALE CAMO NAILS

If you like the idea of camo nails but aren't sure about committing to darker shades, this pastel version is ever-so-chic.
14. MATTE MOON


Matte black polish and intricate moon designs make for a clean nail look that manages to still look bold.
15. CORAL TIPS

These coral-and-gold tips are especially enticing thanks to their negative space cuticle design. Since the polish isn't extended all the way to the base of the nail, it's the perfect low-maintenance mani for those who want to camouflage grow-out.
16. SILVER FOIL

These metallic charcoal and silver foil nails remind us of cloudy days and big dreams.
17. NEON LINES

Neon nail art is very in these days. Here's one way to rock the ultra-bright colors without going too gauche.
18. GOLD STRIPES

A neutral base topped off with a single golden stripe makes for an elongated oval mani that immediately draws the eye in.
19. SHADES OF PINK AND RED

You can never go wrong with pink and red—even if it's nowhere near Valentine's Day.
20. SPLIT OUTLINES

Craving a French mani but hoping to update it a bit? Section off your tips and use a piece of nail tape to split each tip in half. Paint one side coral and the other peach, and wait to remove the stickers until each nail is dry.
21. GLASS NAILS

These jelly nails are giving us all the spring and summer vibes. Of course, creating such a nail look will require scheduling a nail appointment—unless you're a pro yourself, that is.
22. CHERRY RED JELLY NAILS

Let's be clear: You can never go wrong with cherry-red nails. These ones have a jelly effect that makes them look even juicier.
23. ROSE MISMATCH

If you love the idea of rosy tones but want to mix and match your manicure, consider this glittery rendition.
24. X MARKS TJE SPORT


Here's an easy DIY for you. Start with a nude base and, once dry, trace overlapping gold glitter lines diagonally across each nail. Don't forget topcoat for a lasting result.
25. NEGATIVE SPACE

Ready to put your nail skills to the test? Place small circle stickers in the corner of each nail and firmly press the edges down. Paint each nail white (or whatever color you prefer) and wait to remove the stickers until they're fully dry. So simple, right?
26. ASYMMETRIC FRENCH TIPS


At first glance, these oval nails might look like a classic French mani, but the closer you look, the quicker you'll realize that one edge extends down the side of each nail.
Source :
www.byrdie.com
Author: Rebecca Norris
Global Fashion Shop
provides you with professional nail care and modeling products.
Other articles:
- Bright manicures or «luscious» nail shades
- French manicure. A symbol of femininity
- Wedding manicure: rules and beautiful nail design
- Everyday manicure: simplicity and originality in one «bottle»
Published: 22.04.2022 13:14 Times Read: 18