Smiley-Face Nails Are One of This Year's Top Nail Trends—Here's How to Wear the Look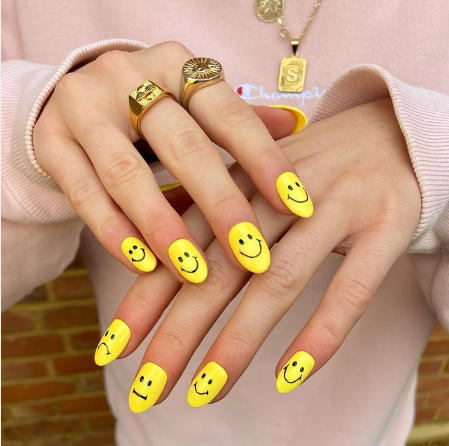 After a year like 2020, it's safe to say that, collectively, we all need as much positivity in our lives as possible. While we can't control what happens in the world at large, we can take steps to make our daily lives a bit more cheerful. Whether it's practicing daily gratitude, journaling each morning, or simply appreciating days spent in cozy loungewear, there are plenty of ways to bring smiles to our faces. Another way? To literally put smiley faces on our nails. Yes, really. According to Pinterest's 2021 trend reports, smiley-face nails are on the rise—and one look at social media and we can see why.


While Harry Styles was one of the first major celebs to rock the nail look, Gigi Hadid, Rita Ora, and Zendaya are just a few of the others who have since shown their emotions on their nails. And now, thanks to endless inspiration on Instagram, you can too. To help you find the ultimate smiley-face nail look for your style, we rounded up 20-plus happy manis to help lift your mood and elevate your style. Check them out below!


1. ONE LOVE SMILEYS


Jamaicans know a thing or two about spreading the happiest vibes. With these one-love-inspired smiley face nails, you can keep the vibe going.
2. JELLY SMILEYS


See-through jelly nails meet holographic smileys, and just one peek already has us feeling happier. You too?
3. MISMATCH EMOJI NAILS


The mismatch trend is still going strong, so if you want to kill two birds with one stone (we really need a happier take on that phrase, huh?), consider this dreamy emoji nail sitch.
4. TIE-DYE SMILEYS


Tie-dye smileys on one hand and rasta-inspired nails on the other? Ya, mon.
5. TWO-TONE SMILE MANI

We love these classic yellow smileys juxtaposed with matte black nails. Talk about a chic mismatch.
6. MULTICOLORED SMILEYS


Smileys in an ombré array? So cute!
7. CLASSIC YELLOW SMILEYS


With one hand covered in smiley faces and the other in frowny faces, you can choose which fingers to display in your pics based on your mood on any given day.

8. OMBRE RAINBOW SMILEYS


Here's another take on ombré smileys, only this time with ombré nails and ever-so-slightly shimmery smiles.
9. MIX-AND-MATCH EMOJI NAILS


We love a handful of different nail designs. This one not only has a smiley face but a smiley alien, too.

10. SHORT SMILEY NAILS


The best part about the smiley trend? You don't have to have long nails to rock the look.
11. ELECTRIC SMILES


Three words: We are swooning. From the neon colors to the eye-catching designs, there's so much to love about this happy lil' mani.

12. COLORFUL PRINT NAILS


These smiley face nails remind us of a picnic on a sunny day. So cheerful.
13. NEON SMILEY NAILS


So simple yet so fun. And guess what? With a neon yellow base and a toothpick or dotting tool dipped in black polish, you can easily bring this look to life.
14. BRIGHT SMILE NAILS


A skittles manicure covered in smiley faces? Does it get any happier than that?
15. MUTED SMILE NAILS


While many smiley face manicures are brightly colored, you can create just as cheery a nail look using more muted tones. Case in point? This beachy take on the trend.
16. HAPPY/SAD NAILS


It's never all smiles. Part of feeling happy is also knowing what it feels like to be sad. That's why we love these simple happy/sad nails, which are a fun DIY. Just dip a toothpick in the color of your choice to create stripes on each nail, and then paint a yellow circle with eyes and a mouth using black nail polish.
17. COLORFUL EMOJI NAILS

Another emoji-filled mani capturing our heart. We love that this one employs evil eyes, hearts, and lots of color.
18. MATTE SMILEY NAILS


Matte smiley face nails are fun, too. This one might just require a professional's help given the fine lines.
19. BRIGHT YELLOW SMILEY NAILS


You can never go wrong with bright yellow polish when it comes to the smiley-face nail trend. We don't know about you, but we can't help but smile at these cuties.
20. '90S-INSPIRED SMILEY NAILS


Smileys are oh-so '90s, and this mani that clearly states '97 proves it that much more. Plus, cow print? We dig it.
21. HOLOGRAPHIC SMILEY NAILS


Holographic ombré glitter makes the perfect backdrop for smiley faces. Food for thought, especially since ombré glitter nails are on the rise.
22. SMILEY FRENCH TIPS


You can create a seriously happy mani without putting smileys all over each nail. Just look at this cute French silhouette.
23. SMILING STILETTOS


This itty-bitty smiley makes us smile big. Plus, the pastel nails, stars, and cow-print designs? We're calling it '90s-meets-modern-day.
24. SIMPLE SMILES


No time to create a super-detailed nail look? Simply dip a toothpick in a different-color nail polish for each nail and your smiles will look equally as exuberant, only more minimalist in design.
25. MINI SMILEYS


No matter the size of your smileys, the impact will be the same: a happy little mani you'll smile at whenever you look at it.
Source :
www.byrdie.com
Author: Rebecca Norris
Global Fashion Shop
provides you with professional nail care and modeling products.
Other articles:
- The best glitter ombre nail designs to wear all year long
Published: 07.06.2022 20:18 Times Read: 24