8 - Mistakes that can cause nail damage with gel polish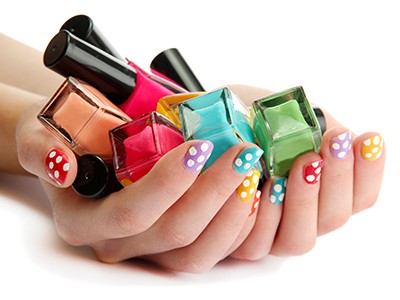 Gel polish
is hugely popular in the nail industry. With its many advantages, all girls resort to it. Of course, it's permanent, it doesn't require drying, it won't smudge, and for at least 2 weeks your nails will be perfect. Gel polish can even prove to be good «care» for your nails. By covering your nails completely and holding tightly to the top layer, it keeps your nails from crumbling and flaking. And that's cool. But there are some nuances to consider. To be more precise, there are certain 'slip-ups' that are allowed when applying gel polish, and then your nails are definitely not going to be beautiful and well-groomed. We have written them, you read them, do not allow and then your nails will be just perfect.

MISTAKE 1: TO REMOVE GEL NAIL POLISH YOURSELF WITH A REGULAR 'RINSE OFF'
Many for the removal of
gel polish
take foil, an ordinary nail polish remover, moisten a cut cotton pad, put it on the nail, wrap the foil and wait 20 minutes, because supposedly the same process looks and the salon. Consequently, what do we get? Swollen in places, and in places unchanged gel polish. The girls then take a stick or a saw and scrape the lacquer off their nails. The nail plate is uneven, rough, cracked in places, and all jagged. Even if polished, nails will break and break.
IMPORTANT: The best way to remove gel polish is at a salon. If you want to remove it yourself, buy a special gel polish remover and use it according to the instructions. And do not, under any circumstances, scrape away the rest of the polish with a metal file!
MISTAKE 2: USING AN EXPIRED GEL POLISH
Can an expired product be of any use? Of course not! And gel polish is no exception. Before you start the process, make sure the polish is sitting on the shelf with the cap tightly closed and has the right expiry date. Often in salons, varnishes are left ajar for weeks or are used after the manufacturer's expiration date. These products will not hold up well and can have a negative impact on the nails.
IMPORTANT: Always use
gel polishes
before the expiry date and store them in the correct conditions.
MISCHIEF 3: THE CUTICLE? DO YOU HAVE TO TAKE CARE OF THEM TOO?
Of course you do! For some reason, many people forget that the cuticle is just as much in need of proper care. It's a myth that cuticle oil ruins the
gel polish
and many girls give up on taking care of their nails. What's really going on? Gel nail polish dries the nails and consequently the cuticle gets drier. Without proper care, it cracks, starts to grow in uneven chunks and spoils the look of the nails.
IMPORTANT: Always apply cuticle oil daily as it's definitely not a threat to gel nails!
SLIP 4: TAKE YOUR HANDS OUT OF THE LAMP BEFORE THE SIGNAL
Yes, this happens. Without waiting for the beep, a girl takes her hand out of the lamp because her phone rings or a text message arrives. Even the second counts: if you want your gelcoat to last as long as it should and not damage the nail, it is crucial that each coat is completely dry.
IMPORTANT: Only remove your hand from the lamp after the signal.
Need a
quality nail lamp
? Global Fashion shop is the perfect place to choose.
Shop --->
MISSTEP 5: MIXING PRODUCTS FROM DIFFERENT MANUFACTURERS

Even shampoo, balm, oil and hair mask we always try to buy the same brand. The effect is then much better. It's the same in the case of gel nail polish. You never know how the
base
from one brand and the colour from another will behave when applied under the same lamp.
IMPORTANT: Always make sure you are using the same brand of product.
Tip: If you are a craftsman and you are looking for a quality product for your coatings. You will only find professional products of the same brand in the
Global Fashion shop
.
To the product catalogue --->
SLIP 6: NOT REMOVING THE OLD COATINGS COMPLETELY
If your
gel lacquer
base is a bit patchy. The main reason for this is that you haven't completely removed the old coating. Use a file or frazier to thoroughly remove all layers of the previous design so that the new gel base lies perfectly flat on the nail.
IMPORTANT: Always remove the old colour completely, leaving no traces. Otherwise, you will ruin the new coat and all the work will go to waste.
MISTAKE 7: SAWING OFF PEELED GEL POLISH WITH A FILE
It is a bad habit to saw off roughly stripped gel polish with a nail file and do too much damage to your nails.
IMPORTANT: It's not a good idea to
file
off partially rough gel polish. In this case, you also risk sawing off the top layer of the nail and damaging it.
MISTAKE 8: THE NAIL ISN'T DUSTED ENOUGH

The coating cracks and splits off in small pieces. This situation occurs if the nail is not adequately cleaned from dust (filings), dirt and skin grease.
IMPORTANT: Always clean the nails from dust, make sure that everything is clean and only then proceed to the next step.
If you take the words «IMPORTANT» seriously then your manicure will be flawless and will last a long time on your nails.
Shop Global Fashion offers only quality products.
Product catalogue --->
Other articles:
1. A machine manicure is a super technology!
2. A machine manicure: how to avoid making a mistake!
3. 5 - destructive habits that make nails worse. How can you beat them?
4. Why gel polish changes colour: the reasons for the discomfort
5. Gel nail polish. All the best part
6. Nail extensions with gel. All the nuances
7. Gel nail varnish doesn't dry in the lamp: find out the reasons
Published: 05.04.2022 11:50 Times Read: 13