Nail extension with acrylics. All the subtleties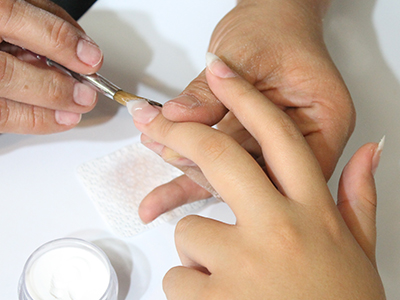 «Shaking hands» is an important element in any meeting. Therefore, hands should always be in good order. «Women's hands» is a separate topic and a very rich one. Nowadays, every other girl gives her hands and nails a lot of attention and time. Various creams, treatments, and of course a good manicure. In case girls do not have the natural strength and beauty of the nails, to help them always comes nail extensions, which can be gel or acrylic.
In this article we want to provide material on nail extensions with acrylics. So read on and take note.

ACRYLIC. DIFFERENCES
Acrylic is a powder or powder which is transformed with a special solvent into a thick and quick-setting mass.
Acrylic types
Two types are used for building up and strengthening:
Liquid acrylic
(suitable for those who want to correct the shape of the nail or add length. But the liquid material is more difficult to apply, and it is not easy for a layman to cope with it).
Flake powder
(easier to apply. It is often bought to do manicures at home. It will not increase the length, but only make your nails less brittle).
ACRYLIC NAIL EXTENSION
Acrylic nail extension has been known in the beauty world for decades. For a long time, it was the only sure way to achieve permanent, long-lasting nails. Much later, gel extensions were introduced, replacing acrylics in the beauty industry.
Acrylics can be done in two ways:
Plastic nails
that are glued to yours, on which the material is already applied.
On forms
.
They come in upper and lower forms. When using the top forms, the acrylic must be fixed to the notch of the substrate, and then pressed firmly onto the prepared nail plate. When using the lower moulds, the substrate should be immediately secured under the nail plate. (Read more about the extension forms in our
article
).
ADVANTAGES AND DISADVANTAGES OF ACRYLIC NAILS
Advantages:
Ease of removal.
Acrylic nails are easy to remove. It only requires a special solution.
Bad habit.
Acrylic nails will be the perfect solution for women who have a bad habit of biting their nails - they are very strong, and they are unlikely to bite.
Durability.
Acrylic nails are very strong, giving them a long lasting hold on gel polish and other nail decoration elements.
Chipped or weakened nails.
Nail extension with acrylic is ideal for women with weak and brittle nails.
Repair.
Acrylic nails can be repaired.
Naturalness.
Acrylics look as natural as possible on the nails, if you choose natural shades for nail extension.
Variety of structures and colours.
Disadvantages:
Unpleasant smell.
The smell occurs when you add liquid, monomer to the powder. Therefore, to do acrylic nail extensions should only be in a well-ventilated room, preferably wearing a special mask-repirator.
Correction.
Every 3-4 weeks you have to make the correction, which requires additional monetary expenses.
A quick-drying formula.
And this can really be a problem if you lack experience with acrylic. So if you plan to use it at home, it's worth first practicing to get used to it.
Note: Polymer coating has a matte texture and can give a yellow tint when drying. It is therefore essential to sand the nail and apply gel polish after strengthening.
MATERIALS AND TOOLS FOR ACRYLICS
In order to create beautiful and neat nails, in the arsenal of the master, there should be the following materials:
Materials:
-
Acrylic powder
. Powder (colorless or colored) from which the artificial nail plate is formed.
-
Monomer
. The liquid which transforms the acrylic powder into a plastic material, from which the master creates the nail of the desired shape.
- Degreaser
-
Primer
.
- Softener and remover for cuticles.
- Acrylic remover which can be used to wash brushes or to remove traces of a failed nail design.
- Disinfectant for treating the master and client's hands before the modeling procedure.
To create artificial nails, you will need not only materials but also special tools.
Tools:
-
Brushes
(flat) to work with acrylics.
- 2-3 different
files
- soft file for natural nails, file for artificial nails (100-180 grits), file for hard nails (80-150 grits).
-
Buffs
and polisher.
- Tips and the
shape for nail extension
.
- Glue for tips.
- An ordinary nail file for extended nails.
- Pliers.
- A brush to remove dust from the nails.
- Wipes.
- Cuticle oil.
- Orange sticks.
-
Cutter
with nozzles which will hold acrylics.
- Nail decorating materials (sequins, rhinestones, acrylics).
You can buy quality tools and materials for nail extension with acrylics in our
online shop Global Fashion
.
Remember perfectly groomed nails are a guarantee of beauty!
This is interesting: On our web-site you can find following articles
1. A machine manicure is a super technology!
2. Hardware pedicure - convenient and easy
3. Manicurist's basic set
4. Gel nail polish. All the best part
5. Nail extension with gel. All the nuances
Published: 28.03.2022 09:56 Times Read: 30