22 Black Ombré Nail Looks to Try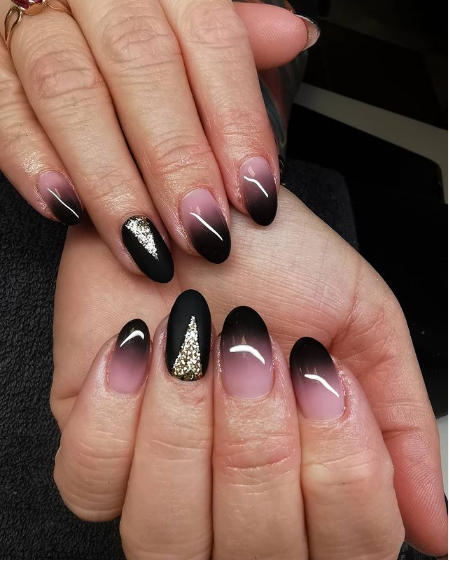 You might traditionally associate ombré with hair, but ombre nails are holding their own in the world of nail art. From subtle french manicure ombré nails to bright neon fades, there's no limit on the color blends you can work with, but one of our favorites has to be black.


Black ombré nails are bold, moody, and fun. Plus, when you ombré with black you can see and appreciate the gradient, artful color fade. Geometric lines, glitter top coats, accent nails, and nail embellishments also pair perfectly with the black ombré nail look.


If you're looking for a head-turning nail look that incorporates the light to dark blending trend, here are 22 of our favorite black ombré nail looks.


1. BLACK FRENCH OMBRE


A bold twist on a classic French manicure, this equal parts classy and chic black French ombré manicure is sure to turn heads.
2. SQUARE BLACK OMBRE NAILS


Contrast is always a strong way to make a statement. We love the juxtaposition of these nails' sharp, square shape with the soft ombré gradient.
3. CRUELLA-INSPIRED


This kind of reminds us of Cruella Deville, and we're definitely here for it.
4. SPICE IT UP WITH SPARKLE


Never say no to sparkle. The painted glitter line down the center adds another dimension to the ombré technique. Your eyes won't know where to look first!
5. BLACK OMBRE COFFIN NAILS

Coffin nails always bring the drama, so why not pick a design to match? This ombré here makes a chic statement that's sure to have you living your best vampire life.
6. GLITTER ACCENT NAIL


A glitter accent nail is always a good idea.
7. GLITTER AND GOLD


Glitter and gold were just made to go together.
8. OURSIDE OF THE LINES


The shape, the perfect fading, and the bold stripe nail art on the ring finger make for a masterpiece.
9. DOTTED NAILS


Take the ombré look to the next level with a few tasteful dots at the base of your nail.
10. BROWN AND BLACK

Incorporating the taupe-y brown into the middle of this color fade makes it look all the more natural and artistic.
11. BLUE AND BLACK OMBRE
There's a black ombré here, but it's finished with a royal blue tip that pops quite perfectly.
12. HALF AND HALF


One hand black, one hand white? Why not?
13. PERIWINKLE, PLEASE


Instead of having your black ombré gradient fade to a neutral color, try making a fun statement with a bright color. This periwinkle is on trend and sure to bring you joy.
14. CONFETTI OMBRE


Who says ombré is solely between two colors? Here, a black base is paired with a confetti glitter, creating a perfect party look.
15. NEUTRAL BASE AND HIGH GLOSS


We love this pinkish shade, square shape, and subtle fade.
16. BLACK, SILVER AND SPARKLE


A glittery silver base fades to black ombré in an ultra-glamorous way.
17. SWITCH IT UP


Who says every nail has to be cohesive? Half black, half red ombré is a great way to compromise.
18. X MARKS THE SPORT

Adding some sparkly nail art atop a black ombré will surely kick it up a few notches.
19. MOODY BLUE


The way the colors fade from black to blue to white is full-blown ombré artistry.
20. SHORT AND SPARKLY

The short, natural nail shape makes the black pop with a bit of sparkle topcoat to finish off the look.
21. DIAMONDS AND GOLD


What's better than a black ombré manicure? A black ombré manicure embellished with silver diamonds and gold sparkle, that's what.

22. BLACK OMBRE ACCENT NAIL


Black ombré nails are just one component of this maximalist manicure, which also features a white ombré and an all-black nail with a 3D design. Let designs like these serve as inspiration for creating a truly special and unique look.
Source :
www.byrdie.com
Author: Erin Selletti
Global Fashion Shop
provides you with professional nail care and modeling products.
Other articles:
- How to create water marble nails at home
Published: 20.06.2022 12:58 Times Read: 19