How to Fix Cracked Cuticles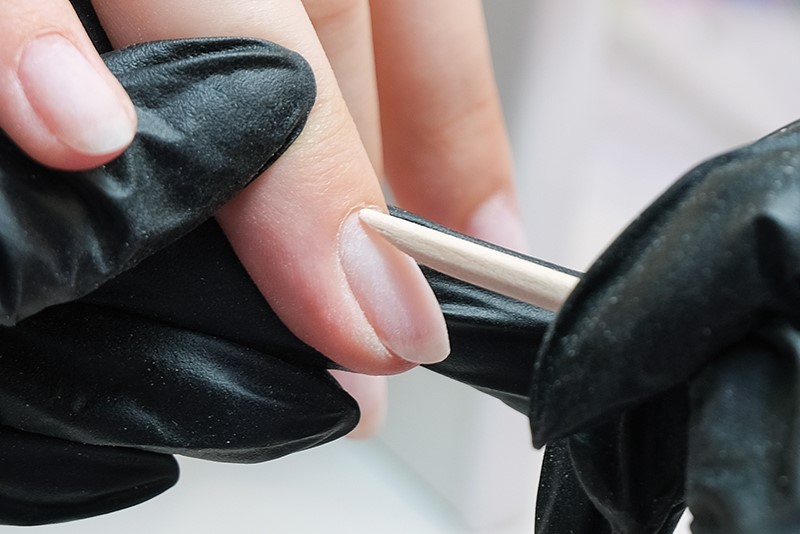 On the spectrum of beauty woes, it's safe to say that cracked, dry cuticules are something no one wants to bear the burden of. Not to be confused with your actual nails, cuticules are the area of skin around your nails that serves as a protective barrier against bacteria. Unfortunately, this area is prone to dryness, and can make even the most gorgeous manicure appear unruly. Whether it be as a result of constant hand-washing or the cooling temps that bring about cold, dry, moisture-zapping air, your cuticles are in constant need of some TLC.


With the help of Orly's consulting nail artist Brittney Boyce and board-certified dermatologist Jeannette Graf, we've rounded up six remedies for damaged cuticles below.



MEET THE EXPERT


Britney Boyse is Orly's consulting nail artist and gel extension specialist.
Jeannette Graf is a board-certified dermatologist and Assistant Clinical Professor of Dermatology at Mt. Sinai School of Medicine.
Keep scrolling to learn how to soften cuticles.
1. RUB ON SHEA BUTTER OR VITAMIN E OIL TO NOURISH CUTICLES


Let's face it. Between our 10-step skincare and bodycare routines, our cuticles are an often neglected part of our beauty regimen. But this can backfire in the form of dry, cracked skin that's prone to peeling. According to Boyce, cuticles protect the nail from fungus and bacterial infections. For this reason, she recommends keeping them soft and hydrated (versus cutting them too much) to alleviate discomfort. «Shea butter and vitamin E oil are two super nourishing ingredients that can help keep the cuticles soft and hydrated,» she says. «Vitamin E, in particular, is a rich antioxidant and is great to help cracked cuticles heal faster.»
2. APPLY A MOISTURIZING HAND CREAM TO BOOST MOISTURE


If your bedtime routine involves slathering on a foot cream and slipping into a pair of socks, you'll love the idea of applying a super-strength hand cream and popping on some gloves. «This provides a constant supply of moisture as well as emollient properties to the cuticle, and can make them soft and supple while preventing cracks,» notes Graf. Sleeping with gloves may take some getting used to, but come morning your hands and cuticles will be silky smooth. Plus, you only need to do this a few times a week to reap longterm results.
3. REPAIR DRYNESS WITH A CUTICLE OIL


If you suffer from dry cuticles, it's important to keep cuticle oil on deck. Boyce stresses the importance of cuticle oils, naming them an essential part to keeping the skin healthy. «The key is to use them consistently—at least once a day,» she says. «They prevent cuticles from drying out in the first place, and it's always easier to prevent cracks and tears than it is to repair them.» Try
Global Fahion's cuticle oil
- it's the perfect size to keep in your car, purse or gym bag, and has a fast-absorbing moisturizing formula to keep dryness at bay.
4. AVOID BITING AND PICKING TO PREVENT CRACKING


Biting and picking at your cuticles is especially tempting during the colder months when humidity levels drop and less moisture hits our skin. «I've noticed that people are more likely to bite and pick at their cuticles when they're dry and cracked,» says Boyce. «I suggest keeping this area consistently hydrated so there's nothing sticking out that makes you want to bite them.» Also, Graf notes that the trauma caused by biting and picking can remove the cuticle altogether, creating a larger opening for bacteria and fungi to get in.
5. DO AN ARGAN OIL SOAK


Argan oil is chock-full of vitamin E, fatty acids, and antioxidants, all of which are moisturizing and healing, according to Boyce. «I recommend soaking your hands first then applying argan oil so it soaks in better,» she says.

6. SMOOTH OUT CUTICLES WITH A BUFFER


Boyce explains that instead of trying to cut off cry cuticles, buffing it out gently with a buffer can aid in smoothing them out. Just remember that dry cuticles can be a tad sensitive (especially if you accidentally snag it and cause it to tear more), so using ultra-light pressure is key.
Source :
www.byrdie.com
Author: Julina Derrick and Michelle Rostamian
Global Fashion Shop
provides you with professional nail care and modeling products.
Other articles:
- How do i treat my peeling nails?
- Gel nail extensions: everything you need to know
- Cuticle oil: effectiveness and how to use it
- Everyday manicure: simplicity and originality in the «bottle»
Published: 06.04.2022 11:12 Times Read: 26