Gel nail polish: exposing all the myths about it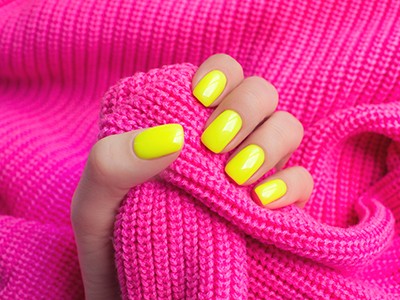 Manicures are no longer a luxury, but a necessity. Today, every modern girl pays special attention to her nails. Gel nail extensions are very popular in the modern world. It's because it is convenient, practical, saves valuable time, and a reasonable price. But there is a category of people who believe that the gel - nail polish is harmful. Let's sort out where the myth lies and where it is actually true.
MYTH #1. NAILS, GEL LACQUER COATING, NEED SPECIAL CARE
The nails require special care only in the first 2 days after the application of
gel nail polish
. This involves avoiding contact with hot water and chemicals. This ensures the stability of the material during the following days. Otherwise, no special care is required for the gel nails.

MYTH #2: GEL POLISH DAMAGES NAILS
This is the most popular «fear» among women.
Gel nail polish
does have the potential to cause damage. Much more damaging is the unskilled procedure of removing or applying it. It is necessary to clearly understand the basic principles of working with artificial materials, to know about their properties and correctly prepare the nails for the manipulation. If you peel polish from the nail with a thin film, the top layer of the nail is removed along with it. If you follow the technology and use professional nail care products, the nails remain intact and unscathed.
Shop Global Fashion
has a huge range of professional products for nail extension.
To the catalogue of goods --->
MYTH #3. GEL VARNISH IS MORE DANGEROUS THAN REGULAR VARNISH

Low-quality gel polishes, including regular polishes, can provoke various dermatological infections and even fungi or eczema. So the problem lies more with the ingredients and the raw material itself than with the difference in «harmfulness» between regular and gel varnish.
________________________________________________________________________
Related articles:
- Why gel polish changes colour: the reasons for the discomfort
- Gel nail polish. All the best part
- Gel manicure. Trendy shades 2021-2022
- Gel nail varnish doesn' dry in the lamp: find out the reasons
_______________________________________________________________________
MYTH #4. GEL POLISH IS NOT COMPATIBLE WITH GEL TECHNOLOGY
Gel polish and biogel are similar in composition, which makes their duo an excellent solution. Using biogel as a
base
makes your manicure last longer and more resistant to damage. Are you looking for high quality
gel nail polish
?
Shop Global Fashion
- the perfect solution!
MYTH #5. GEL NAIL POLISH IS A CURE FOR SORE NAILS
A gel polish
can actually protect even weak nails from damage. Yes, it can help grow length even on brittle nails. However, gel nail polish does not have a therapeutic effect on the nail. If the nails are affected by the disease, it is strongly recommended to postpone the application of artificial coating. To begin with, it is necessary to deal with the treatment.
MYTH #6. NON-LAMP CURING GEL POLISH LASTS ON YOUR NAILS FOR THE SAME AMOUNT OF TIME AS LAMP CURING GEL POLISH
UV drying
gel lacquers
last approximately 4-7 days. This is three times shorter than the
lamp-drying
gel lacquer. In addition, non-lamp-drying gel polish quickly deteriorates with frequent contact with water.
_______________________________________________________________
Related articles:
- Gel polish burns when drying in the lamp: causes and solutions
- Why does tthe gel polish peel off? Causes
______________________________________________________________
MYTH #7. YOU CAN'T WEAR GEL POLISH ALL THE TIME, YOU HAVE TO LET YOUR NAILS BREATHE AND REST
Nails under the artificial coating does not really breathe, as well as without it. A common misconception among girls, based on the blind faith that the nails «breathe». Here it should be clearly understood that the nails are not lungs and their function is mainly one - protective. The nail plate consists of keratinous cells, which in turn are made of protein and keratin. These cells do not need to breathe. The nail is nourished by capillaries under the cuticle. Blood brings vitamins and minerals to the nail. Good nutrition is the best way to keep the nails breathing! And artificial nail polish creates a water-repellent barrier on the surface of the nails, preventing the negative effects of hard tap water, household chemicals and constant temperature changes.
MYTH #8. UNDER-THE-LAMP DRYING WILL EVENTUALLY LEAD TO SKIN CANCER
Naturally, you get your dose of
UV-light
while drying under a UF-lamp but you catch far more rays while walking down a sunny city street or at the beach. This 'dose' of vitamin D is perfectly safe for the human epidermis and can in no way lead to the development of such a terrible disease as skin cancer. Need a quality nail lamp? Click
here
MYTH #9. THE DURABILITY OF SINGLE-PHASE AND THREE-PHASE GEL POLISHES IS THE SAME
Three-phase gel lacquers are applied in three stages: base-tone-top. One-phase gel lacquers require neither basecoat nor topcoat. Manicures without a base and top hold for approximately 1 week. Three-phase coatings can last until the nail grows back.
Stop believing all kinds of «fairy tales». In current times, the nail industry is so popular that something new is «born" every day. A huge number of professional products «will not give offense» your nails.
Global Fashion shop is not even familiar with the concept of «low-quality products». Global Fashion is a world-renowned brand that offers only quality products for your attention!
Shop --->
Read also:
- A machine manicure is a super technology!
- Brush for nail gel extensions: how to choose?
- Correction of permanent nails. Why do you need it?
- How to choose a manicure lamp? Let's understand the nuances!
- 10 myths about nail extensions. Discover the reality!
- Hardware manicure: myths and truth
- Nail extension with acrylics. All the subtleties
- Nail extension with gel. All the nuances
- Nail file. An indispensable tool in every girl's make-up bag
Published: 01.04.2022 18:14 Times Read: 26