White and Gold Nails Strike a Perfect Balance Between Minimal and Bold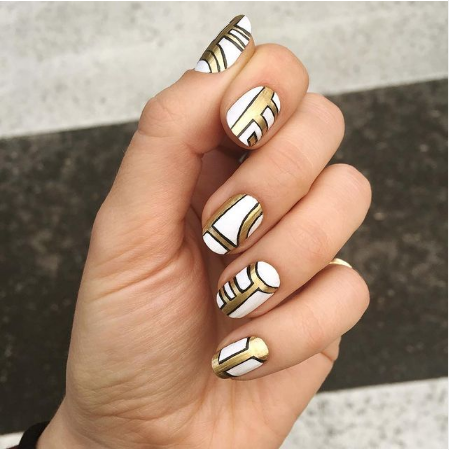 If you're looking for new ways to switch up your nail look but can't decide whether you want to move forward with a minimalist white mani or a bold gold nail look, we're here to help. According to Instagram searches, white and gold nail designs are growing in popularity by the day—and we understand why. With a hint of bold and demure style, white and gold nails offer the best of both worlds without tying in loads of color. Thinking you might be into a white and gold nail design yourself?
Keep scrolling for 22 ways to wear the white and gold nails trend.
1. GOLD TEAR DROPS


This pearl-white and gold negative space manicure looks like something off of a roll of vintage wallpaper. Needless to say, we're in love.
2. PEARLS AND CHAINS


While it's unlikely that you'll be able to DIY these beauties by celebrity manicurist Betina Goldstein, you can certainly melt over looking at them.
3. WHITE (PINK) AND GOLD


Here, white, pale pink, and gold combine for a diagonal take on a classic
french manicure
.
4. GOLD GLITTER STRIPES


Don't overthink your white and gold nails. It can be as simple as starting with a white base and topping it off with a single gold glitter stripe down the length of each nail.
5. WHITE AND GOLD COLOR BLOCK


Here's another way to tie white and gold nail polish into a French manicure design. Opt for a chunky French tip and border it on the bottom with an equally-wide strip of metallic gold.
6. BLACK, WHITE AND GOLD


Black and white nail polish combine with metallic gold hardware too create a minimalist mani we can't take our eyes off of.
7. ASTROLOGY NAILS


This matte black mani employs white and gold polish to bring a magical astrology theme to life.
8. SPLIT DIAGONALS

Due to the way the light is hitting this split-diagonal design, you might think it's silver and white, but it's actually created with gold foil.
9. GOLD GLITTER TIPS


Love the chunky nature of gold-and-white color block nails? This time switch it up with a strip of white on the bottom and gold glitter polish capping the tips.
10. DOVE WHITE AND METALLIC GOLD


Prefer more of an off-white? This dove-white design coats each nail in subtle color while dotting each cuticle line with a single metallic-gold stud.
11. POPS OF BLACK


If purely white and gold nails are too light for your liking, consider this gradient manicure that weaves in pops of black.
12. MAGIC ROCKS


This geode nail design isolates white tips with cracks of gold shining through. It's both moody and feminine.
13. GOLD ACCENTS


If you love the idea of a mismatch mani but want to keep it in the same color palette, consider switching up the shape of your gold accents, as opposed to the shades of your polish.
14. GOLD DOTS


Start with a sheer wash of white polish on each nail and line the same edge of each with six gold sequins. Use topcoat to secure them in place.
15. DREAMY NAILS


These cloud nails give us majorly dreamy feels thanks to their fluffy-looking base and light-reflecting gold stars.
16. MARBLE NAILS


We love a white and gold marble nail look juxtaposed against pale-pink tips. Très chic.
17. BLACK, WHITE, AND GILDED

We don't know about you, but this manicure gives us abstract cow print vibes and we're into it.
18. ROSE QUARTZ NAILS


Look closely and you'll notice that this crystal-inspired manicure weaves in hints of white and gold.
19. GOLD ARCS


Start with a white base and use an ultra-thin striping brush to paint slim arcs of gold across each nail. Don't forget topcoat!
20. GALAXY NAILS


How pretty are these pink, white, and gold galaxy nails? We want to copay them ASAP.
21. GEOMETRIC GOLD


These white nails are topped off with black-lined gold accents that give us Cleopatra vibes.
22. HALF AND HALF


Can't decide between a basic and bold nail look? This mani features half-French designs paired with solid gold glitter.
Source :
www.byrdie.com
Author: Rebecca Norris
Global Fashion Shop
provides you with professional nail care and modeling products.
Other articles:
- Searches for abstract nails are way up - here's how to wear the trend
Published: 14.07.2022 18:38 Times Read: 17