Shellac Manicures Provide Long-Lasting Color—But Are They Bad For Your Nails?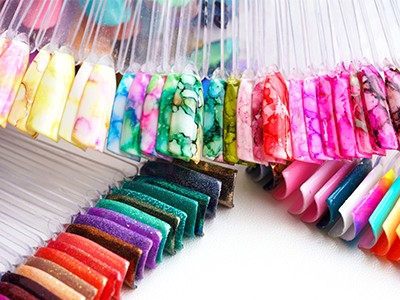 There's something so satisfying about a beautiful nail look that lasts for weeks on end. Of course, finding such a happy mani moment requires using the right nail polish formulas in the first place. That's where Shellac comes in. While the long-lasting acrylic polish often gets a bad rap, we're here to shed a little light on why Shellac isn't the culprit, after all. It all comes down to the formulas and knowing which are good for your nails, and which are best to steer clear of. Since that might seem a little scientific, we're here to remind you that Shellac isn't something to stress over.


In fact, by the end of this article, we have a funny feeling you'll be reaching for (or requesting) Shellac over any other gel on the market. Keep reading to find out why.
WHAT IS SHELLAC?


Like most long-lasting manicures, Shellac—otherwise known as gel nail polish—is made up of an acrylic base. «All of the ingredients used to make any type of artificial nail—whether they are glued, cured by UV, or mixed with a liquid and powder—are based on the acrylic family,» celebrity manicurist Deborah Lippmann says. «The ingredients in Shellac manicures are like pre-mixed acrylics, and they undergo a chemical reaction once they are cured with a UV lamp.»

Varnish Lane co-founder Lauren Dunne adds to this, pointing out the Shellac is technically a combination of gel polish, which makes it last, and regular polish, which gives it high shine. «The formulas bind together when cured under the light,» she explains.


What's important to clarify—and what's commonly misunderstood—is that gel nails and Shellac are the same thing. The biggest difference is that, like petroleum jelly and Vaseline, Shellac nails refers to the term coined by CND —a popular nail brand that first developed 14-day-wear gel polish.

IS SHELLAC SAFE FOR YOUR NAILS?
This is where things get interesting. Speaking specifically to Shellac nails (AKA the gel polish created by CND)—yes. That's because the brand's formula features tiny tunnels within the polish once it's dry, so once it's time to remove it, acetone is able to sink into said tunnels to easily (and safely) remove the long-lasting polish. It's this very quality that makes Lippmann believe that Shellac is the easiest of all gel products to both apply and remove—and she's not alone.
«We highly recommend using Shellac polish versus your typical gel polish because they soak off easier and are less damaging to the nails during the soak off process,» Dunne says. «We also love Shellac because it is formulated without the major harmful chemicals that used to be in nail polish (think: Formaldehyde, toluene, camphor, etc.).»


Now, remember: Shellac is
not
the same thing as off-brand gel. Off brands don't feature the same patented formula and therefore may not remove as easily, which can cause damage to your natural nails. In fact, it's due to these off-brand formulas that Shellac gets a bad rap, to begin with.
THE BENEFITS OF SHELLAC
Due to the long-wear quality of Shellac, Dunne says that your nails are protected and will look their best for longer. «The major benefit of Shellac is a beautiful high-gloss manicure that will stay chip-free for 10 to 14 days (if applied correctly),» she explains. «This makes it the ideal manicure for travel, work, and all-around having beautiful nails that last longer.»
THE DRAWBACKS OF SHELLAC
Even though Shellac is considered by some to be the safest of all gels, it still has its downfalls. «Any product that is cured onto your nail has the potential of nail damage in the removal process,» Lippmann explains. «You must commit to the time that is required to soak off the product correctly. No scraping, No filing on top of the nail—no removing with your teeth.» She points out that, oftentimes, people get impatient with how long it takes for the gel to dissolve, and they end up pulling the polish off, which ends up damaging the nail.
Even if you're not pulling the polish off, Dunne says that frequent Shellac manicures can take a toll on your nails. «During the removal process (especially if not done properly), you can risk removing layers of your natural nails and weakening the nails,» she explains.


Luckily, these downfalls are avoidable with proper removal and breathing time between Shellac manis.
HOW TO REHAB NAILS AFTER USING SHELLAC
Take a break between Shellac manicures. It's as simple as that. «We always recommend our clients give their nails a break from Shellac, especially if they have had multiple Shellac manicures in a row,» Dunne says. «It gives your nails a chance to re-strengthen.»
In addition to giving your nails a break, Lippmann recommends incorporating a targeted base and topcoat. «It's a must when trying to recover from enhancement removal,» she says. «I recommend always putting several layers of polish on to protect our nails—whether its layers of base coat and topcoat—if you don't want color.»
Additionally, both Dunne and Lippmann say it helps to cater to your cuticles, as healthy cuticles are the key to healthy nail growth. To do this, try using
Global Fashion's cuticle oil
, which softens and moisturizes the cuticle, stimulating nail growth and improving the surface of the nails.
Source:
www.byrdie.com
Author: Rebecca Norris
Global Fashion store
offers you professional products for nail care and modeling.
Other articles:
- Gel paint. Its features
- Gel nail polish. All the best part
- How to choose a manicure lamp? Let's understand the nuances!
Published: 22.06.2022 19:46 Times Read: 18