Gel paint. Its features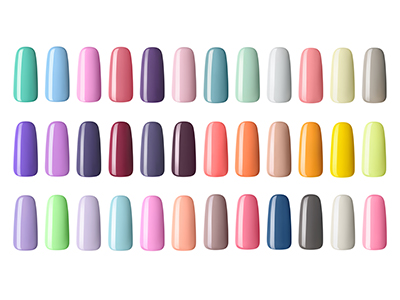 One of the important indicators that a girl is well-groomed is of course the condition of her hands and nails. A beautiful and stylish manicure is a complement to well-groomed nails. To achieve such a result, it is necessary to work constantly, not only through the accompanying products, but also through professional tools. Modern gel nail paints open up almost limitless possibilities for nail extension and design, even if the nails are not too long or thin. You've probably guessed by now that our article is about
gel paints
. Read on and discover something new.
GEL NAIL COLOURS: WHAT ARE THEY?
Gel paint
is a hybrid of nail extension gel and nail polish. Gel nail colours are usually sold in jars without brushes. Less often in tubes. In terms of composition, nail design paint is similar to traditional gel nail polish exclusively for design, not modeling purposes. It is a transparent liquid of sufficiently viscous consistency and dense pigmentation. Its colour palette is very diverse, ranging from saturated, bright colors for special occasions to soft pastels for relaxed everyday use.
ADVANTAGES AND DISADVANTAGES OF GEL PAINT
The benefits of gel paint are many. See for yourself.
- Brilliance.
Has a great saturation. For a full effect, just one coat is enough.
- Colour palette.
Has a great colour palette.
- Thick consistency.
Prevents the compound from flowing or drying out quickly.
- Uniformity.
Creates a uniform distribution of the active ingredient.
- Persistence.
Resistant for a long time, lasting at least two to three weeks.
- Surface.
Creates a pleasant surface with a contrasting colour.
- Easy to work with.
Can be easily blended, allowing the creation of exclusive palettes and the application of unique artistic tricks with the drawing of even the smallest details.
- Universality.
The material can be used for everything from french paintings and monograms to full-blown Chinese wall-paintings of the flat- or three-dimensional type.
- Polymerization.
The product dries only after polymerization, which means the design can be corrected before drying.
- Economical consumption.
Conserves money and has a long shelf-life.
- The possibility of experimentation.
It's possible to mix different colours to get a unique shade.
The disadvantages of gel paint
As you may have noticed, gel paint has a huge number of advantages. But such an interesting product, it also has its minor disadvantages.
- Short nails.
It is inconvenient to use on thin nails, as the gel paint does not provide additional strength.
- Removal.
You won't be able to remove gel paint with special liquids; you'll need either a
nail file
or a
router
.
DIFFERENCES
Nail paints are classified into two main categories:
1. The one with a sticky layer
, which is used in casting manicures. After applying the colour, the matt side of the foil must be carefully imprinted on the nail. After a sharp tear off, unusual patterns will appear on the nail due to the tackiness of the gel paint.
2. Non-sticky
- ideal for creating traditional thin coats or original paintings, patterned artwork and French manicures.
GEL PAINT AND GEL VARNISH. THE DIFFERENCE
Many people always confuse these cosmeceuticals or think that they are the same thing. In fact, there is a huge difference between them.
- Persistence.
The susceptibility to chipping is less with gel paints than with gel varnishes;
- Pigment.
To get a bright colour, lacquers need to be applied a couple of times, while paints need only one coat. This is due to the concentration of pigments in both products - there is much more in gel paint, even more by times;
- Structure.
Gel paints are denser and more viscous, which makes them difficult to work with. With gel paints, on the other hand, they are malleable thanks to their flowing structure and their liquid consistency allows them to be used for different decorating purposes;
- Removal.
Gel colours cannot be removed with any kind of solvent, unlike gel paints.
HOW TO SELECT?
When choosing a
gel paint
, pay attention to the following characteristics:
- A paint with a fast curing time is preferable.
- It should not bleed onto the nail as this will help keep the design in place until curing.
- A beautiful, saturated palette of colours which will allow you to make your fantasies come true.
- You can gel lines of any thickness, including fine lines.
- Make sure that the gel does not contain any harmful ingredients. All ingredients are of natural origin and promote the growth of healthy nails.
Modern shops offer a huge variety of paints for nail design, so they need to be able to choose, taking into account the durability of the future coverage and its reliable performance.
Most often,
reputable manufacturers sell the product in special branded tubes
, approx. 5 ml, with a variety of colour palettes.
Buy
professional gel paint in Global Fashion shop.
Always take care of your nails!
Read also:
1. Gel nail polish. All the best part
2. A machine manicure is a super tehnology!
3. Manicurist's basic set
Published: 28.03.2022 12:09 Times Read: 22