How to strengthen your nails? Simple and effective tips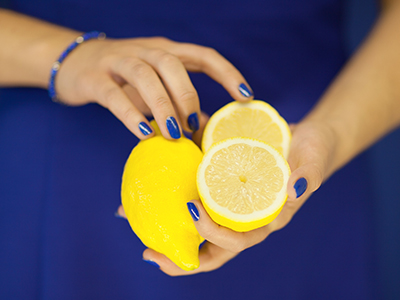 Beautiful nails are an indicator of a girl's grooming. In addition to a beautiful manicure, your nails need to be healthy and strong. And to achieve this, you need to take care of them. It can be done at home, which will save your finances and time. Home nail baths are an easy and affordable way to keep your nails and cuticles healthy.
The first thing to do is to find out the causes of lamination and nail plate breakage.
WHY PACKING AND BREAKING PLATES?
Nails can break and split for three reasons: internal, external and psychological.
Internal causes:
- iron deficiency in the body.
- unhealthy diet - lack of protein, phosphorus, magnesium and calcium.
- skin diseases: herpes zoster, fungus, eczema, psoriasis, epidermolysis.
- hormonal imbalances.
- during pregnancy, when the vitamins and minerals that enter the body are spent on the development of the foetus.
- metabolic disorders associated with problems in the gastrointestinal tract or endocrine system.
External causes:
- Use of varnishes containing formaldehyde.
- Frequent contact with household chemicals, hot water.
- overcooling of the skin on the hands or, alternatively, too dry or humid air.
- Prolonged use of gel nail polish or extensions (this can also include improper removal of the coatings).
Psychological reasons
include stress, depression and a tendency to chew or tear off the nails.
________________________________________________________________________________
Related Article:
Spa manicure. Hand and nail beauty care
________________________________________________________________________________
STRENGTHENING BATHSWith sea salt
Sea salt is good for brittle, flaky nails. The salt adds shine to the nail plate, strengthens, moisturises and protects against harmful UV radiation. Sea salt owes these properties to its composition, which includes useful minerals - iodine, sodium, magnesium, and potassium.
So, dissolve 1 tablespoon of sea salt in water. The water should be hot enough, but at a comfortable temperature for you (the average value is 40-45 degrees). Dip the fingertips into the water and leave for ten minutes. Then rinse your hands with clear water and apply a nourishing cream to your skin. Sea salt may be substituted for table salt but sea salt is preferable.

With mineral wate
r
Put a few drops of lemon juice in a glass of mineral water. Soak hands in the solution for ten minutes. Then use a clean washcloth or towel, no need to rinse hands with water.


With iodine and lemon juic
e
Lack of iodine has a negative effect on the whole body and the nail plate in particular. In case of iodine deficiency the nails start to peel, break, the growth of the nail plate slows down, it loses its healthy shine, and white spots appear on the nail. Iodine nail baths can help to save the nails. They can be oil, salt, milk or fruit juice (orange, grapefruit or tomato).
So, heat water to a comfortable temperature, dissolve in it two teaspoons of salt, three drops of iodine and 1/3 cup of lemon juice. Dip your nails into the solution (only fingertips, not whole brushes!), wipe your hands after ten minutes and apply cream.

With olive oi
l
Vegetable oils are one of the best remedies for strengthening nails. They contain saturated fatty acids that moisturise the nail bed as well as a number of vitamins and minerals. Almond oil, olive oil, linseed oil, castor oil, wheat germ oil and even ordinary sunflower oil are suitable for making baths. In addition to omega-3 acids, these oils contain vitamin B7 (biotin), which is involved in the synthesis of keratin, and vitamins E and A, which promote growth, strengthening and healthy shine of the nails.
So, heat half a cup of olive oil in a water bath. Dip nails in warm oil for 15 minutes. Then give a light hand massage, gently rubbing the oil into nails and hand skin. Towel off excess oil with a towel.


Herb-base
d
Herbal remedies for strengthening, moisturising and treating cracked nails include a herbal soak. To soften dry cuticles, moisten the nail plate, stimulate nail growth suitable infusions of mint, chamomile, sage, green tea, lime blossoms. For strengthening suitable decoctions of plants containing silica and tannins, such as yarrow, nettle, oak bark.
So, if you have herbal teas or simply dry herbs (mint, chamomile, calendula) at home, these remedies are also useful for nail care. Either use just one, or mix them all: pour boiling water over two tablespoons of this 'dry mixture' (one cup is enough) and allow to infuse for 15 minutes. Cool the infusion to a comfortable temperature and immerse your hands in it for 15 minutes. At the end of the treatment, dry your hands and apply cream.
If your nails are healthy, it's time for a good manicure. We offer to your attention, a professional
online shop Global Fashion
. Here you can find quality products and not only!
Read also:
1. A machine manicure is a super technology!
2. Gel nail polish. All the best part
3. Which manicure suits you?
Published: 28.03.2022 13:12 Times Read: 29